July 12-17, 2015 Expedition near Mt. Rainier south of Seattle WA
Designed for hikers, backpackers, traditional skills enthusiasts of any level, scout leaders and anyone seeking to gain confidence in wilderness skills. This course helps you help you achieve comfort in the wilderness, with or without supplies from stores like REI, Cabela's, or your local grocer.
Learn the arts of foraging, shelter building, water purifying, food preserving, fire carrying and more as we travel to one of the best and most beautiful places to live off the land. Learn traditional ways to start fire by friction rendering matches and lighters unnecessary.  Learn to find and build natural shelters in case of wilderness emergencies.  Learn the most critical wild edible plants for survival, and forage for grubs and other delectable insects which are a safe source of protein in survival situations.
We will use the gifts nature supplies us, including natural bug spray, soap and soft bough beds.  We will construct a waterproof lean-to, warm debris huts, safe fire pits, reflective heat walls, and buried hot beds.  You will have the option of building a group survival camp, or constructing your own. In order to bring your comfort training to the highest level, we'll also bring activities from our Secrets of the Ancient Scout youth camp such as blindfold walks and more.
Depending on when you feel ready to embark on a solo survival trek, you can spend 1-4 days putting your skills to the test. This is your own wilderness survival trek, and no matter how you choose to do it, we will work to help you make it the most incredible outdoor experience of your life.
Availability:
Enrollment: Open/Available for adults while a youth camp version runs simultaneously.
Goals & Skills Covered:
The goal of this camp session is to prove to yourself that you can survive a wilderness emergency and begin living in traditional comfort. If you already have some experience, this camp is also a good test to see how to take your skills from the "emergency survival" level to the "primitive living" and "stone age living" levels.
Skills covered during this camp session may include, but are not limited to the following list:
Practice the Critical Order of Emergency Survival.
Learn the Top 10 Hazards in nature and what to do in case of Cougar & Bear Encounters.
Emergency, Traditional & Most Practical Survival Shelters. (debris hut, lean-to, wickiup, thatch hut, earth lodge, split cedar cabins, and pit houses, including fire drafting strategies)
Discover the Best Way To Make A Fire
Become an expert with the Bow Drill method of fire-by-friction and become introduced to hand drill, pump drill, pressure pump, fire plow, and more.
Natural Water Purification (seeps, filters, rock boiling, and locating natural springs)
Learn the Top 10 Lostproofing, Navigation & Orienteering Skills including map and compass.
Cook over an open fire and how to "rock boil."
Practice wilderness medicine emergency response scenarios.
Learn Knife Safety, and even more important, efficient use of tools during survival situations.
Learn Natural Selection Forestry, using Hatchets & Axes.
Spin natural rope for your bow-drill kit (double and triple reverse wrap using nettle, fireweed, cedar, etc.)
Burn out your own bowl and spoon for eating.
Smoke and jerky wild meats, and make pemmican.
Fishing, depending on your license.
Course Instructors: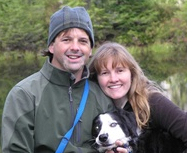 Chris Chisholm will be your lead instructor with staff assistants.
Pick-up, Drop-off and Airport/Bus/Train Transportation:
Arrival Options on Sunday:
Complimentary Arrival Option: Meet us at Sahara Creek Horse Camp, 262nd Ave E., Ashford WA 98304 on Sunday between 5:00-5:30 p.m. and help us set up camp from 5:30-6:00. We will start at 6:00 sharp with an introduction to the week, followed by final camp set-up and orientation from 6:30-7:00, at which point we recommend family/friends depart. Participants should eat a full, healthy dinner before arriving, unless traveling by airplane or train, in which case dinner is included in your pick-up fee. Participants arriving directly at our campground location are also encouraged to bring hors d'oeuvres or a pot-luck dish to share with others during camp set-up time.
$60 SeaTac Arrival Option: Book your Airport/Bus/Train Arrival into Seattle-Tacoma on Sunday in time to meet our pick-up vehicle at 2:00 p.m., but be sure to call or email us with arrival times before confirming your plans. Pick-up at baggage claim unless unaccompanied minor, then at unaccompanied minor waiting area.
$35 Tacoma Bus/Trail Arrival Option: Book your Bus/Train Arrival into Tacoma on Sunday in time to meet our pick-up vehicle at 3:00 p.m.
$35 Puyallup Arrival Option: Meet us at the Wolf Campus, 1026 14th St SW in Puyallup on Sunday between 2:30-3:00 p.m. so that participants can travel with us to our camp location.
Weekend Departure Options:
Complimentary Friday Departure Options: Family & Friends are invited to meet us at Sahara Creek on Friday between 3-4 p.m. for our closing ceremonies which really helps participants integrate this unique experience back into their home lives. Final departure will be from 4-5 p.m.
$35 Friday Tacoma Bus/Train Departure Options: Get dropped off at the Tacoma Bus or Amtrak Train Station by 6:00 p.m.
$45 Friday Evening Puyallup Departure Options: Depart from the Wolf Campus, 1026 14th St SW in Puyallup on Friday between 7:00-9:00 p.m. after participants travel back home with us.
$95 Saturday Morning Puyallup Departure Option: Participants can stay overnight with us on Friday and depart before 12:00 noon on Saturday in Puyallup.
$125 Saturday Afternoon Bus/TrainAirport Departure Option: Participants can stay overnight with us on Friday, and then get dropped off at the Airport, Bus or Train Stations in Seattle or Tacoma on Saturday at 1:00 p.m. in time for afternoon flights. Drop-off at ticket counter unless unaccompanied minor, then at gate.
$140 Saturday Evening Puyallup Departure Option: Participants can stay overnight with us on Friday night and depart Saturday evening after dinner in Puyallup.
$165 Sunday Morning Puyallup Departure Option:Participants can stay overnight with us on Friday & Saturday nights and then depart on Sunday before 12:00 noon in Puyallup.
$180 Sunday Afternoon Bus/Train/Airport Departure Option: Participants can stay Friday & Saturday nights with us, and then get dropped off at the Airport, Bus or Train Stations in Seattle or Tacoma on Sunday at 2:00 p.m. in time for afternoon departures. Drop-off at ticket counter unless unaccompanied minor, then at gate.
$195 Full Weekend Stayover Option: Participants can stay the entire weekend and join us next week!
To add transportation and weekend stayover options, just increase your registration deposit amount below by the amount listed above with a note of explanation. Thanks!
Tuition:
Tuition for Summer Expeditions is $595 if you complete registration at least one week prior to the start date, or $600 thereafter if space remains available. To reserve your spot and lock in the earliest registration discount, make a $175 minimum deposit and your balance will be due upon arrival.
You can also receive cumulative discounts of $10 per additional friend/family member attending together, $10 per additional expedition you attend, and $10 for successfully referring others to attend. The only additional expenses you may incur for this course are that you will need specific camping gear, although we have plenty of extra just in case. You will also need health insurance, but check with us for recommendations on inexpensive temporary insurance if necessary. Also, please see above for optional pickup/dropoff and weekend stayover choices.
Registration Options:
Check/Mail/Email Registration Option: Print out and complete our Microsoft Word Registration Form for each participant and send with a check deposit payable to the Wolf College, 1026 14th St. SW, Puyallup WA 98371. You can also email us a completed registration form and pay using your preferred method.
Credit/Debit Card Registration Option: Just call us at 253-604-4681 or 425-248-0253 and we will take your registration securely over the phone.
Or Use PayPal to register online securely with a credit/debit card or via direct withdrawal from your bank account. Click to Choose Your Deposit Options:
Participant Name(s) & Age(s):
Phone(s) & Pick-up/Drop-off Point(s):
Our refund policy is that deposits are not refundable unless your registration is not accepted. If you cancel after making additional payment, you may receive a credit for a future program, minus a 25% administration fee of total payments made, in case of emergency. You will receive a full refund if your program is canceled and not rescheduled at a time that you can attend. No refund (and not necessarily any credit) is given if a participant is inappropriate at the program and asked to leave.
Course Preparation: Agreements & Packing List

Click here for our Expedition Agreements
Click here for our Summer Expeditions Packing List
Not ready to register yet?
Email us to be put on our our list for this program in the future. We always keep your information absolutely private, and will never share it. You can also like our facebook page to keep in better touch.