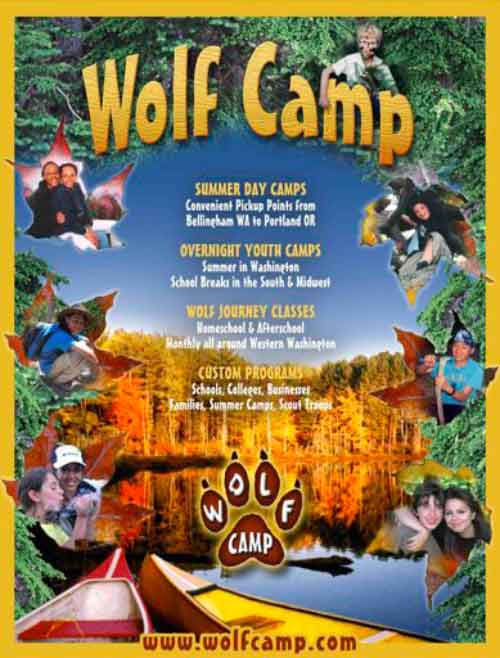 We have a lot of great ways for families to learn together. We ran our first summer day camp in 1997, and we now offer a host of camps for kids, youth, adults and family. Experience our fun, skill-building programs guided by highly trained staff within our hallmark 6-1 average adult-child ratio that's so critical for safe and profound outdoor experiences.
Virtual Summer Day Camps for Youth & Family

"Huck's Song" written by Chris Anderson. Remember when we could play outdoors all summer? Now's your chance! Ever wish you had a mentor to help you discover the secrets of nature around your house? Now you can! All ages may participate, as you register as a household unit.
All ages can join us for Virtual Day Camps with hours of 9-10 AM Online Camp Instruction; 10-12 On-Call Mentoring while participants are outdoors, 12:00-12:30 Lunch Check-In with Afternoon Prompts; 2:30-3:00 Online Review, Show & Tell, plus 3-5 PM Extended On-Call Mentoring with 5 PM Last Check-In for participants who want to continue what they started earlier in the day.

The summer schedule runs June 15th – Sept 4th with camp themes including Virtual Secret Spot, Farm The Yard, Wild Cooking & Herbology, Wildlife Search & Rescue, Wilderness Survival Craft, and Secrets of the Ancient Scout.
Virtual Academic Year for the Whole Family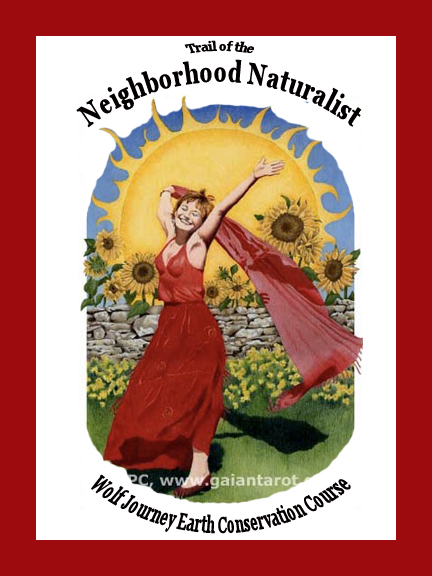 Then join us in the fall as we roll out the online edition of Wolf Journey Book One – Trail of the Neighborhood Naturalist on a path to becoming your neighborhood naturalist. Begin the journey by finding a study site where you carry out lessons of Urban & Rural Habitat Conservation throughout the course. Each time you visit your site, you will walk more intimately within the landscape, and by the time you complete the course, you will have become a key resource on the natural world for your community, and perhaps the best expert on habitat conservation in your neighborhood.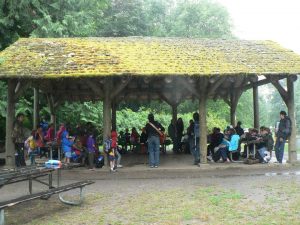 Located at the Lake Sammamish Hans Jensen Group Camp this week, and focused on a intensive overview of of wilderness survival skills. Cost for for all activities from 9:30-3:30 Mon-Fri is just $295 for adults and youth (minimum two family members, at least one being an adult) with discounts for children 5 and under ($50 less per year of age) and optional primitive camping fee of $35/night/family, or choose many near-by lodging options. We'll also have lunches available at $15/adult, $10/child. You can bring camp stoves to cook breakfasts and dinners if camping on site, or use near-by restaurants and grocery stores.
June 21, 2021 Monday 1:15-3:15 Lostproofing & Awareness, Compass & Navigation

June 22, 2021 Tuesday 9:45-11:45 Wildlife Safety & Bird Language

June 22, 2021 Tuesday 1:15-3:15 Tracking & Trailing Wild Animals

June 23, 2021 Wednesday 9:45-11:45 Wilderness Survival including Best Emergency Shelter


June 23, 2021 Wednesday 1:15-3:15 Old School Fire Making including the Bow Drill & Fire Steel

June 24, 2021 Thursday 9:45-11:45 Wild Edible Food Plants & Critters

June 24, 2021 Thursday 1:15-3:15 Wild Plants for Medicine & Craft

June 25, 2021 Friday 9:45-11:45 Skills of the Artisan
Registration
Credit/Debit Card Registration Option: Just call us at 425-248-0253 and we will take your registration securely over the phone.
Check/Mail/Email Registration Option: Open our Registration Form (Word or PDF or Google Doc) on your computer, fill out one per new participant (not needed for returning campers) and send or email it back to us. We also have a Bilingual Chinese-English Registration Form PDF or Word Doc. You can also send a check deposit payable to Wolf Camp, 1026 14th St. SW, Puyallup WA 98371 or fill out the registration form and pay deposits by calling with a credit card, or using paypal as described below.
Or Use PayPal to register via secure online donation with a credit/debit card or via direct withdrawal from your bank account. Sign into paypal.com and "send money" to our email address: (we'll get back to you with any additional information we may need)
Email us to be put on our our list for this program in the future. We always keep your information absolutely private, and will never share it.
Refund Policy: Deposits ($100 for day programs, $200 for overnight programs) are not refundable unless we don't accept your application. If you cancel for any reason, you may receive a full credit good through the following calendar year on appropriate and available programs listed on our schedule, although an additional deposit is needed to secure your spot in the future program. If a program you sign up for is canceled and not rescheduled at a time you can attend, you may receive a full refund except in cases of natural (weather, geologic, wildfire, etc) disasters, epidemics, grid failures, government shutdowns, conflicts or curfews, or other unforeseen emergencies making it unsafe for staff and/or attendees to reach or use program locations, in which case all payments made will be held by us without expiration date for your future use in appropriate/available programs of your choice. Reasons include the expenditure of funds (property rentals, advertising, materials, admin staff time, etc.) long before programs take place, i.e. deposits make it feasible for Wolf Camp to schedule programs in the first place, but our mutually understood agreement is that Wolf Camp will run the program at the safest available time in the future. Finally, no refund, nor credit, is given if a participant is asked to leave a program for inappropriateness as determined by our kids, youth and adult agreements for participation.
Have you ever attended one of our programs before? Please review us on our Better Business Bureau, Facebook, Yelp & Google pages.