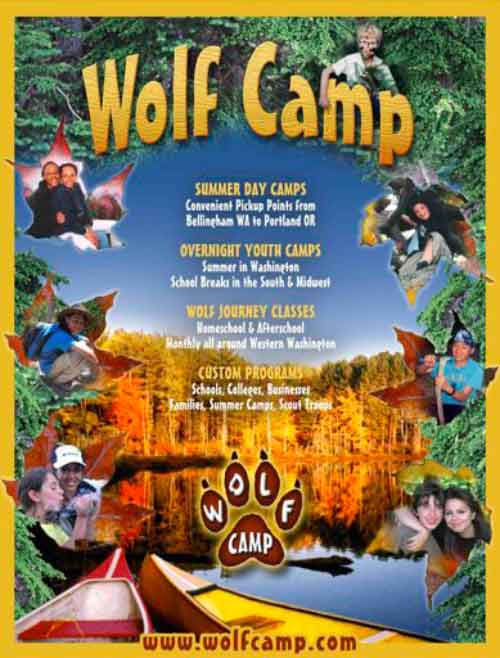 We have a lot of great ways for families to learn together. We ran our first summer day camp in 1997, and we now offer a host of camps for kids, youth, adults and family. Experience our fun, skill-building programs guided by highly trained staff within our hallmark 6-1 average adult-child ratio that's so critical for safe and profound outdoor experiences.
Family Camps & Classes for All Ages

The following programs are located at beautiful parks where you can swim, hike and play well beyond our daytime camp activities. After camp hours, we will provide fishing poles and tackle, suggested on-site and near-by hiking maps, resource library and outdoor gear (binoculars, frisbee, balls, board games, etc), as well as limited firewood and craft supplies.
Located at the Lake Sammamish Hans Jensen Group Camp this week. Adults and families can  pick and choose classes on our Seattle Area Meetup Site Monday-Tuesday-Wednesday-Friday at $25 per person ages 5 and up, and add optional camping for $25/night/family. July 4th activities include a conservation fundraiser run/walk/bike/skate with registration opening in late winter. For more details click on Family Class Week & July 4th Campfire Music.
Located at the Lake Sammamish Hans Jensen Group Camp with no option to register for classes separately this week. Choose one of the following themes to learn in-depth this week: either A) Wilderness Survival, B) Wildlife Tracking, C) Ethnobotany (wild edible and medicinal plants). Cost for for all activities from 8:45-3:45 Mon-Fri is $325 for adults and youth, with discounts for children ages 6 and under ($50 less per year of age), plus optional primitive camping fee at $25/night/family, and optional meals at $15/adult and $10/child, or choose the many near-by lodging, restaurants and grocery options. Click here for Aug 26-30 Family Camp details and registration.
Or Check Out Our Homeschool & Evening Classes

The Conservation College offers classes on a variety of nature and survival subjects for all ages. Classes cost $25 and run weekly January-May 2020 in:
Afternoon Classes 12:30-2:30 PM are designed for homeschool families but everyone is welcome to attend.
Evening Classes 6:30-8:30 PM and are designed for adults, but youth may attend with enrolled parent/guardian.
Monthly Topics & Class Itineraries:
Or Join Our Weekend Workshops – Youth May Enroll With Parents!
April 20, 2019 Saturday Workshop: Bird Voices, Wildlife Safety & Awareness, Animal Tracks & Trails at Three Forks Natural Area on the Snoqualmie River. This event is being run in celebration of Earth Day, so please make a donation to your favorite environmental organization in lieu of tuition.
May 4, 2019 Saturday Workshop: Subsistence Shore Fishing near Tacoma WA. $95 includes use of our gear, bait and tackle.
May 18, 2019 Saturday Workshop: Edible Seaweeds & Shellfish of the Salish Sea on Whidbey Island. $95 includes ride from Mukilteo Ferry.
June 15, 2019 Saturday Workshop: Sustainable Home & Gardens – Living on an Acre in Puyallup WA. $45-$65.
September 28, 2019 Saturday Workshop: Autumnal Harvesting – Acorns, Hazelnuts, Nettles, Rose Hips, Cattails, Willow & Vine Maple for food, medicine, baskets, bows, arrows, and other projects in Puyallup. $95 including materials.
November 9, 2019 Saturday Workshop: Trailing & Photographing Animals in Elk Country near Snoqualmie WA. $75 with tight 3-1 student-instructor ratio.
Registration
Credit/Debit Card Registration Option: Just call us at 425-248-0253 and we will take your registration securely over the phone.
Check/Mail Registration Option: Send a check deposit payable to Wolf Camp, 1026 14th St. SW, Puyallup WA 98371 along with a registration form for any child for whom we do not yet have one on file: download the Microsoft Word or PDF Registration Form to your computer, fill out one per participant, and send it or email it back to us. We also have a Bilingual Chinese-English Registration Form PDF or Word Doc.
Or Use PayPal to register via secure online donation with a credit/debit card or via direct withdrawal from your bank account. Sign into paypal.com and "send money" to our email address: (we'll get back to you with any additional information we may need)
Or email us to be put on our our list for this program in the future. We always keep your information absolutely private, and will never share it. You can also like our facebook page to keep in better touch, and once you've attended a program, please review us on our Better Business Bureau, Yelp & Google pages.
Refund Policy: Standard deposits ($100 for day programs, $200 for overnight programs) are not refundable unless we don't accept your application. If you cancel in advance of the program start time for any reason, you may receive a full credit good through the following calendar year on appropriate and available programs listed on our schedule, although an additional deposit may be required to secure your spot in the future program. If a program you sign up for is canceled and not rescheduled at a time you can attend, you may receive a full refund except in case of natural (weather, geologic, etc) disasters, government shutdowns, conflicts or curfews, or other unforeseen emergencies making it impossible for staff and/or attendees to reach or use program locations, in which case all payments made will be held by us without expiration date for your future use in appropriate/available programs of your choice. No refund, nor credit, is given if a participant is asked to leave a program for inappropriateness as determined by our kids, youth and adult agreements for participation.