Registration for Summer Camps 2021 will open after the pandemic era ends, locations are reserved, and permits are secured. Scroll down for the tentative schedule, and in the meantime, check out our virtual academic year classes!
Tuesday Classes focus on Herbal Medicine & Plant Crafts in the Autumn Season from Sept 15 – Nov 17, 2020, followed by Gardening & Cooking Wild Edible Food Plants in the spring of 2021.

Thursday Classes focus on Wilderness Survival & Bushcraft Skills in the Autumn Season from Sept 17 – Nov 19, 2020, followed by Wildlife Tracking & Birding in the spring of 2021.
Saturday Classes 

for all ages guide you through the Wolf Journey Earth Conservation Course – Book One:

The Neighborhood Naturalist.
Give your child the gift of our Summer Day Camp for ages 7-13 running 9:00-3:00 with drop off between 8:30-9:00, pick-up between 3:00-3:30, and extended care available from 3:30-5:30 for extra fee. Campers are grouped with others closest to their age within our special 4-1 student-teacher ratio in 2020 (normally 6-1 average, 8-1 maximum) so critical for safe and profound outdoor experiences this year. You can also check out our other day camps at Lake Sammamish.
Camp Dates & Themes:
August 24-28, 2020 – WAIT LIST moving fast so please email for notification when spots open up: Wilderness Survival Craft – Click for an itinerary of this theme in its 23rd year, excellent for all campers interested in the projects and lessons we cover, and especially great for hands-on learners.

Returning in 2021:

Wilderness Skills Sampler

–

The Wilderness Skills Sampler has no prerequisite and introduces a variety of wilderness skills that Wolf Camp offers. We touch base on wilderness survival, herbal medicine, wild foods, animal tracking, navigation, and more. 

Returning in 2021: Blue Skye Farm Camp – Campers enjoy neighborhood farms around Clark's Creek Park where they will help bring product to market, care for farm animals, and literally follow the route of town founders through a preserved wilderness of old growth trees and artesian springs.
Returning in 2021 Wild Cooking & Herbology – Click for an itinerary of this theme in its 23rd year which is excellent for focused learners, as it is like a mini college course on herbalism (although very hands-on) and therefore not recommended for adhd students.
Returning in 2021: Wildlife Search & Rescue Camp – Click for an itinerary of this theme in its 25th year which is is excellent for exploratory learners, but not recommended for asperger spectrum students, as the itinerary diverges daily based on wildlife "finds" and other learning opportunities.
Camp Leaders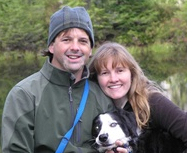 Kim & Chris Chisholm guide professionally-trained staff instructors at a special 4-1 student-teacher ratio in 2020 (normally 6-1 average, 8-1 maximum) so critical for safe and profound outdoor experiences this year. Read our FAQ's for more details and check out camp testimonials dating all the way back to 1997!
Pickup/Drop-off Times & Location

Instruction runs 9:00-3:00 with drop-off as early as 8:30 AM and as late as 3:30 PM at Clark's Creek Park – South Shelter at 1700 12th Ave SW in Puyallup, plus extended care available at a cost of $5 per 30 minutes  from 3:30-5:30, with pick-up at the Wolf Camp Home Office of Blue Skye Farm next to the park.
Tuition
We offer our home town Puyallup day camps for just $295/wk. This is a $100 discount off our King County rates. Extended care for campers needing to stay after 3:30 costs $5 per 30 minutes, charged at the beginning of each half-hour and payable at the end of the week, with latest pick-up at 5:29 p.m.
Available Discounts: $10 off for successfully referring another family which registers children this summer.

To reserve your spot, make a $100 deposit per camper, and your balance will be due upon arrival. The only additional expenses you may incur for camp are that you will need to pack a lunch and snacks every day.
Scholarships Availability: Our primary focus for scholarships is for residents of rural Pierce County and its cities. If you need financial assistance or want to apply for a merit scholarship, add to your camp Microsoft Word or PDF registration form answers to the 8 financial aid scholarship questions, or complete a merit scholarship project as described on that page.
Registration: All camp weeks are currently WAITLISTED but spots open up regularly so please

email us with your name, phone number, and children(s) name(s) and age(s) and we will add you to the list.

Credit/Debit Card Registration Option: Just call us at 425-248-0253 ex. 3 between 9 AM – 5 PM any day of the week so Puyallup Day Camp & Office Director Colleen Valadez can take your registration securely over the phone. Leave a message if Colleen can't answer since she works on-call before the busy summer season starts.

Check/Mail/Email Registration Option: Open our Registration Form (Word or PDF or Google Doc) on your computer, fill out one per new participant (not needed for returning campers) and send or email it back to us. We also have a Bilingual Chinese-English Registration Form PDF or Word Doc. You can also send a check deposit payable to Wolf Camp, 1026 14th St. SW, Puyallup WA 98371 or fill out the registration form and pay deposits by calling with a credit card, or using paypal as described below.

Or Use PayPal to register online securely with a credit/debit card or via direct withdrawal from your bank account. Use the link below (might not be visible if you are using "reader view" on your phone or other device) or sign into paypal.com and "send money" to our email address: (we'll get back to you with any additional information we may need)

Email us to be put on our our list for this program in the future. We always keep your information absolutely private, and will never share it. 

Refund Policy: Deposits ($100 for day programs, $200 for overnight programs) are not refundable unless we don't accept your application. If you cancel for any reason, you may receive a full credit good through the following calendar year on appropriate and available programs listed on our schedule, although an additional deposit is needed to secure your spot in the future program. If a program you sign up for is canceled and not rescheduled at a time you can attend, you may receive a full refund except in cases of natural (weather, geologic, wildfire, etc) disasters, epidemics, government shutdowns, conflicts or curfews, or other unforeseen emergencies making it unsafe for staff and/or attendees to reach or use program locations, in which case all payments made will be held by us without expiration date for your future use in appropriate/available programs of your choice. Reasons include the expenditure of funds (property rentals, advertising, materials, admin staff time, etc.) long before programs take place, i.e. deposits make it feasible for Wolf Camp to schedule programs in the first place, but our mutually understood agreement is that Wolf Camp will run the program at the safest available time in the future. Finally, no refund, nor credit, is given if a participant is asked to leave a program for inappropriateness as determined by our kids, youth and adult agreements for participation.
Day Camp Preparation: Agreements, Packing List and FAQ's
Day Camp Agreements for Participation
Other FAQ's – Frequently Asked Questions
Have you ever attended one of our programs before? Please review us on our Better Business Bureau, Facebook, Yelp & Google pages.