WAIT-LISTED
Give your child the gift of our Summer Day Camp for ages 7-13 running 9:00-3:00 with drop off between 8:30-9:00, pick-up between 3:00-3:30, and extended care available from 3:30-5:30 for extra fee. Campers are grouped with others closest to their age within our special 4-1 student-teacher ratio in 2020 (normally 6-1 average, 8-1 maximum) so critical for safe and profound outdoor experiences this year.  You can also check out our Virtual All-Day Camps and other physical day camps at Lake Sammamish.
Camp Description
Wilderness Survival Craft is especially great for hands-on learners, and the theme celebrates its 23rd summer. Join us at the old Camp Curran here we can safely practice fire techniques, build shelters, harvest berries and enjoy a bit of nature not far from Puyallup & Tacoma.

Re-create a traditional way of life with us, honoring the gifts of wood, stone, fire and water. We'll follow the critical order of survival, practice emergency response scenarios addressing the top hazards in nature, build warm shelters, purify drinking water, make fire, and prepare the most important plants and insects for survival.
Campers will also witness bow drill fire by friction and then work with a team to practice it themselves.  They will learn aidless navigation for lostproofing, craft tools of stone, including a course knife.  They will make rabbit sticks and other honorable hunting implements, learning that all life – plant, animal and mineral – is sacred to be respected.
Camp Itinerary
All itineraries are subject to some amount of change based upon location, season, instructor preference, and natural resource availability.
Monday: Awareness, Navigation & Community Building
Morning Session: Introductions; Awareness Training, Order of Survival
Afternoon Session: Natural Navigation, Lostproofing and the 10 Essentials;

Tuesday: Water, Wild Edible & Medicinal Plants
Morning Session: Water Purification Practice, Digging Seeps & Rock Boiling Demo
Afternoon Session: Top 10 Plants, Wild Teas & Edible Insects
Wednesday: Emergency Shelter & Survival Scenarios

Morning Session: Building Survival Shelters;
Afternoon Session: Practicing Survival Scenarios;
Thursday: Animal Craft
Morning Session: Rope Making, Stone Knife Making; Intro to Animal Trailing;
Afternoon Session: Rabbitstick Training, Honorable Hunter Training, Animal Trailing;
Friday: Fire & Artisan Skills

Morning Session: Fire Pits & Safety, Bed-Pillow-Blanket for Baby Fire, Tinder & Firesteel Trainings;
Afternoon Session: To be determined based on camper interest.
Camp Leaders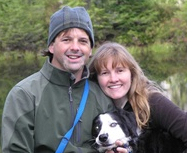 Kim & Chris Chisholm guide professionally-trained staff instructors at our special 4-1 student-teacher ratio in 2020 (normally 6-1 average, 8-1 maximum) so critical for safe and profound outdoor experiences this year. Read our FAQ's for more details and check out camp testimonials dating all the way back to 1997!
Pickup/Drop-off Times & Location

Instruction runs 9:00-3:00, with drop-off as early as 8:30 AM, and pick-up as late as 3:30 PM. Camp will take place at Camp Curran, 13220 50th Ave E 98446. Aftercare is available every day at a cost of $5 per 30 minutes from 3:30-5:00 (except not on Friday) and charged at the start of every half hour, and payable at the end of the week. However, aftercare will not include activities this year, so parents will need to prepare campers with a book or other sedentary, individual activity. There is no parent presentation this year due to Covid restrictions.

Tuition
We offer our home town Puyallup day camps for just $295/wk. This is a $100 discount off our King County rates.
Available Discounts: $5 off for successfully referring another family which registers children this summer.

To reserve your spot, make a $100 deposit per camper, and your balance will be due upon arrival. The only additional expenses you may incur for camp are that you will need to pack a lunch and snacks every day.
Scholarships Availability: Our primary focus for scholarships is for residents of rural Pierce County and its cities. If you need financial assistance or want to apply for a merit scholarship, add to your camp Microsoft Word or PDF registration form answers to the 8 financial aid scholarship questions, or complete a merit scholarship project as described on that page.
Registration:  All camp weeks are currently WAITLISTED
Credit/Debit Card Registration Option: Just call us at 425-248-0253 and we will take your registration securely over the phone.
Check/Mail/Email Registration Option: Open our Registration Form (Word or PDF or Google Doc) on your computer, fill out one per new participant (not needed for returning campers) and send or email it back to us. We also have a Bilingual Chinese-English Registration Form PDF or Word Doc. You can also send a check deposit payable to Wolf Camp, 1026 14th St. SW, Puyallup WA 98371 or fill out the registration form and pay deposits by calling with a credit card, or using paypal as described below.
Or Use PayPal to register online securely with a credit/debit card or via direct withdrawal from your bank account. Sign into paypal.com and "send money" to our email address and we'll get back to you with any additional information we may need. or sign into paypal.com and "send money" to our email address: (we'll get back to you with any additional information we may need).
Email us to be put on our our list for this program in the future. We always keep your information absolutely private, and will never share it.
Refund Policy: Deposits ($100 for day programs, $200 for overnight programs) are not refundable unless we don't accept your application. If you cancel for any reason, you may receive a full credit good through the following calendar year on appropriate and available programs listed on our schedule, although an additional deposit is needed to secure your spot in the future program. If a program you sign up for is canceled and not rescheduled at a time you can attend, you may receive a full refund except in cases of natural (weather, geologic, wildfire, etc) disasters, epidemics, grid failures, government shutdowns, conflicts or curfews, or other unforeseen emergencies making it unsafe for staff and/or attendees to reach or use program locations, in which case all payments made will be held by us without expiration date for your future use in appropriate/available programs of your choice. Reasons include the expenditure of funds (property rentals, advertising, materials, admin staff time, etc.) long before programs take place, i.e. deposits make it feasible for Wolf Camp to schedule programs in the first place, but our mutually understood agreement is that Wolf Camp will run the program at the safest available time in the future. Finally, no refund, nor credit, is given if a participant is asked to leave a program for inappropriateness as determined by our kids, youth and adult agreements for participation.
Day Camp Preparation: Agreements, Packing List and FAQ's
Day Camp Agreements for Participation
Other FAQ's – Frequently Asked Questions
Have you ever attended one of our programs before? Please review us on our Better Business Bureau, Facebook, Yelp & Google pages.