August 8-13, 2021 Overnight Youth Camp at Lake Sammamish

Discover sign of bears, cougars, elk, bobcats, coyotes, foxes, owls and so many more animals which are an integral part of the landscape. It's not a stretch to say you'll become an animal detective as you follow clues, and solve mysteries that go unnoticed by the general public. As you will see, wildlife reveals to those who can read their stories in the earth, their size, health, emotions, history and intentions. You'll learn the skills of a scientific tracker, while also learning to harness the artist's eyes of an owl, ears of a deer, nose of a bear, and hands of a raccoon.
Keep your camera or smart phone ready to photograph animals and the signs they leave. Learn secrets to finding animals that few people understand, especially the language of the birds which point out where animals are moving, and how to follow tracks that animals leave behind. In order to truly understand the animals we hope to observe, we must adopt their behaviors and embrace their customs.
After this week, you will have joined an elite group of wildlife trackers and photographers, elevating your senses to new heights, using your newly found prowess to successfully search for animals, and gaining a deep understanding of the relationships between predators and prey.
Camp Goals & Skills Covered:
The goal of this camp session is to bring you closer to the natural world and provide you with a better understanding of its intricate relationships. Skills covered during this camp session include, but are not limited to:
Animal Tracking

Wildlife Photography

Sensory Awareness & Stealthy Movement

Nature Journaling & Sketching

Navigation & Lostproofing

Understanding Birds and Their Voices

Understanding Mammals and their Tracks

Understanding Animal Dependence on Plants, Fish, Insects, Beetles,  Arachnids, Anthropods, Reptiles & Amphibians
Animal Tracking Camp – Sample Itinerary

Availability & Notes:
Teen Group Ages 13+: Available with no prerequisite.
Pre-Teen Group Ages 9-13: Available with prerequisite of at least one virtual camp, family workshop, kids day camp or previous overnight youth camp with us.
Notes: We launched this original overnight camp theme in 1998 and found that it's excellent for exploratory and academic learners, but not recommended for students on the asperger spectrum, as the itinerary diverges daily and sometimes hourly based on wildlife "finds" and other learning opportunities. If a participant has not camped outside in a forest away from towns/parks before, s/he will need to gain that experience prior to attending this camp week, either on your own or at one of our camps located in the Seattle-Tacoma metro area. This is not a camp week where kids can be trained to overcome homesickness, or see how much behavioral progress they have made. If you are not sure about the requirements, call us to discuss at 425-248-0253.

Camp Instructors: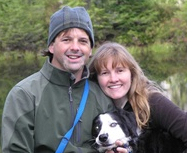 Kim & Chris Chisholm are on site all week directing other professionally-trained staff instructors who make up our hallmark 6-1 average student-instructor ratio critical for high-level outdoor educational programs. Read our FAQ's for more details and check out our overnight camp testimonials and dating all the way back to 1997!
Arrival, Departure, Directions & Transportation Options:
Sunday Starting Points & Times: Drop-off between 4:00-5:00 at the Faith Baptist Church Campground, 28514 SR 706 East 98304, located 6.5 miles past Elbe WA and one mile before the town of Ashford on the road to Paradise on Mt. Rainier.
Friday Ending Points & Times: If you have Friday available to join us for end-of-camp activities, meet your camper at the Faith Baptist Church picnic shelter, 28514 SR 706 East, in Ashford. You can participate in a plant walk lead by campers from 1:00-2:00, and enjoy a healthy herbal spa lead by instructors from 2:00-4:00 before our closing song and story from 4:00-4:30. Departure is from 4:30-5:00, and please don't leave before 4:30 since the closing circle is very important for integration of this profound camp experience. If driving from the Seattle area, be sure to leave by 11am if wanting to participate in the plant walk, or by 12pm if wanting to join at least some of the herbal spa, or by 1pm to experience the closing circle, and since Friday afternoon traffic is extremely slow, 2pm in time to retrieve your camper before staff departs the campground at 5pm.
Tuition:
Overnight Youth Camps are $895. To reserve your spot, make a $200 deposit per camper/week and your balance will be due upon arrival. The cost includes everything including meals, organic camp t-shirt at your first camp, or survival knife, firesteel or field guide at subsequent camp weeks, depending on topic. The only additional expenses you may incur for our courses are for travel and specific gear, although we have extras in case you can't acquire something. You will also need health insurance, so check with us for recommendations on inexpensive temporary insurance if necessary.
DISCOUNTS: Standard cumulative discounts are $10 per additional week you attend this summer, and $10 off per additional family member attending this summer.
Scholarships: Click on Max Davis Scholarships and add answers to its 8 financial aid scholarship questions, or complete a merit scholarship project as described on that page.
Registration:
Credit/Debit Card Registration Option: Just call us at 425-248-0253 between 8 AM – 8 PM any day of the week and we will take your registration securely over the phone, or leave a message and we will call you back asap.

Check/Mail/Email Registration Option: Open our Registration Form (Word or PDF or Google Doc) on your computer, fill out one per new participant (not needed for returning campers) and send or email it back to us. We also have a Bilingual Chinese-English Registration Form PDF or Word Doc. You can also send a check deposit payable to Wolf Camp, 1026 14th St. SW, Puyallup WA 98371 or fill out the registration form and pay deposits by calling with a credit card, or using paypal as described below.
Or Use PayPal to register online securely with a credit/debit card or via direct withdrawal from your bank account. Use the link below (might not be visible if you are using "reader view" on your phone or other device) or sign into paypal.com and "send money" to our email address: (we'll get back to you with any additional information we may need)
Or Email us to be put on our our list for this program in the future. We always keep your information absolutely private, and will never share it.
Refund Policy: Deposits ($100 for day programs, $200 for overnight programs) are not refundable unless we don't accept your application. If you cancel for any reason, you may receive a full credit good through the following calendar year on appropriate and available programs listed on our schedule, although an additional deposit is needed to secure your spot in the future program. If a program you sign up for is canceled and not rescheduled at a time you can attend, you may receive a full refund except in cases of natural (weather, geologic, wildfire, etc) disasters, grid failures, epidemics, government shutdowns, conflicts or curfews, or other unforeseen emergencies making it unsafe for staff and/or attendees to reach or use program locations, in which case all payments made will be held by us without expiration date for your future use in appropriate/available programs of your choice. Reasons include the expenditure of funds (property rentals, advertising, materials, admin staff time, etc.) long before programs take place, i.e. deposits make it feasible for Wolf Camp to schedule programs in the first place, but our mutually understood agreement is that Wolf Camp will run the program at the safest available time in the future. Finally, no refund, nor credit, is given if a participant is asked to leave a program for inappropriateness as determined by our kids, youth and adult agreements for participation.
Camp Preparation: Agreements, Packing List and FAQ's
Agreements for Participation in Camp
Homesickness Protocol & Prevention
Other FAQ's – Frequently Asked Questions
Have you ever attended one of our programs before? Please review us on our Better Business Bureau, Facebook, Yelp & Google pages.