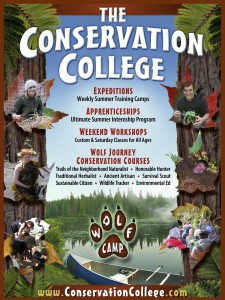 The Conservation College offers classes, workshops and expeditions with co-directors Kim & Chris Chisholm and other faculty. These experiences are designed to introduce you to a focused topic, or help you continue to improve in an area of personal interest.
Join us every day at 6 PM via Facebook Live for half-hour adventures in the field with Kim & Chris Chisholm. We will continue every day as long as physical distancing orders are in place.
As soon we reach 1,000 YouTube Subscriptions we will begin daily unveiling of new Wolf Journey Earth Conservation Course study experiences, every day until summer camp season begins, at which point we'll switch to weekly live experiences. YouTube has a rule that we need 1,000 subscribers before we can live stream from our phones/tablets in the field. Help us get this done quickly and ask all your friends and family to subscribe! Again, as soon as we reach 1,000 subscriptions, we will begin a daily unveiling the Wolf Journey Earth Conservation Course via live instructional broadcasts that everyone studying at home can utilize, complimentarily or by donation.
June 22 Monday 1:15-3:15 Lostproofing & Awareness, Compass & Navigation

June 23 Tuesday 9:45-11:45 Wildlife Safety & Bird Language

June 23 Tuesday 1:15-3:15 Tracking & Trailing Wild Animals

June 24 Wednesday 9:45-11:45 Wilderness Survival including Best Emergency Shelter


June 24 Wednesday 1:15-3:15 Old School Fire Making including the Bow Drill & Fire Steel

June 25 Thursday 9:45-11:45 Wild Edible Food Plants & Critters

June 25 Thursday 1:15-3:15 Wild Plants for Medicine & Craft

June 26 Friday 9:45-11:45 Skills of the Artisan
When registering for summer programs, please read Virus Mitigation: The Outdoor Advantage and our upcoming rewrite of Communicable Disease Prevention – Policies & Procedures. Thanks!

Future Workshop Dates TBA
Saturday Workshop: Emergency Preparedness & Survival Skills Training $85-$75 including fire steel.
Saturday Workshop: Wilderness Survival, Safety & Hygiene, Shelter & Fire $85-$75 including bow drill kit.
Saturday Workshop: Harvesting & Cooking Wild Edible Foods $95-$85 including foods.
Saturday Workshop: Science Based Herbal Medicine: Wildcrafting, Growing, Processing $95-$85 including materials.
Saturday Workshop: Sustainable Homes & Garden Series – Neighborhood & Household Food Production $65-$45 including veggies.
Saturday Workshop: Backcountry Navigation & Leadership $75-$70 includes professional hands-on risk management and emergency first aid training.
Saturday Workshop: Wildlife Safety, Tracking & Bird Voices $75-$70 includes access to our special river tracking site.