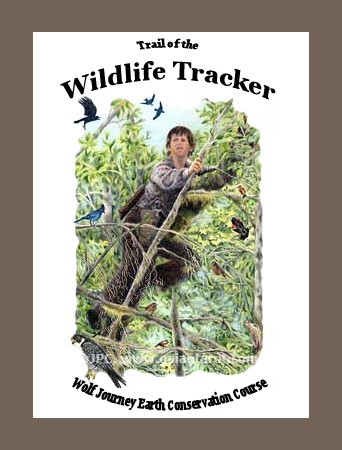 Quick Wildlife Class Itinerary:

Before Class: Please arrive early in order to complete any registration information, view recommended books, and answer questions. It is super important that you receive some fundamental information that will be presented at the very start of class. Like no other subject we teach, our wildlife class builds upon itself minute by minute. Instructors Kim & Chris Chisholm have a lifetime of wildlife investigation to share, from their childhoods outside (Chris in northern Minnesota, Kim in western Washington), their young adult lives hiking and backpacking (Chris in Europe & South America, Kim in the Western US), their college years studying birds, insects and mammals (Chris at the University of Wisconsin, Kim at the University of Washington), and their middle years as volunteers for Search & Rescue, in addition to running Wolf Camp and the Wolf College.
30 Minutes – Wolves, Cougars & Bears: We will start the first hour promptly with a safety overview for living, hiking, hunting and foraging in wolf, cougar and bear country. It is important to understand large predators and their prey in order to keep yourself safe, and to keep them safe in the wild. That's the crux of the matter: everyone wants to protect nature and themselves at the same time. The key is knowledge, and taking right action based on that knowledge. Also, wolves have returned to Washington & Oregon. So now, we have more than just cougars and bears to consider. That sounds scary, but in reality, there will be fewer cougars and black bears because wolves will be competing on the same territory. Wolves are statistically the least dangerous, but despite the insignificant chance of a dangerous encounter with any of these megafauna, your behavior when them should deflect their triggers. Each species has particular triggers to become aware of, and you should learn their "language" in order to avoid problems.
30 Minutes – Wildlife Trackers Training: We will continue with an overview of Wildlife Tracking in order to establish common goals and vocabulary which will be important in order to recognize tracks and other signs of animals. Kim & Chris will have arranged a "tracking scenario" consisting of track "cut-outs" to solidify your understanding of track identification, plus educated interpretation of what animals are doing based on their tracks. We will continue with a lecture on the track characteristics of mammal families present in our area. Finally, and super important to tracking, but something that takes a bit of childlike bravery, we will choose some volunteers to demonstrate "animal forms" which are the way animals move, as this is critical to really understand how tracks get laid on the ground.
30 Minutes – Bird Songs, Calls & Alarms: As a transition into birds, we will discuss their tracks since we are likely to find sign of Great Blue Heron, Canada Goose, various raptors, gulls and smaller shore birds along muddy areas. We will also have a fascinating lesson on scatology in hopes of dissecting scat, owl pellets, and other droppings we come across when we go outside later. But most important, we will overview the 5 categories of "bird language" which are key not only to identification, but to keeping yourself safe around predators in nature. That's right, the easiest way to know that there are predators near-by is to listen to the birds!
30 Minutes – Awareness in Nature:  The most important skill in nature is awareness, whether it be for safety or discovering animals. We will head outside for the remainder of class, and start by practicing "wide angle vision" like owls do, plus "expanded hearing" like deer use to decipher whether sounds they hear in the forest are predators or friendlies, and the "stealth walk" like foxes teach us in order to move undetected in nature so we see more animals and experience their behavior as if we weren't there. We like to say that if you bring home just one set of skills from tonight's class, that these awareness activities are it. They will help you see more wildlife, and keep you safer, in city and wilderness, better than any other set of knowledge.
Using the knowledge and awareness you have developed thus far in class, we will explore outside and discuss live "sign" of all kinds. In order to help you open to a world of evidence that animals leave whereever they move, we'll look for and discuss scrapes, lays, burrows, latrines, larders, nests, partial tracks, pressure releases, vegetative cuttings, and everything else we can find – even the condition of feathers to determine exactly how or if a bird might have been killed or injured.You also have to be able to trail animals if you want to find them, so now that your eyes are adjusted to seeing sign, we're going to train you in the kind of trailing that real animal trackers use, keeping your head up and walking fast, identifying voices of the birds to know what is up ahead!
PLEASE BRING TO CLASS:

– Cameras and/or Binoculars
– Flashlight/Headlamp will make things a lot easier for seeing tracks.
– Hats, warm clothes, proper footwear, and rain gear if necessary for the outdoor portion of class.
– Any of the 10 Hiking Essentials you think are necessary.
– Any of your favorite field guids. The ones we recommend and may have for sale at class include:
1. Any of the birding field guides to Western North America published in the last few years are good, but for the least expensive and easiest to use for the beginner-intermediate level, just get Birds of North America: A Guide To Field Identification (Golden Field Guide Series)
2. Any of the wildlife tracking books we recommend on our blog post about the subject but especially Scats & Tracks of North America by James Halfpenny for the easiest-to-use, most accurate little tracking field guide, Wildlife of the Pacific Northwest – Tracking and Identifying Mammals, Birds, Reptiles, Amphibians, and Invertebrates by David Moskowitz for everything you need to know about animals and tracking in the northwest, and Tom Brown's Field Guide to Nature and Survival for Children for learning nature awareness.
3. Lonesome for Bears by Linda Jo Hunter for understanding bears and bear language.
4. Three Among the Wolves by Helen Thayer for understanding wolves and wolf language.
To get a jump-start on the skills we cover in this class click here to see upcoming blog posts on these subjects and to practice these skills in depth, check out our summer kids camps, our overnight youth camps and adult expeditions.
Class Locations:
Next Regularly Scheduled Class: May 1, 2015 at the Tacoma Branch Mountaineers Building in Old Town Tacoma, WA. Other options include our Weekend Wildlife Tracking & Birding Workshops and our summer Tracking Wolf Country: From Birds to Big Critters week. Other available venues for this class theme also include:
Bellingham & Sumas at the Sumas Community Center & City Park, Village Books in Old Fairhaven, Western Washington University, and other venues by request with instructors Charlie Borrowman, Bill Baroch, Kim & Chris Chisholm.
Snohomish & Skagit Valley at Deception Pass, Edgewater Park, Shambala Farm, Tim Noah Thumbnail Theater, Sultan City Park, and other venues by request with instructors Charlie Borrowman, Bill Baroch, Jason Patterson, Kim & Chris Chisholm.
Seattle and the East Side at the UW Burke Museum, Center for Urban Horticulture, Good Shepherd Center, Bellevue Community Centers, Lewis Park Environmental Center, Lake Sammamish State Park, North Rose Hill Woodlands Park Shelter and other venues by request with instructors Charlie Borrowman, Megan Damofle, Jason Patterson, Kim & Chris Chisholm.
Silverdale, Kitsap & OlyPen at the Clear Creek Interpretive Center in Silverdale, Fort Townsend State Park near Chimacum, and other venues by request with instructors Charlie Borrowman, Kim & Chris Chisholm.
Olympia & Chehalis at Stan Hedwell Park, Centralia Community College, Millersylvania State Park, Burfoot County Park, Nisqually National Wildlife Refuge, Evergreen State College, Grayland State Park, and other venues by request with instructors Kim & Chris Chisholm.
Cle Elum – Ellensburg – Wenatchee – Yakima – Tri-Cities at Central Washington University, Irene Rhinehart Park, Umtanum Canyon, Gigkgo State Park, the Yakima Museum in Toppinish, Columbia Basin College, Whitman College and other venues by request with instructors Nicco Minutoli, Kim & Chris Chisholm.
Spokane & Couer D'Alene – Pullman & Lewiston at Riverside State Park, WSU and other venues by request with instructors Nicco Minutoli, Kim & Chris Chisholm.
Portland, The Dalles & Vancouver WA at the Columbia Springs Environmental Center in Vancouver, at the Oregon Sierra Club, Peninsula Park Community Center, Tryon Creek Natural Area, and other venues by request with instructors Charlie Borrowman, Patrick Wiley, Kim & Chris Chisholm.
Eugene, Salem, Corvallis, Albany and the Oregon Coast on campus at the University of Oregon, on the coast in Florence, and by request in other venues with instructors Charlie Borrowman, Patrick Wiley, Kim & Chris Chisholm.
Medford, Ashland, Klamath Falls, Madras & Bend, Oregon by request with instructors Charlie Borrowman, Patrick Wiley, Kim & Chris Chisholm.
Northern California, Central Valley, Bay Area & SoCal by request with instructors Charlie Borrowman, Patrick Wiley, Kim & Chris Chisholm
Other Class Topics During the Academic Year:
• Winter: Wilderness Survival Skills including Bow Drill Fire Demo
• Winter Natural Navigation, Map & Compass, Lostproofing, & Orienteering
• Spring: Local Wild Edible Plants & Backcountry Herbal Medicine
• Spring: Safety, Tracks & Bird Alarms in Cougar, Wolf & Bear Country
• By Request: Backcountry Gourmet Camp Cooking Class
• June: Special Week of Classes at the Wolf Campus in Puyallup
• Fall: Climate Change Training – Lifestyle, Debates, Emergencies & Carbon Sequestration
• Fall: Backcountry Crafts – Making Rope, Berry Collecting Baskets, Sleeping Bag Mats & More
Register:
Call 253-604-4681 with a credit card to register for any of these semi-monthly classes. Start anytime. No prerequisite. If you are unsure as to your final balance, just make a deposit of any amount to guarantee your spot, then contact us with the names/ages of those attending, and you can pay your balance at class. Thanks!