History of Wolf Camp & School of Natural Science

In 2020, proprietors Kim & Chris Chisholm brought the original School of Natural Science name after the new, independent Conservation College achieved its non-profit status, set up its own website and began its vision to "inspire a global conservation ethic, by connecting people to nature through outdoor education."
Chris & Kim also provided complimentary Outdoor Skill Broadcasts every day of the spring, and added Virtual Day Camps in response to the COVID-19 crisis. They also plan to roll out the online edition of the Wolf Journey Earth Conservation Courses as their main project during the 2020-21 academic year.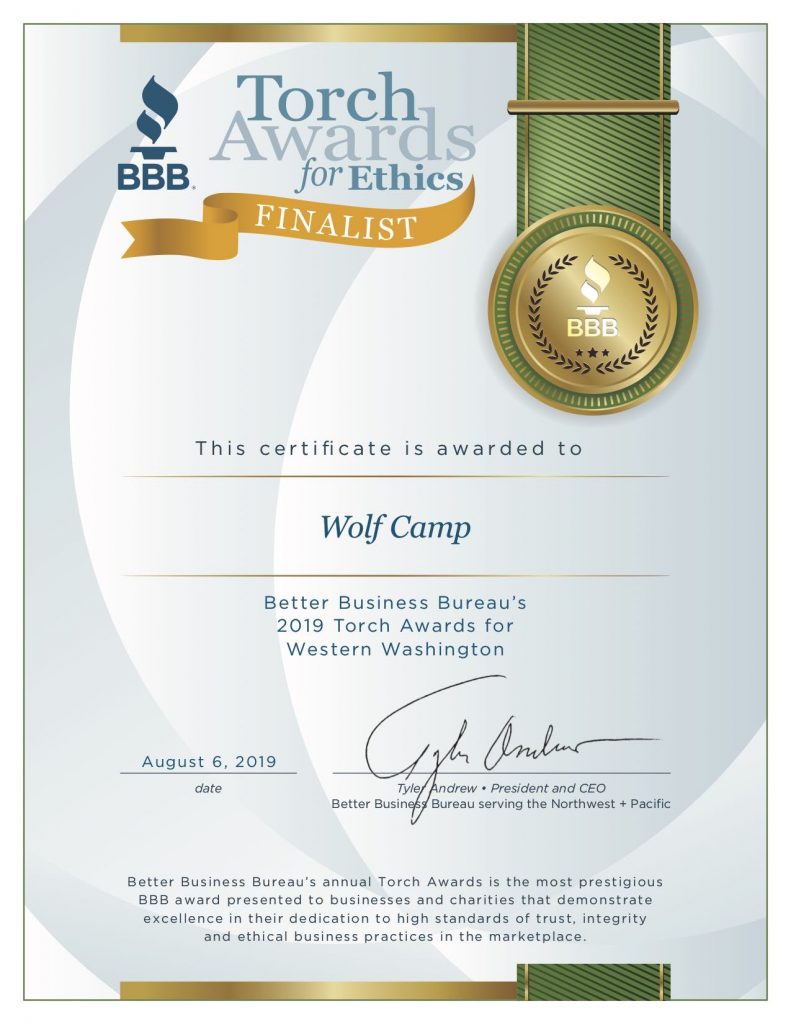 In August 2019, the Better Business Bureau announced that we were selected as a BBB Torch Awards for Ethics finalist!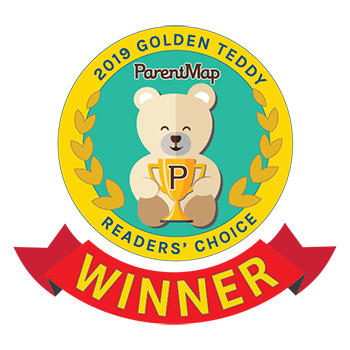 In June 2019, Parent Map announced that we were voted BEST NATURE CAMP and BEST FAMILY CAMP in their Golden Teddy award survey.
2019 was another stellar year for camps, classes and workshops. Wolf Camp founder Chris Chisholm and co-owner Kim McKillip Chisholm updated the name of their Blue Skye Farm home office, bringing back the School of Natural Science sub-title used in the early years of Wolf Camp, in preparation for running programs under that name in Pierce County. Among other stand-out staff accomplishments, Leila Leta returned for a second summer after completing the Blue Skye Farm Internship where she spearheaded our first full summer of selling produce at the Puyallup Farmer's Market.
2018: The Conservation College board of directors worked all year to achieve its non-profit status in preparation for eventually take-over of Wolf Camp programs in King County. Similar to transitions made by founders of other unfaltering summer camps over the past century, our vision is that this unique earth skills educational enterprise last in perpetuity. In the meantime, Wolf Camp continued reached its goal a second year in a row of serving approximately 1,000 students at summer camps and weekend workshops for all ages, engendering appreciation and conservation of the environment through its "earth skills education" taught by highly trained outdoor leaders utilizing effective risk management, as well as fun and collaborative teamwork strategies.
2017: A new board of directors was founded as the first step to expand the Conservation College vision from running summer camps and periodic weekend workshops, to becoming an accredited technical school offering degree programs to all ages of student throughout the year. Departments could include Cultural Conservation (traditional craftwork and wilderness skills), Plant Conservation (ethnobotany – use of wild edible and medicinal plants), Wildlife Conservation (tracking the animal kingdom) and other departments following a curriculum of the Neighborhood Naturalist, Traditional Herbalist, Wildlife Tracker, Survival Scout, Ancient Artisan, Honorable Hunter, Sustainable Citizen & Environmental Educator.
2016: Our 20th Anniversary! October 28-30, 2016 the Wolf Gathering – 20th Anniversary Celebration & Skillshare Rendezvous was a success with returning staff telling of harrowing survival treks, performing re-enactments of John Muir's legacy, and meeting about the future of Wolf Camp. The will continue annually as a conservation forum and "skillshare rendezvous." In other news this year, we joined the Washington State Farm Internship Program to accept interns at Blue Skye Farm where the Conservation College is located, with produce including berries feeding hungry campers all summer. Wolf Camp employed 16 seasonal staff, accepted a host of wonderful apprentices including graduates Thomas Fellows, Marco Garcia-Duarte, Andres Godinez, Heather Carmichael, Anna "Wren" Schmid, Sarah Inskeep, Elissa Pemberton, Jacquelyn Kellin and Drew Basham.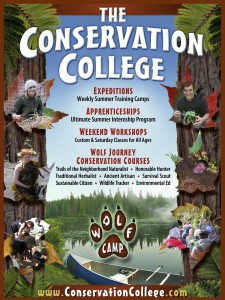 2015:  Kim & Chris Chisholm embark on a legacy plan which includes changing the name "Wolf College" to "The Conservation College" and shifting ownership of summer youth programs to a new non-profit board over the course of the next couple of years. Application for founding board members will be sought in 2017. Chris & Kim also prepare application for Conservation College accreditation to the Washington State Workplace Training & Education Coordinating Board so that certifications and credits can be offered for apprenticeships and expeditions.
2014: Wolf Camp and the Wolf College experience a doubling of enrollment. Organizations including the Tacoma Mountaineers, the Sierra Club in Portland, and others co-sponsor monthly Wolf Journey classes on outdoor skills including wildlife, ethnobotany, survival skills and more. Puyallup Parks & Recreation co-sponsors summer day camp for kids, and King County day camps shift to a wonderful new location on Lake Sammamish. Northwest Nature Hikes is also born as a project utilizing multi-thousand member meetup sites to reach out to hikers and backpackers about risk management, plants, navigation, wildlife awareness and more.
2013: Andy Jacobs joins the staff as tech guru, bringing the Wolf College website into the modern era, and completing his teaching apprenticeship along with his wife Chelsea during the summer. Ben Kleiber and Braden Ploger, both former day campers and youth mentor program graduates, complete their apprenticeships to join the Wolf Camp instructional staff. Meanwhile, the Wolf College begins collaborations with Columbia Springs Environmental Center in Vancouver, WA to run a day camp and classes there, and The Tacoma Mountaineers begins monthly co-sponsorship of Wolf Journey classes on climate change and more.
2012: Torrey Burke-Weeks, a former day camper who started at age 7, now becomes the youngest Wolf Camp lead instructor. Nicco Minutoli, who started overnight camps at age 9, trains to become our health/logistics coordinator. Meanwhile, Kim & Chris successfully purchase Kim's grandparent's old home in Puyallup for the future Wolf College campus, and help to lobby the City of Puyallup to restore 8 adjacent acres which her grandmother sold to the city for wetlands preservation, with plans to convert a polluted, flooding ditch back into a working stream to mitigate pollution, reduce flood risk, and develop habitat for wild salmon and other wildlife.
2011: Wolf Journey class locations expand to include Portland-Vancouver, Ellensburg, Silverdale, Bellevue & Sumas. Kim & Chris also co-found Wolf Trackers for Conservation in response to wildly inconsistent wolf management policies taking place at federal and state levels, with hopes of helping to bring sanity back to the situation. Wolf Journey revisions begin with a name change to the Wolf Journey Earth Conservation Courses, music videos, and artwork by Joanna Colbert.
2010: Kim & Chris add the name "Wolf College" to reflect growing adult programs, and start Wolf Journey classes in Seattle, Snohomish, Bellingham, Puyallup and Olympia, as well as begin bimonthly weekend workshops. Summer camps grow 50% as we spread out locations out across Western Washington, including camps in conjunction with Wolf Haven, International. Patrick Wiley graduates high school, and becomes a full time lead instructor throughout his college years.
2009: Kim & Chris get married, run camps from Snohomish, and gear up to re-start Wolf Journey classes and weekend workshops throughout the Puget Sound region. Kim & Chris plan to purchase Kim's grandparent's old homestead in Puyallup, and begin implementing a permaculture design for the house and property. Projects include the development of 2 vegetable gardens, 1/4 acre of orchards, backyard chickens, and energy efficiency retrofits.
2008: Chris offers Wolf Journey freely online. After another 5 years of injury-free earth skills programs, Chris sells camp house on 5 acres, and operates primitively on remaining 40 acres around Woods Lake, which he also sells at the end of the summer. Wolf Camp gets home office in Snohomish, and begins offering weekly classes again for the first time since departing Bellingham.
2007: The Ethnobotany Herbal Apprenticeship is piloted, Andrew Twele completes his Earth Skills Teaching Apprenticeship and goes on to develop our Outdoor Living with Traditional Technologies program. Morgan & Indigo Tidd, Patrick Wiley, James Helms, Charlie Borrowman, Elise Santa Maria, Anna Flies, and others complete our Youth Mentoring CIT Program by this time, with many going on to become instructors.
2006: Megan Damofle starts her Earth Skills Teaching Apprenticeship, and with much prior herbal medicine training, transforms over the next couple years into our lead Herbal Instructor. Lorien, leading our tracking camp this year, comes across a young male cougar who had just died of starvation, and for Chris, it was a sign to transform leadership of Wolf Camp toward into a less individualistic program. Charlie Borrowman attends camp for the first time, later becoming a lead instructor and staff Wild Gourmet Chef.
2005: Morgan Tidd becomes first youth to complete all portions of Wolf Journey Part One – Trail of the Naturalist to certification level. Jason Patterson comes on board the staff, and Chris "Huck" Anderson completes the Earth Skills Teaching Apprenticeship, then goes on to found Lost & Found Adventures back in his home of Phoenix, AZ. We also pilot our first Recreational Administrative Internship with our first graduate, and Jay Doyon pilots our Sustainable Citizen apprenticeship as our first graduate of that apprenticeship program.
2004: Lorien MacAuley and Scott Fanello, as well as Griz Chambers, complete the Earth Skills Teaching Apprenticeship. Lorien and Scott pilot our Semester Apprenticeships. Chris buys additional 5 acres with camp house. Morgan Tidd and Patrick Wiley attend Wolf Camp, and will go on to become camp instructors, earth skills specialists, and logistical wizards in later years. Nicco Minutoli attends camp for the first time to become a camp counselor by 2011, and his father becomes WOLF Foundation president.
2003: Graduates of the Earth Skills Teaching Apprenticeship increase to 6, including Krista Rome. Micah Fay pilots our Traditional Technologies apprenticeship and goes on to live primitively in the western wilderness over the following 2 years. Griz Chambers is first graduate of our Youth Mentoring CIT Program. Lummi Island Heritage Trust secures ownership of the 40 acre camp property, now to be designated as open space. Chris buys property for Wolf Camp on Woods Lake in Snohomish County.
2002: Earth Skills Teaching Apprenticeship grows to 4 participants. Camps begin to increase in size upwards of 20 students. WOLF Foundation is co-founded by parent of a beloved Wolf Camp student Max Davis who contracted bacterial menengitis the previous winter, and we rename our scholarship fund in honor of him. Glen MacKay attends Wolf Camp for the first time, and goes on to be our first camp instructor under the age of 21. James Helms attends his first overnight camp at age 9, and will go on to become a camp instructor by 2009, with his younger brothers close in his footsteps, as well as his father Mike later joining the WOLF Foundation.
2001: Kate Hedges is first official graduate of the Earth Skills Teaching Apprenticeship, and goes on to found the first earth skills educational institute in Scotland. Griz Chambers attends camp at age 14, and will go on to be our earliest overnight-camper-turned-instructor in later years. Judy Chiasson attends her first Wolf Camp workshop, and goes on to co-found the WOLF Foundation. Torrey Burke-Weeks attends day camp at age 7, and will go on to become our youngest lead instructor ever.
2000: Chris writes Wolf Journey Book Two – Trail of the Tracker, and begins accepting correspondence students working through Wolf Journey. Nikki van Schyndel is first participant in the pilot Earth Skills Teaching Apprenticeship. Bill Baroch teachings camps, and 40 acre property with cabin on Lummi Island becomes home for Wolf Camp. Aldin Huff attends day camp at age 7, and will go on to become our first day-camper-turned- instructor in 2009.
1999: Chris publishes Wolf Journey Book One – Trail of the Naturalist. Bill Baroch and Nikki van Schyndel come on board during evening classes. Alexandra Bunker attends overnight camps at age 10 and goes on to become our youngest apprentice ever at age 15, then becomes Florida's youngest public official as part of her successful effort to save critical wetland habitat from development, among other accolades.
1998: Chris begins writing the Wolf Journey Earth Conservation Courses. Carol Goulet comes on board as lead instructor for Wolf Camp which runs two full overnight youth camp weeks as well as four full summer day camp weeks. After school classes start filling up.
1997: Chris officially founds Wolf Camp in January, runs the first day camp in July, and starts after-school and evening classes. Wolf Camp runs its first custom program, for the Lummi High School.
1996: Chris embarks on a group wilderness quest, and the idea for Wolf Camp is born. Tracking Club runs first workshop near Bellingham, and Chris leads another on Lummi Island. Parents begin requesting that Chris teach after-school earth skills lessons.
1995: Wilderness Awareness School & Earthwalk Northwest move to Washington State, which accelerate the development of a future Wolf Camp.
1994: Friends in Bellingham start a tracking club, meeting weekly to practice earth skills, while Chris studies on Lummi Island.
1993: Chris embarks on a wilderness quest to practice his earth skills.
1992: Chris moves to Bellingham and picks up a a series of outdoor educational books and realized all he'd missed while growing up in the north woods of MN/WI and roaming the mountains of Europe during high school and South America in college.
1991: Founder Chris Chisholm graduates from the University of Wisconsin where he studied the return of wolves in the Chequamegon National Forest and volunteered as a witness to the return of Indian Treaty Rights in the northern part of the state.
Please click the following links to read more about us:
Contact
Contact us by phone or text at 425-248-0253 (cell) or email us anytime.