In-Person & Online Options!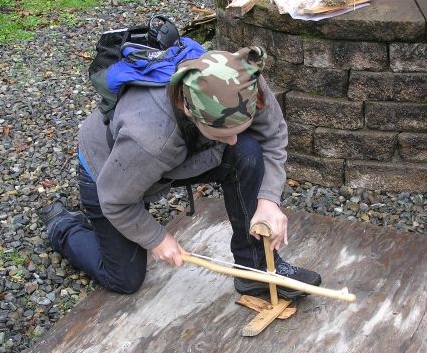 Saturday, April 17, 2021: Wilderness Survival Skills Training

Saturday, April 24, 2021: Bow Drill, Hand Drill & Fire by Friction
Can you imagine that after one day, you could become well versed with survival skills, becoming the best expert on preparedness, emergency shelters, wild foods and fire making in neighborhood?
April 10th Wilderness Survival Workshop (see below for online and in-person registration options)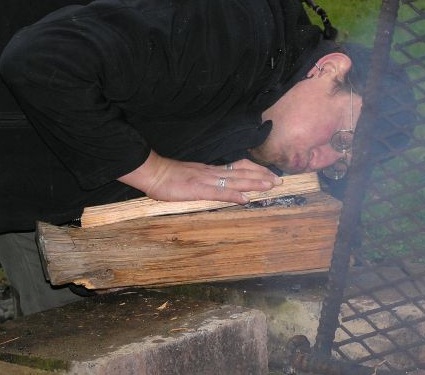 We start our workshops promptly with the most critical information everything else flows from: an overview of our order of emergency survival – with or without gear in town or wilderness. We'll also discuss the most essential tools to carry with you depending on your skill level. For a primer, read our article on the Critical Order of Emergency Survival, and remember, survival requires multi-tasking, so during this time, we will also pass out materials for you to learn the "reverse wrap" method of making rope which you can work on during the powerpoint. We will also discuss a big dilemma in survival situations: when to stay and when to go. We have a formula for you to decide, taking into consideration the amount of daylight, your available gear, your position relative to where you are and who you notified about your trip, and how "hungry, angry, lonely, tired and thirsty" you are. Depending on your score, you will either have to make shelter or navigate your way out of a mock survival scenario. Additional skills will include the the Top 10 Hazards to avoid, so that you never experience a survival situation.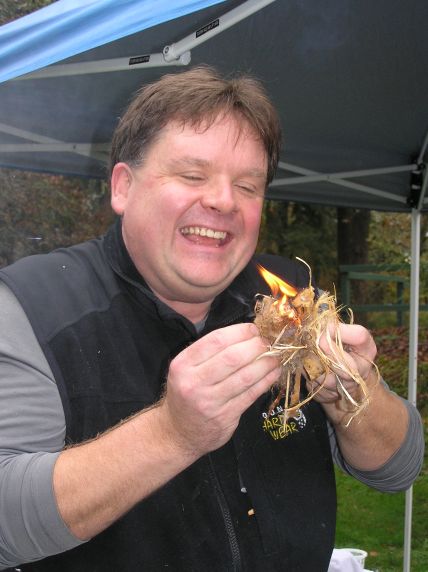 April 17th Fire Making Workshop (see below for online and in-person registration options)

We'll start this workshop showing you how to gather fire making materials, and walking you through the Best Way To Make A Fire which is critical for starting fire in the rain. We'll view a variety of materials to see how they burn as tinder: various barks, seed down, leaves, laundry lint, and grass are used for different circumstances, and you can choose your own materials for a tinder bundle.  The reason we always emphasize basic fire-making skills along with traditional fire-by-friction is that there's no reason to bother making a bow-drill coal, let alone striking a match, unless you've prepared materials that will sustain your fire. The scenario will require you to choose the best natural shelter and fire location in the area, then see if you can start and maintain a fire.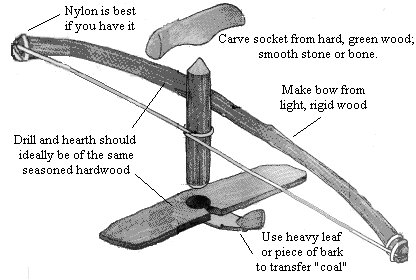 We'll also train you to construct and use the bow drill which is great in case matches, lighters and fire steels fail or run out. We'll practice a knife safety/efficiency training while reflecting the symbolism of the parts of the bow drill kit. In so doing, you may come to realize why this method of fire-by-friction was preferred (and superior even to matches) for lighting fires in cold and wet climates. It should only take 10 seconds to create a coal if your kit is well constructed.  You will be using your knife to split a 3 inch piece of cedar to make your hand-hold socket, and do the same with your 12 inch piece to create a bottom board and 2 spindle "blanks." You'll carve a spindle to the perfect shape, mold your hand-hold into a comfortable socket, prepare points on your hearth in preparation for drilling, and carve one of those points into a perfect-sized notch where your coal will later be born. We will also stop to show you alternatives you would have to look for in the wilderness to make your fire kit without a knife, but again, it is critical that you use good material for your first kit in order to develop excellent form.

Workshop Times, Cost & Registration
In-Person Participation at Blue Skye Farm, Puyallup WA: Email us to ensure availability, and let us know how many household members will attend. In compliance with safe gathering guidelines, two households may participate. The cost, no matter the number of participants from your household, is $295 (we can have up to 10 people between 2 households) with onsite instruction from 9:30-3:30. After ensuring available space in your workshop choice or choices, please use one of the payment methods below to confirm attendance, and we will reply with preparatory information as soon as possible. Workshop takes place at the Wolf Camp home office of Blue Skye Farm, 1026 14th St SW, Puyallup WA 98371.

On-Line Participation: There is plenty of space in all workshops, so simply use one of the payment methods below to register, and we will email you preparatory information within two business days. We will use Google Meet to broadcast the workshops: it's as easy as zoom and great for recording and sharing later. Your participation will be completely interactive and prioritized as much as those attending in-person. Virtual workshop hours are 9:30-12:30 with more time provided for questions and personal demonstrations, so feel free to have lunch with us afterwards! Virtual workshop registration rates are: $65 for you (and others in your household sharing the same connection) to attend one workshop this spring, $60 for your second, third or fourth workshop, and $50 for a fifth or sixth workshop. It's fine to register for one now, and add more later at those rates, or use the paypal drop-down menu below to register for multiple workshops simultaneously. If you choose the $345 all-virtual-workshops option, or one in-person workshop and five virtual workshops, feel free to use multiple computers in one house. Otherwise, we ask that online participants limit connections to one computer per household registration.

Credit/Debit Card Registration Option: Just call us at 425-248-0253 and we will take your registration securely over the phone.
Check/Mail Registration Option: Send with a check payable to the Wolf College, 1026 14th St. SW, Puyallup WA 98371 with participant names, your phone number, email address, age of any minors, and any allergies or health restrictions we should know about.
Or Use PayPal to register via secure payment with a credit/debit card or via direct withdrawal from your bank account. Use the link below (might not be visible if you are using "reader view" on your phone or other device) or sign into paypal.com and "send money" to our email address: (we'll get back to you with any additional information we may need)
Or email us to be put on our our list for the future. We always keep your information absolutely private, and will never share it. Have you ever attended one of our programs before? Please review us on our Better Business Bureau, Facebook, Yelp &Google pages.
Virtual Class FAQs
What online format do we use? Google Meet with recordings uploaded to Google Drive. It's as easy as zoom, great for recording, and easy to share in perpetuity.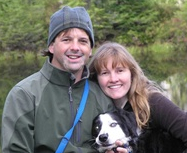 Were classes live and interactive? Yes. Instructors Kim & Chris Chisholm engage participants throughout.
Do you sell the recordings afterwards? Yes, we might have them available for purchase later at a reduced price, so we will ask all participants to sign a release granting permission.
What ages can participate? All ages may participate, although online classes are not recommended for ages 8 and under unless an adult is helping. We leave it up to parents to decide if children are old enough to participate, as well as whether to participate alongside them online and outside with recommended activities.
Can we get a refund if we cancel? Our refund policy below only offers credit for future programs if you cancel, such as if the recorded online format doesn't appeal to you and you prefer attending future programs in-person. Our official refund policy states that deposits ($100 for day programs, $200 for overnight programs) are not refundable unless we don't accept your application. If you cancel for any reason, you may receive a full credit good through the following calendar year on appropriate and available programs listed on our schedule, although an additional deposit is needed to secure your spot in the future program. If a program you sign up for is canceled and not rescheduled at a time you can attend, you may receive a full refund except in cases of natural (weather, geologic, wildfire, etc) disasters, epidemics, grid failures, government shutdowns, conflicts or curfews, or other unforeseen emergencies making it unsafe for staff and/or attendees to reach or use program locations, in which case all payments made will be held by us without expiration date for your future use in appropriate/available programs of your choice. Reasons include the expenditure of funds (property rentals, advertising, materials, admin staff time, etc.) long before programs take place, i.e. deposits make it feasible for Wolf Camp to schedule programs in the first place, but our mutually understood agreement is that Wolf Camp will run the program at the safest available time in the future. Finally, no refund, nor credit, is given if a participant is asked to leave a program for inappropriateness as determined by our kids, youth and adult agreements for participation.