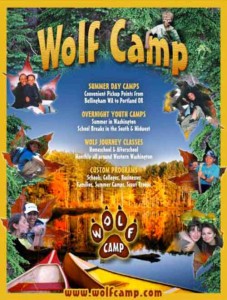 Experience our summer nature and wilderness camps taught by highly skilled instructors who specialize in outdoor risk management and teaching to kids and adults alike. Whatever your outdoor interest, we work hard to ensure that you and your family will love the Wolf Camp experience.
Kids Nature Day Camps – Exciting and educational programs such as Wilderness Survival, Animal Tracking, Wild Edible and Medicinal Plants, and more. Geared towards ages 7-13 in the summers of 2020-21. WAIT LISTED – SEE VIRTUAL CAMP OPTIONS INSTEAD

Youth Overnight Camps – Delve deeper into Wilderness Survival and our other themes introduced at day camps, or branch out to some of our specialty courses such as the Wildlife Tracking Safari, and Wild Chefs & Herbal Medics. Great for ages 9-17. TWO OF THREE WEEKS WAIT LISTED

Family Camps – If you miss the summer camp experience, we offer Family Camps that run alongside our Summer Day Camps. We also offer weekend workshops which are open to families with older children during the academic year.

VIRTUAL ONLY IN 2020



When registering for summer camps, please read our Summer Camps in the Pandemic Era page, and view our upcoming Communicable Disease Prevention – Policies & Procedures blog post.

"Huck's Song" written by Chris Anderson.
Virtual Summer Camps for kids, youth and family begin June 15th and include M-F hours of 9-10 AM Online Camp Instruction; 10-12 on-call mentoring while participants are outdoors, 12:00-12:30 Virtual Potluck Lunch & Afternoon Directions; 12:30-2:30 on-call mentoring while participants are outdoors; 2:30-3:00 Online Review, Show & Tell, plus 3-5 PM extended on-call mentoring with 5 PM Last Check-In for participants who want to continue what they started earlier in the day. Camp themes include Virtual Secret Spot, Farm The Yard, Wild Cooking & Herbology, Wildlife Search & Rescue, Wilderness Survival Craft, and Secrets of the Ancient Scout. The past meets the future, from our backyard to yours!
Then join us in the fall as we roll out the online edition of Wolf Journey Book One – Trail of the Neighborhood Naturalist on a path to becoming your neighborhood naturalist. Begin the journey by finding a study site where you carry out lessons of Urban & Rural Habitat Conservation throughout the course. Each time you visit your site, you will walk more intimately within the landscape, and by the time you complete the course, you will have become a key resource on the natural world for your community, and perhaps the best expert on habitat conservation in your neighborhood.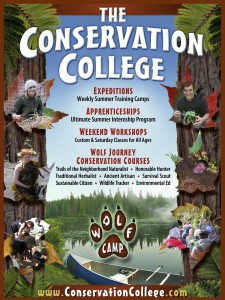 Kim & Chris Chisholm have given the Conservation College name over to an independent non-profit board of directors but continue to offer Summer Residential Programs including the Earth Skills Teaching Apprenticeship which is an environmental educational, work-trade program unique to the field and piloted in 1999.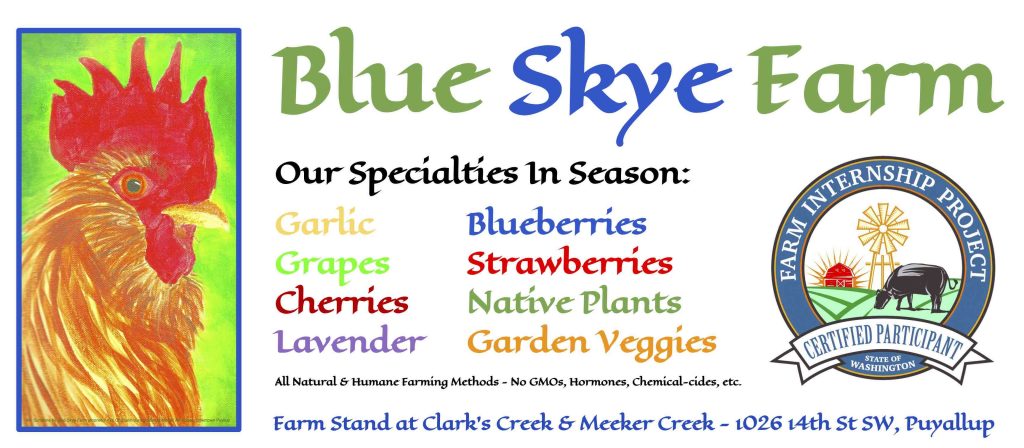 In addition, the Blue Skye Farm Internship is the primary farm program Chris and Kim started in a decade ago. It has been certified by the Washington State Farm Internship Program since 2016.
Chris & Kim introduce the chickens of Blue Skye Farm, home of Wolf Camp & School of Natural Science