July 26-31, 2015 The Advanced Safari Overnight Youth Camp with prerequisite

Go much deeper this week into the mysteries of animal tracking and bird language. Learn basic 'pressure releases' that tell many more details about the maker of the track, and test the theory of bird language, sending people out to act in various ways to see whether we can accurately interpret the reactions of the birds.
You can stay up all night scoping animals, and further your "hunting" skills photographing animal.  You'll also put your tracking skills to the test as your team engages in scenarios track down "missing" people. You'll also have a mission to solve a detective mystery involving animals and people, ultimately "rescuin"g a person trapped in the woods.  You will also review the basics of Wilderness First Aid this week so that if you ever really have to search for lost or injured people back home, you will know how to rescue them. But most important, we will make every effort to track down wild wolves, cougars, bears and other animals the group wants to find and photograph.
On Sunday evening, you'll receive an intensive review on wildlife tracking, which includes understanding prints, but moreso, understanding everything that's going on around you in nature, from the language of the birds, to trailing animals from their dens. Monday, we'll spend the day on the great river sand bar where tracks of animals amaze, including a resident herd of Roosevelt Elk, active beavers in a pond they created in an old river channel, plus coyote packs, mink, river otter, abundant raptors, and more. Tuesday, we'll walk into bear country, where myriad berries cover old clear cuts, and learn to trail through terrain you would previously had thought would be impossible to see tracks, and in the afternoon, you will have to navigate overland to a secret location, marked on your topo map, where there is an incredible array of black bear dens in burned-out, old-growth trees.
On Wednesday, we drive to the snow line to enjoy alpine meadow flowers and the animals they attract before heading down the east slope of the Cascades to camp in the territory of the Teanaway Wolf Pack where we will set up wildlife cameras along their favorite travel routes.  On Thursday and Friday, we will track the Teanaway Wolves and in addition, gain an understanding of how to track animals in dry pine forests and sagebrush canyonlands where we will be exposed to triple the number of birds and other animals as compared to the west side of the mountains.
Camp Availability:
Open/Available for Ages 9-13 & 13-17 with The Wildlife Safari (prior years) or Wilderness Navigation & Orienteering Challenge (prior week) as prerequisite, or with parent/guardian enrolled in Tracking Wolf Country running simultaneously.
Camp Goals & Skills Covered:
The goal of this camp session is to bring you to a deeper understanding of the natural world, and skills covered during this camp session include, but are not limited to the following list, and are somewhat dependent on instructor preference and camper readiness:
• Tracking down animals and document their presence.
• Managing a survey of animals to ensure how many are in an area.
• Mimicking at least 10 birds, including their song, alarm calls, companion calls, and aggression calls.
• Understanding specific ways that animals depend on certain plant communities for their survival.
• Camouflaging yourself and your documenting gear in any environment.
• Articulating the needs of animals, both in writing and public speaking, especially regarding the endangered species of your region.
• Communicate clearly and work well with teams.
• Find wolves:)
Camp Instructors: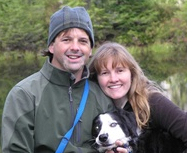 Kim & Chris Chisholm are co-leading this camp week with staff assistants.
Pick-Up, Drop-off and Airport/Bus/Train Transportation:
For logistical information, click on the intro Wildlife Safari or adult Tracking Wolf Country running simultaneously.
Tuition:
Costs are the same as the intro Wildlife Safari and adult Tracking Wolf Country running simultaneously.

Multiple Weeks: Recommended additions to make this week most successful for you include taking Backpacking into Wolf Country earlier in the summer, then Survivors Side of the Mountain in July, Wilderness Nav & Orienteering Camp taking place the prior week, plus Secrets of the Ancient Scout after that for stealth training, and Epic Fishing & Honorable Hunting later in the summer to learn about animals in practice. The cost for attending multiple weeks if you make $175 per week deposits by December 15th are:
$1145 for two weeks if you go home over the weekend, or $1340 including the weekend with us.
$1710 for three weeks if you go home on weekends, or $2095 including two weekends with us.
$2270 for four weeks if you go home on weekends, or $2840 including three weekends with us.
$2825 for five weeks if you go home on weekends, or $3570 including four weekends with us.
$3375 for six weeks if you go home on weekends, or $4290 including five weekends with us.
$3920 for seven weeks if you go home on weekends, or $5000 including six weekends with us.
Standard Discounts: You will receive cumulative discounts of $5 per additional camp you attend this summer, $5 per additional family member attending this summer, $5 for successfully referring other families who register campers this summer, and $5 per online review you do for us on a searchable site like google once you've attended a program.
Additional Expense: Campers are highly encouraged to bring a digital point-and-shoot camera with super-zoom for this camp. Otherwise, the only additional expenses you may incur for this course are that you will want specific camping gear, although we have plenty of extra just in case you can't acquire something. You will also need health insurance, so check with us for recommendations on inexpensive temporary insurance if necessary. Also, please see above for optional transportation and weekend stayover choices.
Registration Options:
Check/Mail/Email Registration Option: Print out and complete our Microsoft Word Registration Form for each participant and send with a check deposit payable to the Wolf College, 1026 14th St. SW, Puyallup WA 98371. You can also email us a completed registration form and pay using your preferred method.
Credit/Debit Card Registration Option: Just call us at 253-604-4681 or 425-248-0253 and we will take your registration securely over the phone.
Our refund policy is that deposits are not refundable unless your registration is not accepted. If you cancel after making additional payment, you may receive a credit for a future program, minus a 25% administration fee of total payments made, in case of emergency. You will receive a full refund if your program is canceled and not rescheduled at a time that you can attend. No refund (and not necessarily any credit) is given if a participant is inappropriate at the program and asked to leave.
Camp Preparation: Agreements & Packing List

Agreements for Participation in Camp