July 2-6, 2018 at Clark's Creek Park & Camp Curran with complimentary extended care, plus family Independence Day activities. CAMP IS FULL

Give your child the gift of our Summer Day Camp for ages 6-12 running Mon-Tue-Thu-Fri 9:30-3:30 with complimentary extended care available during this special Independence week from 8:30 AM Mon-Tue-Thu-Fri to 4:30 PM Mon-Tue-Thu, plus complimentary family activities on Wednesday, July 4th.

Camp includes optional swimming/wading and games/archery during lunchtime, depending on park rules, weather and other factors.  Campers are grouped with others closest to their age within our hallmark 6-1 average, 8-1 maximum student-teacher ratio that's so critical for safe and profound outdoor experiences. You can also check out our other day camps in Olympia & Lake Sammamish.

Camp Themes:
For New Campers – The Wilderness Skills Sampler:
Register below for this theme designed to provide participants with an overview of the skills that Wolf Camp offers, including:
Monday at Clark's Creek Park, Puyallup:
Morning Session: Wildlife Safety & Natural Hazards
Lunchtime: Choice of Swimming, Archery & Nature Games (depending on park rules; bring lunch)
Afternoon Session: Natural Navigation plus Map & Compass
Tuesday at Clark's Creek Park, Puyallup:
Morning Session:  The Language of the Birds
Lunchtime: Choice of Swimming & Nature Games
Afternoon Session: Wildlife Tracking & Trailing

Wednesday – Optional Complimentary Family Day at Camp Curran, Puyallup-Tacoma:
Nature & Survival Activities for Families (children must be accompanied by an adult)
Join us anytime between 9:00-5:00 for archery, crafts, campfire and more.
Thursday at Clark's Creek Park, Puyallup:
Morning Session: Wild Edible Food Plants & Critters
Lunchtime: Choice of Swimming & Nature Games
Afternoon Session: Wild Plants for Medicine & Craft
Friday at Camp Curran, Tacoma-Puyallup:
Morning Session: Wilderness Survival including Emergency Shelters
Lunchtime: Choice of Archery & Nature Games
Afternoon Session: Traditional Fire Making including the Bow Drill & Fire Steel

For Returning Campers – Advanced Nature & Survival:
Advanced Nature & Survival Day Camp: Click for a description or register below for this option only available to campers returning from prior years.
Camp Leaders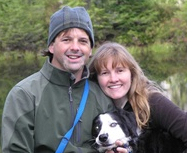 Kim & Chris Chisholm are on site all week directing professionally-trained staff instructors at our hallmark 6-1 average, 8-1 maximum student-teacher ratio that's critical for safe, profound and fun outdoor experiences. Read our FAQ's for more details and check out camp testimonials dating all the way back to 1997!
Pickup/Dropoff

Instruction runs Mon, Tues, Thurs & Fri 9:30-3:30 with complimentary extended care available as early as 8:30 AM Mon-Tue-Thu-Fri and as late as 4:30 PM Mon-Tue-Thu. Drop off Mon-Tue-Thu directly at Clark's Creek Park – South Entrance, 1700 12th Ave. SW in Puyallup, and Fri at Camp Curran, 13220 50th Ave E, Tacoma WA 98446 near Canyon Road. Parents must accompany children attending optional Wednesday activities at Camp Curran.
There is no aftercare on Friday afternoon. Instead, parents are invited to join us for closing ceremonies from 2:00-3:30 on Friday at Camp Curran.  The schedule includes classic songs and stories from 2:00-2:15, camper-lead workshops for parents from 2:15-3:00, and camp graduation awards from 3:00-3:30. Please join us for closing ceremonies to help campers integrate the skills they learned back into their life!
Tuition
Our day camps for ages 6-12 are normally $345-$385 for Monday-Friday with complimentary extended care but this modified independence week camp is $295 if you make a deposit by June 30th, or $300 if space remains available thereafter.
To reserve your spot, make a $100 deposit per camper, and your balance will be due upon arrival. The only additional expenses you may incur for camp are that you will need to pack a lunch and snacks every day. Tuition includes choice of Wolf Camp Book or Organic T-Shirt at your first camp with us, and Washington Firesteel or Orienteering Compass at subsequent camps.

Standard Discounts: You will receive cumulative discounts of $5 per additional week you attend this summer, $5 off per additional family member attending this summer, and $5 off for successfully referring other families who register campers this summer.
Scholarships Availability: Our primary focus for scholarships is for residents of rural Pierce County and its cities. If you need financial assistance or want to apply for a merit scholarship, add to your camp Microsoft Word or PDF registration form answers to the 8 financial aid scholarship questions, or complete a merit scholarship project as described on that page. Alternatively, you can join your child to attend our affordable family classes which follow the exact same schedule as the in-depth sampler day camp.
Registration: CAMP IS FULL

Credit/Debit Card Registration Option: Just call us at 425-248-0253 and we will take your registration securely over the phone.
Check/Mail/Email Registration Option: Download our Microsoft Word or PDF Registration Form to your computer, fill out one per participant for whom we do not yet have a registration form on file (so not needed for returning campers) and send or email back to us. We also have a Bilingual Chinese-English Registration Form PDF or Word Doc. You can also send a check deposit payable to Wolf Camp, 1026 14th St. SW, Puyallup WA 98371 or fill out the registration form and pay deposits by calling with a credit card, or using paypal as described below.
Or Use PayPal to register online securely with a credit/debit card or via direct withdrawal from your bank account. Use the link below (might not be visible if you are using "reader view" on your phone or other device) or sign into paypal.com and "send money" to our email address: (we'll get back to you with any additional information we may need)
Or email us to be put on our our list for this program in the future. We always keep your information absolutely private, and will never share it. You can also like our facebook page to keep in better touch, and once you've attended a program, please review us on our Better Business Bureau, Yelp & Google pages.
Refund Policy: Standard deposits ($100 for day programs, $200 for overnight programs) are not refundable unless we don't accept your application. If you cancel in advance of the program start time for any reason, you may receive a full credit good through the following calendar year on appropriate and available programs listed on our schedule, although an additional deposit may be required to secure your spot in the future program. If a program you sign up for is canceled and not rescheduled at a time you can attend, you may receive a full refund except in case of natural (weather, geologic, etc) disasters, government shutdowns, conflicts or curfews, or other unforeseen emergencies making it impossible for staff and/or attendees to reach or use program locations, in which case all payments made will be held by us without expiration date for your future use in appropriate/available programs of your choice. No refund, nor credit, is given if a participant is asked to leave a program for inappropriateness as determined by our kids, youth and adult agreements for participation.
Day Camp Preparation: Agreements, Packing List and FAQ's

Day Camp Agreements for Participation
Other FAQ's – Frequently Asked Questions
Extended Care Option
If you want to drop your camper off at the park before 9:30 a.m., or pick up after 3:30 p.m., you can take advantage of our extended care option available from 8:30-4:30 on select days during this modified independence week. Campers utilizing the extended care option will have a dedicated staff member leading them in activities, sometimes joining the overnight campers when appropriate.
2018 Transportation Options – NOT OFFERED in 2017 SORRY!


North Tacoma also serving University Place & Gig Harbor departing at 8:45 and returning at 4:10-4:15 at Tacoma Boys, 5602 6th Ave, Tacoma, WA 98406. Cost is $60 for the week except no van on Friday afternoon.
Downtown Tacoma also serving Fife/NE/E Tacoma departing at 9:00 at the Portland Ave Shell Station, 2802 Portland Ave E; and returning at your choice of 3:50 at the Pioneer Ave Shell Station, 103 Pioneer Way E; or 4:30-4:35 back at the Portland Ave Shell Station, 2802 Portland Ave E. Cost is $60 for the week except no van on Friday afternoon.
(Not being used in 2017 but will be offered in 2018 is Lakewood also serving South Tacoma departing at 8:30 and returning at 4:00 off I-5 Hwy 512 (Exit 127) at the McDonald's, 10417 South Tacoma Way. Cost is $60 for the week except no van on Friday afternoon.)

Click for a full description of the Ezra Meeker Pioneer Camp inspired by the founder of Puyallup who traveled the Oregon Trail in 1852 with his wife Eliza and first child, as well as an original old farmhouse where Wolf Camp is now situated next to the park where day campers will visit to help on the re-created pioneer farm, plus visits to the Meeker Mansion and Pioneer Park where Ezra & Eliza built their first local cabin.