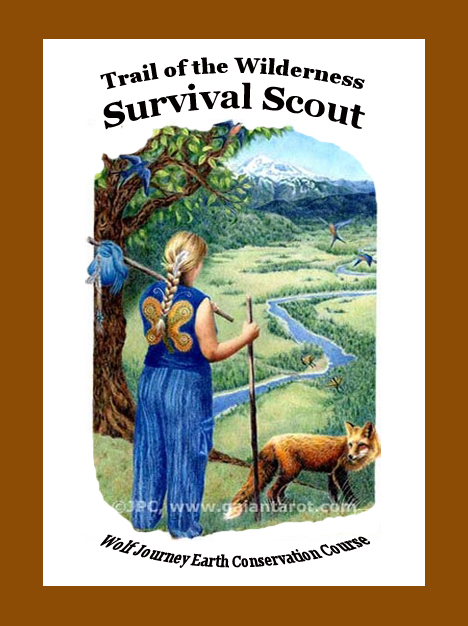 2023-24 Academic Year Rollout: Wolf Journey Book Four – Trail of the Wilderness Survival Scout features certificate goals of emergency preparedness, cultural and wilderness conservation on the path to becoming your local Survival Scout – The Jack of All Trades.
As you embark on this journey, you will have loads of fun and face great challenges as you progress through this course, from natural navigation and orienteering, to making efficient fire and shelter, to investigating traditional bushcraft skills from around the world.
Book Four is placed in a strategic order within the Wolf Journey Earth Conservation Course series: after books that teach about plant resources available to you – in particular, the trees which are key to bushcraft survival – and before Book Five which trains you to honor animal resources such as meat processing, hide tanning, etc. – building blocks needed before honorable hunting can be achieved. In this book we also add geologic understanding of mineral resources which are so key to making stone tools, like arrowheads via flintknapping, and myriad other bushcrafting skills of the wilderness survival scout.
Wolf Journey Earth Conservation Courses
Wolf Journey course books consist of 20 chapters, each with four core study experiences that can be completed as a series of lessons to earn a conservation certificate in your area of interest.
Book One: The Neighborhood Naturalist (2020-21 Academic Year Rollout)
Book Two: The Traditional Herbalist (2021-22 Academic Year Rollout)
Book Three: The Wildlife Tracker (2022-23 Academic Year Rollout)
Book Four: The Survival Scout (2023-24 Academic Year Rollout)
Book Five: The Sustainable Citizen (2024-25 Academic Year Rollout)
Book Six: The Environmental Educator (now available by special request)
The original books are now being republished as online courses. Click here to send an email so we can notify you as we launch each book.