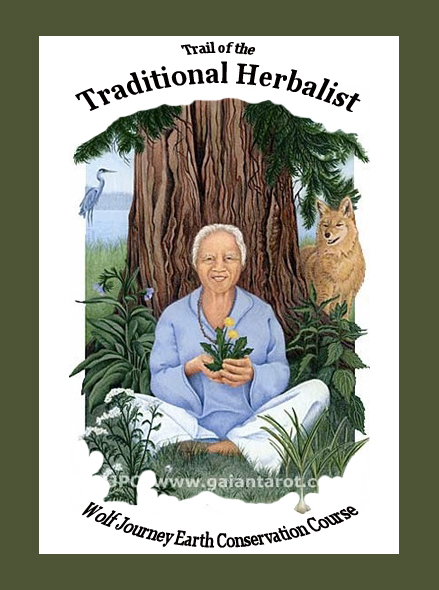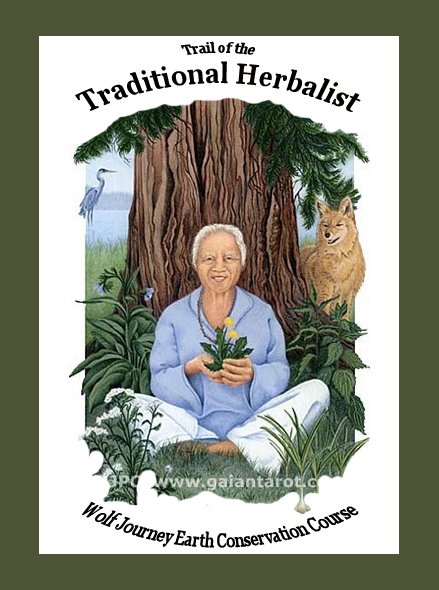 Wolf Journey Earth Conservation Course – Book Two
Certificate Goals: Ethnobotany and Plant Conservation
Wolf Journey Book Two – Trail of the Traditional Herbalist features certificate goals of Ethnobotany & Plant Conservation on the path to becoming your local Traditional Herbalist.
As you walk through the course, you will move deeper and deeper into the skills of plant conservation, and the knowledge of ethnobotany.  Ethnobotany means understanding the relationships between plants and humans, including how plants are incorporated into our lives, as well as how humans are dependent on plant ecosytems.  When an herbalist who understands ethnobotany harvests a plant, he or she honors it by preserving the plant to for all its medicinal, nutritional, and utilitarian gifts.  You will also learn to conserve and caretake the land, whether it be the soil in potted plants placed on our balcony, or on the edges of a large farming enterprise, to the benefit of all creatures.
Wolf Journey Earth Conservation Courses are currently out of print as we redesign each book into an online format with video links and more. Only students enrolled in our spring and summer apprenticeships may access the course books at this time.   Click here to send an email requesting to be notified when we publish the online version with a note indicating which course books interest you, whether you would like to receive our monthly Outdoor Skills Newsletter, whether you are also interested in courses for adults or youth, plus your location. Thanks!
Book One: Trail of the Neighborhood Naturalist
Book Two: Trail of the Traditional Herbalist
Book Three: Trail of the Wildlife Tracker
Book Four: Trail of the Survival Scout
Book Five: Trail of the Ancient Artisan
Book Six: Trail of the Honorable Hunter
Book Seven: Trail of Sustainable Living
Book Eight: Trail of Environmental Education