"Huck's Song" written by Chris Anderson.
Virtual Outdoor Camps as the Original & Ultimate STEM/STEAM EDUCATION
Like the popular STEM Education movement in the classroom, STEAM brings education into balance. Here at Wolf Camp, we realized when developing and reflecting on our new virtual camps that they seem to be the ultimate in STEAM Education.
First, let's look at the "S" and the "A." We're all about science, but we use the arts of nature to teach it – the "it" being a lot of biology. Actually, it's applied biology, or ethnobiology – the way humans interact with plants, animals and the elements of nature.
One of the fundamental ways we teach biology interactively is to set students up with their own "sit spot." The "sit spot" concept of nature education uses the scientific method – of studying a "control group" location from which to compare other areas of nature. How is a "sit spot" a control group?
Once a student learns the players and patterns of nature in one area, they can use that place (control group) they know so well to compare it to anywhere else they experience. With their control group experience as empirical evidence, students can quickly recognize the patterns of nature anywhere they go, and they will quickly identify species new to them which are filling patterns common to nature everywhere – niches they know from experience.
We also do the "T, E & M" in STEM/STEAM Education. In fact, we teach the original human technologies such as fire by friction, tanning of animal hides using chemicals naturally found in eggs. We also teach the origins of engineering: the crafting of bows, arrows and at-latls that dramatically improved the efficiency of hunting, and we teach ancient and new farming methods that focus on sustainability and self-sufficiency.
We also teach the fundamentals of math developed through animal tracking. Similar to how music has been found to help young people understand basic math, some anthropologists believe that humans developed the capacity for advanced mathematical thinking through the mysteries of tracking. Presented with sign (evidence) that an animal may have been present, humans had to develop complex thinking to "put 2 and 2 together" and figure out "who" it was, "what" it was doing, "when" it happened, "where" it is now, and "why" it would have been in the area in the first place.
On top of that, we've figured out how to do it virtually – the ultimate marriage of ancient and modern technologies. Ironically, we are using the most modern of technologies to teach the most ancient, and to get people off their computers and into nature for a few hours per day. Check it out:
Online Summer Camps & Academic Year Programs for Kids, Youth & Family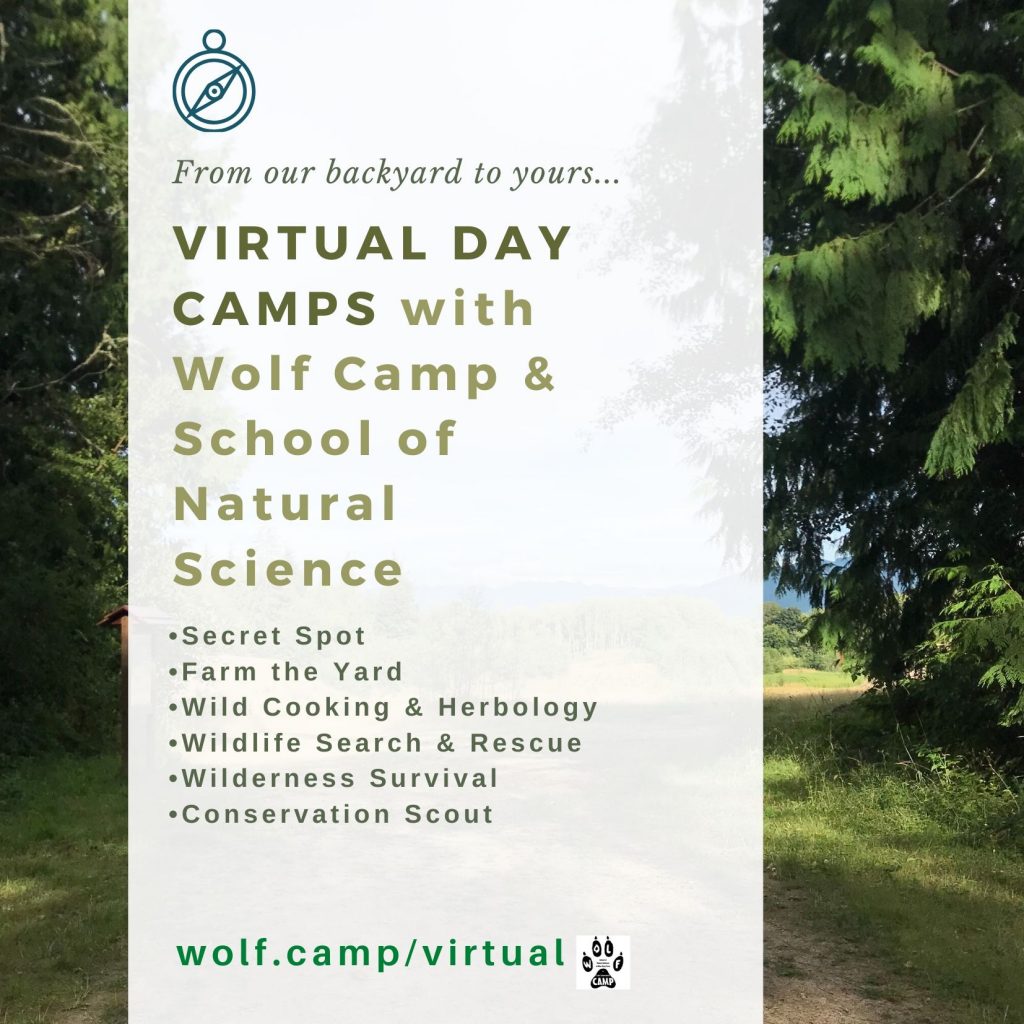 June 15-19 registration now open:
June 22-26 registration now open:
June 29 – July 3 registration now open:
July 6-10 registration opens June 5th
July 13-17 registration opens June 5th
July 20-24 registration opens June 5th
July 27-31 registration tentatively opens June 5th
Aug 3-7 registration tentatively opens June 20th
Aug 10-14 registration tentatively opens June 20th
Aug 17-21 registration tentatively opens June 20th
Aug 24-28 registration tentatively opens June 20th
Aug 31 – Sept 4 registration tentatively opens June 20th
""A buck walked right beneath me!" Exclaimed my 8th grader. "I was so quiet, the buck never even knew I was there!" Our connection to the natural world begins in our own backyards. The leaders at Wolf Camp guided the kids on a week of self discovery and adventure, unlocking the overlooked secrets of our own back yard. From the first moment the online class began, the leaders inspired curiosity, imagination and humor. I also enjoyed watching my kids light up from having learned meaningful crafts like compass work, tracking and foraging. Their field notebooks and assorted collectibles will definitely be a gem to look back on someday, in our 2020 Corona Time Capsule." – Gabriela Ashford, Port Townsend WA
These online camp options for youth and family are simple. The day starts similar to other online classes, where you meet in a private online room with dedicated instructors. Then after receiving inspiration and instructions for the day, students head outside and experience the wonders of having a "sit spot" around the home. We get together again periodically over the course of the day to review discoveries, assess skills, redirect energies, and build our knowledge of nature.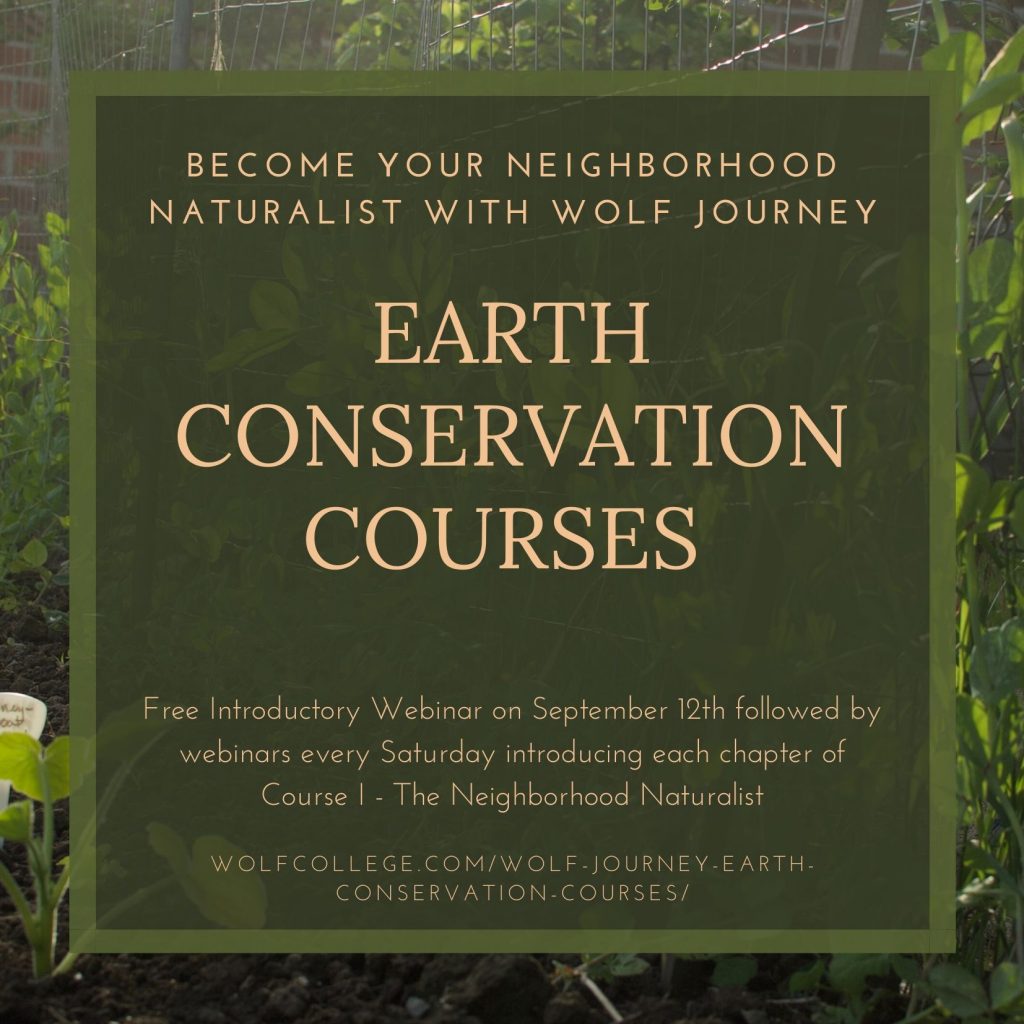 Or join us in the fall as we roll out the online edition of Wolf Journey Book One – Trail of the Neighborhood Naturalist on a path to becoming your neighborhood naturalist. Begin the journey by finding a secret "sit spot" to carry out lessons of Urban & Rural Habitat Conservation throughout the course. Each time you visit your site, you will walk more intimately within the landscape, and by the time you complete the course, you will have become a key resource on the natural world for your community, and perhaps the best expert on habitat conservation in your neighborhood.