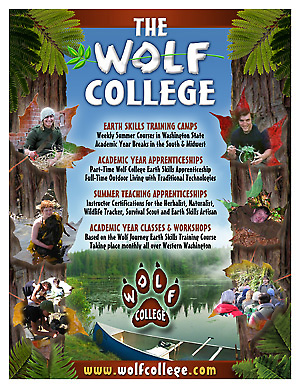 Summer Expeditions run Sunday-Friday Evening. Click on the links below to compare our cost and expertise to other outdoor schools, and you'll see that Wolf College expeditions can't be beat. Register by April 30th for the best discount after choosing as many of the following expeditions as you like:
June 14-19, 2015 near Ellensburg WA: Outdoor Leadership Training Expedition: Backpacking into Wolf Country
June 21-26, 2015 near Puyallup WA: Teaching Nature I: Professional Training for Future Environmental Educators plus the advanced June 28 – July 3, 2015 Teaching Nature Professionally II with previous week as prerequisite.
July 5-10, 2015 on Lake Sammamish near Seattle WA: Wild Ethnobotany Expedition: The Herbal Foray
July 12-17, 2015 near Mt. Rainier south of Seattle WA: Wilderness Survival Training & Trek
July 19-24, 2015 near Mt. Rainier south of Seattle WA: Wilderness Orienteering & Navigation Training
July 26-31, 2015 starting near Mt. Rainier and traveling over the North Cascades: Tracking Wolf Country: From Birds to Big Critters – Cougar, Bear, Elk and the Teanaway Pack
August 9-14, 2015 on Lake Sammamish near Seattle WA: Paleo Diet & Lifestyle Training
August 16-21, 2015 on Lake Sammamish near Seattle WA: Traditional Technologies: Classical Crafts of the Ancient Artisan
August 23-28, 2015 on the Salish Sea south of Seattle WA: Traditional Fishing Camp (for parents of youth attending the simultaneous youth camp)
August 30 – Sept 4, 2015: Primitive Hunting Camp (with prerequisite)
September 5-7, 2015 north of Seattle WA: Homesteading Skills Intensive: Processing Plants & Animals (no prerequisite)
September 8-13, 2015 Two Day Animal Tracking & Ethnobotany Evaluation Workshops (no prerequisite but experience is advised, with tentative eval choices to include: A) Cybertracker Track & Sign Levels I-II-III with David Moskowitz; B) Cybertracker Animal Trailing Levels I-II-III with Brian McConnell; C) Wolf College Ethnobotany Eval with Heidi Bohan & Tom Elpel; D) Wolf College Herbology Eval with Linda Quintana & Tom Elpel)
Not ready to register yet? Email us to be put on our our list for this program in the future. We always keep your information absolutely private, and will never share it. You can also like our facebook page to keep in better touch.