Join our fun, skill-building camps!  Backed by Wolf Camp's stellar safety record, and guided by highly trained staff, your child is sure to be inspired.  See below for locations and be sure to register by our next discount deadline which is June 5th after choosing your location and one of the following 3 Camp Theme Options for Ages 5-12:
Wildlife Search & Rescue celebrates its 16th year this summer with a cool new name and a field trip to our nearest wildlife rescue sanctuary to see how birds of prey, injured animals, and other wildlife are given a second chance on life.  Further, you'll learn from Search & Rescue volunteers how to navigate in the wilderness, follow trails, and administer first aid!
We'll also head into the field every day for great wildlife tracking which is how you can learn everything about the maker of tracks.  You'll discover what it's really like to be an animal, using sensory awareness to know everything that's going on around you, and especially by learning the language of the birds.
We'll work together to plaster casts of favorite animals, safely move through the woods, and investigate trails, lays, larders, and other signs of life all around. This camp is full of exciting, interactive, challenging and cooperative games, as campers learn to work as a team to develop skills of leadership, cooperation, patience, and of course, having fun.
WILD CHEFS & HERBOLOGY
Wild Chefs & Herbology celebrates its 14th year this summer.  Come with us to explore the fields, forests, prairies, streams, ponds,  seashores and backyards of our beautiful region to discover wild foods and medicines growing everywhere.
We wish parents could watch the unfolding of this camp week, because the journey for these young chefs and healers is amazing.  From discovering wild foods and medicine, to investigating their properties, to fully utilizing their gifts, and finally being able to tell their true stories, campers develop more real skill than you might imagine.
Campers will learn to identify and use the top 10 most important plants of their area in addition to their look-alikes.  They will also create a personal journal of recipes, drawings and important notes, practice their awareness skills while learning to move through nature unnoticed, spin natural rope and create natural health and body care products to bring home, among other accomplishments. And, we can't forget herbal spa day – a camper favorite.
FUTURE SURVIVORS FUN
Future Survivors Fun celebrates its 15th year this summer. Re-create a traditional way of life, honoring the gifts of wood, stone, fire and water. We'll follow the critical order of survival, practicing emergency response scenarios, building warm shelter, purifying drinking water, making safe fire, and using the most important plants for survival.
Campers will also witness bow drill fire by friction and then work with a team to practice it themselves. They will learn aidless navigation for lostproofing, and craft tools of stone, including a course knife. They will make "rabbit sticks" and other honorable hunting implements, learning that all life – plant, animal and mineral – is sacred to be respected.
Choose the Camp Location Nearest You:
June 24-28, 2013 at McCollum Park in Mill Creek with transportation from Seattle, Shoreline, Issaquah, Bellevue, Mercer Island, Kirkland, Woodinville, Monroe, Snohomish & Everett.
July 15-19, 2013 at Lake Padden & Edgewater Parks with transportation from Seattle, Shoreline, Mill Creek, Everett, Marysville, Arlington, Stanwood, Mt. Vernon, Anacortes, Bow, Bellingham, Ferndale, Blaine, Sumas & Deming.
August 12-16, 2013 at Clark's Creek Park in Puyallup with transportation from Seattle, Bellevue, Issaquah, Cedar Grove, Covington, Renton, Federal Way, Auburn, Olympia, JBLM, Tacoma, Gig Harbor, Port Orchard, Auburn & Sumner.
August 19-23, 2013 at Columbia Springs on the border of Vancouver WA & Portland OR with transportation from Oregon City, Clackamas, Ridgefield, Battle Ground, Salmon Creek, Vancouver & Portland.
August 26-30, 2013 at Millersylvania State Park in association with Wolf Haven, Int'l with transportation from Centralia, Olympia, JBLM, Tacoma & Puyallup.
Cost & Registration:
2013 Summer Day Camps for ages 5-12 are $280 if you register by June 5th, and $290 if you complete registration at least one week prior to your camp start date, and $300 thereafter if space remains available. To reserve your spot and lock in the early registration price, click on the link above for the camp location nearest you, and make a $75 deposit (plus optional $10 deposit to reserve space in one of our pickup/dropoff vans) or call us at 253-604-4681 with a credit card. Your balance will be due on the first day of camp.
You can also receive cumulative discounts of $20 for successfully referring other families who register campers this summer, $20 per additional child in your family you register for camp, and $20 per additional camp week (adding an overnight camp week, for instance, or taking the vanpool to the Olympia day camp after attending camp in Puyallup, etc). The only additional expenses you may incur for camp are that you will need to pack a lunch, and all campers need health insurance. Also, see your camp location page for van transportation options.
Camp Instructors: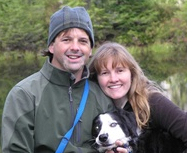 Kim & Chris Chisholm are on site at all times, teaching day camps right alongside staff instructors.
Not ready to register yet?
Email us to be put on our our list for this program in the future. We always keep your information absolutely private, and will never share it. You can also like our facebook page to keep in better touch.