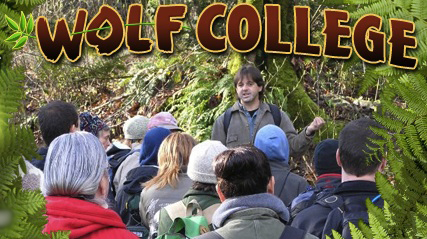 The Wolf College is a conservation teaching college with special expertise in wilderness survival, wild foods, herbal medicine, wildlife tracking, and traditional technologies like bow making, hide tanning, basketry and more. Join us to:
• learn for a day
• train in-depth for a week or season
• build a career in outdoor education
• provide great summer youth camps

Wolf Camp was founded in 1996 by Chris Chisholm who still runs every course together with his wife Kim McKillip Chisholm. The physical, emotional, mental, and social health of students is our top priority, and we are able to achieve these priorities because all our staff are seasoned instructors honoring a common mission. Join us at classes, camps, workshops, expeditions and apprenticeships to experience lessons from our Wolf Journey Earth Conservation Courses which guide you into skills of the neighborhood naturalist, traditional herbalist, wildlife tracker, wilderness survival scout, ancient artisan, honorable hunter, plus sustainable living and environmental education.
The Latest

The Wolf College has begun a collaboration with The Tacoma Mountaineers as part of our monthly class series. In addition to afternoon classes in Puyallup as well as monthly classes in Seattle, Kirkland, Portland & Vancouver, we will run a monthly evening class at the beautiful and environmentally renovated Tacoma Mountaineers building in Old Town Tacoma. Join us for these upcoming classes:

December: Dealing with Climate Change – Lifestyle, Emergencies & Sequestration
January: Wilderness Survival Skills including Bow Drill Fire Demo
February: Natural Navigation, Map & Compass, Lostproofing & Orienteering
March: Local Wild Edible Plants & Backcountry Herbal Medicine
April: Safety, Tracks & Bird Alarms in Cougar, Wolf & Bear Country
May: Backcountry Gourmet & Wilderness Camp Stove Cooking
In addition, be sure to register for camps and expeditions by December 20th to take advantage of our holiday gift certificate. Call us at 253-604-4681 (office) or 425-248-0253 (cell) or email us with any question. We look forward to your participation in these wonderful experiences, sharing new skills and stories with one another.