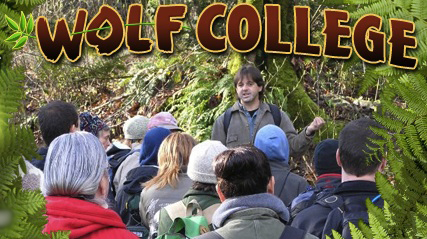 The Wolf College is a conservation teaching college with special expertise in wilderness survival, wild foods, herbal medicine, wildlife tracking, birding and traditional technologies like bow making, hide tanning, basketry and more. Join us to:
• learn for a day
• train in-depth for a week or season
• build a career in outdoor education
• provide great summer youth camps

Wolf Camp was founded in 1996 by Chris Chisholm who still runs every course together with his wife Kim McKillip Chisholm. The physical, emotional, mental, and social health of students is our top priority, and we are able to achieve these priorities because all our staff are seasoned instructors honoring a common mission. Join us at classes, camps, workshops, expeditions and apprenticeships to experience lessons from our Wolf Journey Earth Conservation Courses which guide you into skills of the neighborhood naturalist, traditional herbalist, wildlife tracker, wilderness survival scout, ancient artisan, honorable hunter, sustainable citizen and environmental ed.
The Latest

Collaborations with The Tacoma Mountaineers, Columbia Springs, Puyallup Parks & Rec and eastside homeschool groups: The Wolf College is collaborating with the The Tacoma Mountaineers on a fall survival series and spring outdoor skills class series. In addition, we are collaborating with homeschool groups in Bellevue, Kirkland & Woodinville for fall homeschool class series, as well as continuing collaborations with for three of our summer day camps including with  Puyallup Parks & Recreation and Columbia Springs Environmental Center in Vancouver/Portland.
Northwest Nature – Guided Hikes: Check out our new Northwest Nature Hikes, where we are taking all the lessons we teach about wild edible/medicinal plants, wildlife tracking, navigation and survival into the wilderness. Detailed hike descriptions can be found on our 3,000 member hiking meetup group in Portland, and our 800 member hiking meetup group in Seattle.
Be sure to register for camps and expeditions asap. Call us at 253-604-4681 (office) or 425-248-0253 (cell) or email us with any question. We look forward to your participation in these wonderful experiences, sharing new skills and stories with one another.