Give your child the gift of our Summer Day Camp for ages 6-12 running 9:00-3:00 with drop off between 8:30-9:00, pick-up between 3:00-3:30, and extended care available from 3:30-5:00 for extra fee. Campers are grouped with others closest to their age within our hallmark 6-1 average student-teacher ratio that's so critical for safe and profound outdoor experiences. You can also check out our Virtual All-Day Camps and other physical day camps at Lake Sammamish.

Camp Description
Wild Cooking & Herbology is excellent for focused learners, as it is like a mini college course on herbalism (although very hands-on) and therefore not recommended for adhd students.
Wild Cooking & Herbology celebrates its 23rd Summer. Enjoy Clark's Creek Park where we can explore endless fields, forests, prairies, streams, ponds, bogs, and backyards of our beautiful region, discovering wild foods and medicines growing everywhere.
Campers will work with more than even the top 10 most important plants of their area, and be able to identify their look-alikes. The kids will also learn to start and use fire safely, cook with ancient and modern methods, spin natural rope, purify drinking water, and come home with oils and creams they blended with herbs to heal common ailments, among other accomplishments.
We wish parents could watch the unfolding of this camp week, because the journey for these young chefs and healers is amazing. From discovering wild foods and medicine, to investigating their properties, to fully utilizing their gifts, and finally being able to tell their true stories, campers develop more real skill than you might imagine.
Camp Itinerary
All itineraries are subject to some amount of change based upon location, season, instructor preference, and natural resource availability.
Monday:
Morning Session: Introductions; Plant Walk – ID Nettle, Cedar, Plantain; Awareness Skills
Lunchtime: Bring & Eat Lunch from home, then our After Lunch Activities (ALA) include choice of Archery, Chill Time, Sprinkler Games & Swimming (creek wading, or go to lake for swim tests on days lifeguards are available)
Afternoon Session: Ethical Harvest; Harvest Plantain for Salve & Leaf Rubbings; Cedar Leaf Rubbings; Plant Fact Cards; Lightning Safety
Tuesday:
Morning Session: Mint Tea; Observe Fresh Mint Specimens; Mint Bouquets – Lavender, Lemon Balm, Basil, Rosemary; Bath Salts – Lavender & Spearment; Try Mint Sprays
Lunchtime & ALA: (see monday description)
Afternoon Session: Plant ID by Smell; Leaf Venations & Arrangements; Scavenger Hunt of Venation & Arrangement; Herbal Tag; Intro to Top 10 Wild Foods
Wednesday:
Morning Session: Observe Fresh Parsley & Sweet Cicely Specimens; Parsley Spice Samples; Make Fennel Candy & Fennel Tea [Decoction]; Learn about Poison Hemlock; Sketch Poison Hemlock, Label its Key Characteristics
Lunchtime & ALA: (see monday description)
Afternoon Session: Seaweeds; Nettles; Make Nettle Tea [Infusion]; Nettle Saute; Make Seasoning from Sesame Seeds, Ground Nettle, Ground Bullwhip Kelp; Make Nettle Shampoo; Finish Top 10 Wild Foods
Thursday:
Morning Session: Harvest Stinging Nettle; Top 10 Wild Foods Cook-off with Survivalists; Cattail Discussion & Fried Rhizomes; Finish Herbal Salve
Lunchtime & ALA: (see monday description)
Afternoon Session: Introduction to Dandelion; Harvest Dandelion; Make Dandelion "Coffee"; Elderberry Syrup; Week Overflow
Friday:
Morning Session: Pine & Rosehip Tea; Review Top 10 Foods & Medicines; Practice Herbal First Aid Scenario; Gratitude Ceremony
Lunchtime & ALA: (see monday description)
Afternoon Session: Parents are invited to attend special end-of-camp workshops from 1:30-3:00.
Camp Leaders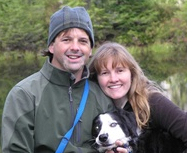 Kim & Chris Chisholm guide professionally-trained staff instructors at our hallmark 6-1 average student-teacher ratio that's critical for safe, profound and fun outdoor experiences. Read our FAQ's for more details and check out camp testimonials dating all the way back to 1997!
Pickup/Drop-off Times & Location
Instruction runs 9:00-3:00, with drop-off as early as 8:30 AM, and pick-up as late as 3:30 PM, at Clark's Creek Park – South Shelter, located at 1700 12th Ave SW in Puyallup, plus extended care available from 3:30-5:00 for an extra fee. Extended care pick-up will be at the Wolf Camp Home Office of Blue Skye Farm which neighbors the park.

Tuition
$345 for Monday-Friday in our home town of Puyallup. This is more than $100 lower than our King County rates. Extended care for campers needing to stay after 3:30 costs $5 per 30 minutes, charged at the beginning of each half-hour and payable at the end of the week, with latest pick-up at 5:00 p.m.
Discounts: Cumulative discounts include $5 off for all camp alumni and those who registered and had to cancel last year, plus $5 off for all campers per additional week this summer, and $5 off per additional family member attending this summer.

To reserve your spot, make a $100 deposit per camper, and your balance will be due upon arrival. The only additional expenses you may incur for camp are that you will need to pack a lunch and snacks every day. Tuition includes Organic T-Shirt at your first camp with us, and Wolf Camp Book or Orienteering Compass or firesteel for returning campers, depending on number of previous camps.
Scholarships are available if you apply for financial aid before spaces fill, usually by late spring.
Registration:
Credit/Debit Card Registration Option: Just call us at 253-225-1547 between 8 AM – 8 PM any day of the week so we can can take your registration securely over the phone.

Check/Mail/Email Registration Option: Open our Registration Form (Word or PDF or Google Doc) on your computer, fill out one per new participant (not needed for returning campers) and send or email it back to us. We also have a Bilingual Chinese-English Registration Form PDF or Word Doc. You can also send a check deposit payable to Wolf Camp, 1026 14th St. SW, Puyallup WA 98371 or fill out the registration form and pay deposits by calling with a credit card, or using paypal as described below.
Or Use PayPal to register online securely with a credit/debit card or via direct withdrawal from your bank account. Use the link below (might not be visible if you are using "reader view" on your phone or other device) or sign into paypal.com and "send money" to our email address: (we'll get back to you with any additional information we may need)
Email us to be put on our our list for this program in the future. We always keep your information absolutely private, and will never share it. 
Refund Policy: Deposits ($100 for day programs, $200 for overnight programs) are not refundable unless we don't accept your application. If you cancel for any reason, you may receive a full credit good through the following calendar year on appropriate and available programs listed on our schedule, although an additional deposit is needed to secure your spot in the future program. If a program you sign up for is canceled and not rescheduled at a time you can attend, you may receive a full refund except in cases of natural (weather, geologic, wildfire, etc) disasters, grid failures, epidemics, government shutdowns, conflicts or curfews, or other unforeseen emergencies making it unsafe for staff and/or attendees to reach or use program locations, in which case all payments made will be held by us without expiration date for your future use in appropriate/available programs of your choice. Reasons include the expenditure of funds (property rentals, advertising, materials, admin staff time, etc.) long before programs take place, i.e. deposits make it feasible for Wolf Camp to schedule programs in the first place, but our mutually understood agreement is that Wolf Camp will run the program at the safest available time in the future. Finally, no refund, nor credit, is given if a participant is asked to leave a program for inappropriateness as determined by our kids, youth and adult agreements for participation.
Day Camp Preparation: Agreements, Packing List and FAQ's
Day Camp Agreements for Participation
Other FAQ's – Frequently Asked Questions
Have you ever attended one of our programs before? Please review us on our Better Business Bureau, Facebook, Yelp & Google pages.