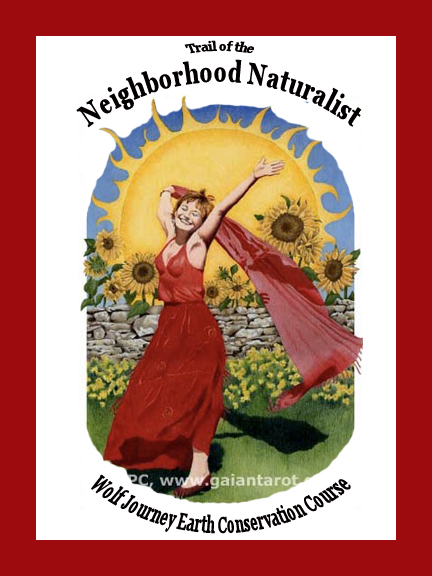 Wolf Journey Earth Conservation Course I

Certificate goals: Urban and Rural Habitat Conservation
Wolf Journey Course One – Trail of the Neighborhood Naturalist features certificate goals of Urban & Rural Habitat Conservation on the path to becoming your Neighborhood Naturalist.  As you walk through the course, you will move deeper and deeper into the skills of nature conservation.
Begin your journey by finding a study site in Chapter One, where you will carry out your chapter lessons throughout the course.  Each time you visit your site, you will walk more and more intimately within the landscape.  Great joy, grief, peace, and wisdom will come as you live these experiences fully.
By the time you complete the course, it will be you who have have become a key resource on the natural world for your community, and perhaps the best expert on habitat conservation in your neighborhood.
Only students enrolled in our spring and summer apprenticeships may access all the course books at this time. However, if you are interested in reading the books and starting the Trail of the Neighborhood Naturalist, click here to send an email requesting to be notified when we are finished editing the new edition and we will let you know the cost of purchasing the following chapters as they are finalized:
Getting Started: Introduction to Wolf Journey Earth Conservation Courses
Cover Artwork by Joanna Colbert: The Sun
Welcome from the author, Chris Chisholm
Trail of the Neighborhood Naturalist – Chapter One: Your Study Site

Chapter Cover Artwork by Joanna Colbert: The Star; Chapter Artwork by Nikki. YouTube Videos from Chris: Story: Howl I Found My Study Site;  Song: The Meaning of Life written by Huck
Experience 1A: Exploring Study Sites
Experience 1B: Drawing Your Peaceful Place
Experience 1C: Mapping Your Study Site
Experience 1D: Appreciating Your Peaceful Place
Chapter 1 Summary & Celebration
Trail of the Neighborhood Naturalist – Chapter Two: Mitigating Risks

The Rattlesnake as experienced by Chris; Song: Spirit of the Eagle music by Craig Olson; Inspirational Artwork by Nikki;
Experience 2A: Assessing Fears
Experience 2B: Assessing Risks Experience 2C: Managing Real Risks
Experience 2D: Trusting Your Peaceful Place
Chapter 2 Summary & Celebration
Trail of the Neighborhood Naturalist – Chapter Three: Sensory Awareness

Story: Eagle Soars by Chris. Song: Evada's Reprise Song by Chris; Eagle Soars music written by Leslie Lightfall; Inspirational Artwork by Nikki;
Experience 3A: Owl Eyes & Deer Ears
Experience 3B: Bear Nose & Snake Taste
Experience 3C: Raccoon Hands and the Third Ear
Experience 3D: Exploring With All Your Sense
Chapter 3 Summary & Celebration
Trail of the Neighborhood Naturalist – Chapter Four: Sketching & Journaling

Inspirational Artwork & Journaling by Nikki; Story: Jumping Mouse as told by Chris; Song: Lily of the Valley written and performed by Chris; The Land Belonged to God music written by Jack Gladstone
Experience 4A: Identifying Shapes
Experience 4B: Sketching Species
Experience 4C: Parts of the Species
Experience 4D: Journaling Attributes
Chapter 4 Summary & Celebration
Wolf Journey Earth Conservation Courses are currently out of print as we redesign each book into an online format with video links and more. Only students enrolled in our spring and summer apprenticeships may access the course books at this time.  Click here to send an email requesting to be notified when we publish the online version with a note indicating which course books interest you, whether you would like to receive our monthly Outdoor Skills Newsletter, whether you are also interested in courses for adults or youth, plus your location. Other books in the Wolf Journey series that are in the process of re-publication include:
Course I: Trail of the Neighborhood Naturalist
Course II: Trail of the Traditional Herbalist
Course III: Trail of the Wildlife Tracker
Course IV: Trail of the Survival Scout
Course V: Trail of the Ancient Artisan
Course VI: Trail of the Honorable Hunter
Course VII: Trail of the Sustainable Citizen
Course VIII: Trail of Environmental Ed