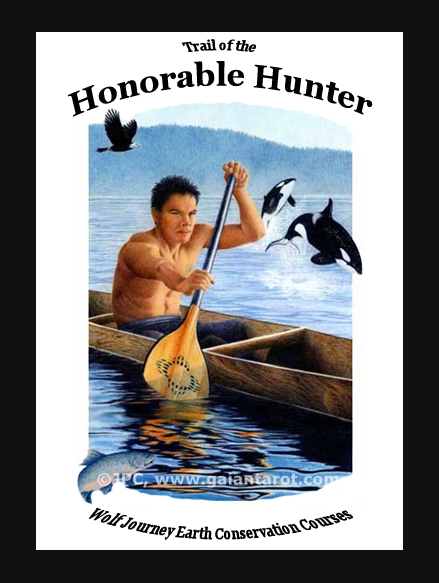 Wolf Journey Earth Conservation Course – Book Six
Certificate Goals: Fish and Game Conservation & Stewardship
Wolf Journey Book Six – Trail of the Honorable Hunter features certificate goals of fish and game conservation and stewardship on the path to becoming your local Honorable Hunter.  But of course, these skills can't fully be gained without first learning to track in Book Three, nor without an ability to navigate over large distances and survive any condition to reach your hunting grounds which you can learn in Book Four, nor without knowing how to honor an animal once it's been harvested, which is why Part Five taught you to honor the animals by utilizing all their parts. However, you can dive into Book Six – Trail of the Honorable Hunter with or without previous preparation, learning fish and game conservation and stewardship as you become ready to honorably harvest animals from the wild.
Book Six is like the father or grandfather you always wished you had. The one who took you fishing every spring opener; taught you the beauty of the land and water when the fish weren't biting; taught you to tie your fly and untangle your lines; taught you to catch and release, clean and cook over the campfire; brought you hunting every fall as a child, and taught you gun safety, taught you to care for your bows and arrows, taught you to sit so silent, still, and scent-free that animals walked into the open before you; taught you to let every animal pass until the one that needed to be harvested presented itself; taught you to move through the emotional shock of your first harvest; taught you to honor every part of the animal; taught you habitat conservation and ethics … so that you became a hunter respected by all.
Wolf Journey Earth Conservation Courses are currently out of print as we redesign each book into an online format with video links and more. Only students enrolled in our spring and summer apprenticeships may access the course books at this time.   Click here to send an email requesting to be notified when we publish the online version with a note indicating which course books interest you, whether you would like to receive our monthly Outdoor Skills Newsletter, whether you are also interested in courses for adults or youth, plus your location. Thanks!
Book One: Trail of the Neighborhood Naturalist
Book Two: Trail of the Traditional Herbalist
Book Three: Trail of the Wildlife Tracker
Book Four: Trail of the Survival Scout
Book Five: Trail of the Ancient Artisan
Book Six: Trail of the Honorable Hunter
Book Seven: Trail of Sustainable Living
Book Eight: Trail of Environmental Education