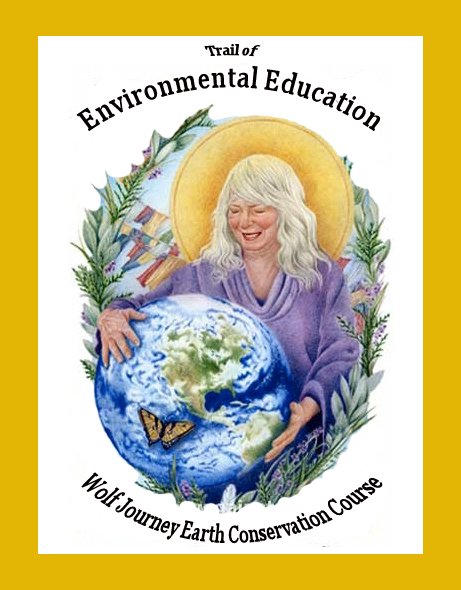 Wolf Journey Earth Conservation Course – Book Eight
Certificate Goals: Earth Skills & Conservation Education
Wolf Journey Book Eight – Trail of Environmental Ed features certificate goals of "earth skills and conservation education" on the path to becoming your local Outdoor Educator. Book VIII of Wolf Journey is our Handbook for Earth Skills Students, Environmental Teachers and Outdoor Program Leaders. It aims to help you succeed with your studies, and it is also our policy manual for guiding outdoor educational programs.
It is our goal that the new "earth skills" field catch up to the professionalism attained over the past couple decades in the related outdoor adventure and environmental fields. We must catch up before anyone gets seriously injured, and for our work to be accepted by mainstream society – the place we most need to affect outside of ourselves.
Wolf Journey Earth Conservation Courses are currently out of print as we redesign each book into an online format with video links and more. Only students enrolled in our spring and summer apprenticeships may access the course books at this time.  Click here to send an email requesting to be notified when we publish the online version with a note indicating which course books interest you, whether you would like to receive our monthly Outdoor Skills Newsletter, whether you are also interested in courses for adults or youth, plus your location. Thanks!
Book One: Trail of the Neighborhood Naturalist
Book Two: Trail of the Traditional Herbalist
Book Three: Trail of the Wildlife Tracker
Book Four: Trail of the Survival Scout
Book Five: Trail of the Ancient Artisan
Book Six: Trail of the Honorable Hunter
Book Seven: Trail of Sustainable Living