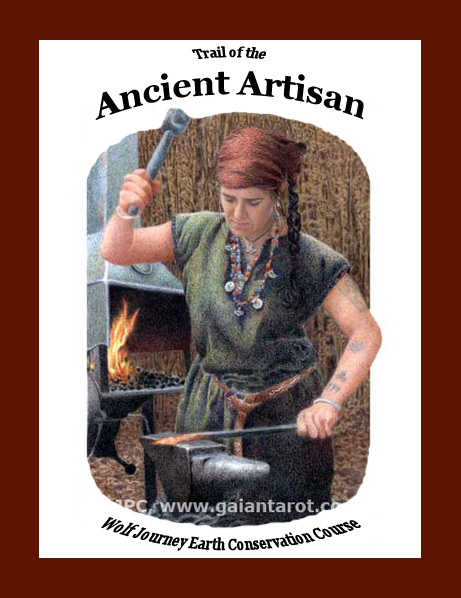 Wolf Journey Earth Conservation Course – Book Five
Certificate Goals: Traditional Technologies and Cultural Conservation
Wolf Journey Book Five – Trail of the Ancient Artisan features certificate goals of Traditional Technologies & Cultural Conservation on the path to becoming known as your local Traditional Craftsperson.  The course is in a strategic location in the Wolf Journey Earth Conservation Course series: placed after books that teach you about the plant and mineral resources available to you – in particular, the trees and stones – which are key to the craftsperson; yet placed before the Honorable Hunter because no one should go out there and hunt, then not know how to honor an animal once it's been harvested.
The course aims to show you how to utilize animal parts which are wasted in our consumer society, and turn those building blocks into crafts needed for traditional living.  These ancient skills are alive and critical today, and you will learn to craft goods that your community still needs.  By the time you are done with this course, you can harvest plants, animals and minerals with the confidence that you will never waste resources again, but rather, honor life as a utilitarian artist, as your local, traditional artisan.
Wolf Journey Earth Conservation Courses are currently out of print as we redesign each book into an online format with video links and more. Only students enrolled in our spring and summer apprenticeships may access the course books at this time.  Click here to send an email requesting to be notified when we publish the online version with a note indicating which course books interest you, whether you would like to receive our monthly Outdoor Skills Newsletter, whether you are also interested in courses for adults or youth, plus your location. Thanks!
Book One: Trail of the Neighborhood Naturalist
Book Two: Trail of the Traditional Herbalist
Book Three: Trail of the Wildlife Tracker
Book Four: Trail of the Survival Scout
Book Five: Trail of the Ancient Artisan
Book Six: Trail of the Honorable Hunter
Book Seven: Trail of Sustainable Living
Book Eight: Trail of Environmental Education