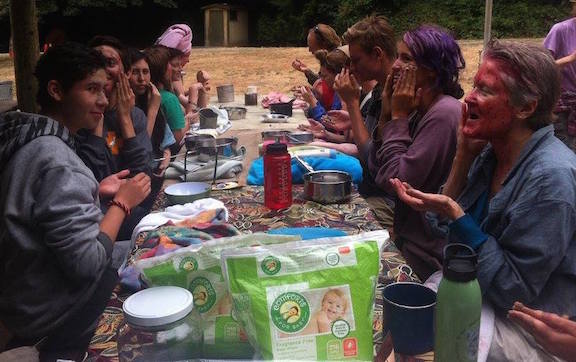 Join us for a wonderful end to summer!
Archer Track:
Bow-Making
Arrow-Making
Quiver-Making
Artisan Track:
Artist Track:
Making Baskets from bamboo, birch, cedar and willow
Rawhide Drum-Making
Natural Paper-Making from native plants
Other Potential Skills & Projects:
Natural selection forestry and learning which tools are appropriate
Creating buttons from antler and bones
Creating natural dyes and paints for artwork
Crafting beeswax candles
Carving bowls using traditional methods like hot-coal burning
Using wood we harvest on field trips to make fish spears
Crafting leather pouches, bracelets, and necklaces
Carving Utensils using traditional methods
Use of Survival knives and modern tools
Archers, Artists, and Artisans Sample Itinerary
Hours, Location & Logistics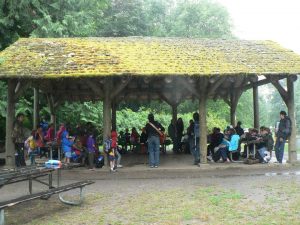 Activities run from 9:00-5:00 Mon-Fri this week. Arrive between 8:30-9:00 AM at Camp Curran, 13220 50th Ave E; Tacoma, Washington 98446. Camp ends daily at 5:00 p.m. We will have breaks from 12:00-12:30 for lunch, 12:30-1:00 for archery practice, and 3:00-3:15 for snack. Food and lodging is on your own, but we can help you arrange those options if coming from out of town.

Tuition
The Aug 31 – Sept 4 Family Camp costs $295 per person, with a minimum of two family members attending, at least one being an adult. We also offer cumulative discounts of $5 off per additional family member attending this week, $5 per additional week a participant attends this summer, and $5 off for successfully referring other families who register campers this summer.
Cost for children ages 6 and under: $245 for 6 year olds, $195 for 5 year olds, $145 for 4 year olds, $95 for 3 year olds, $45 for 2 year olds, and no charge for infants. Children of all ages may attend all activities, with the understanding that an enrolled parent may have to go in and out of classes as needed when lecture or other activities are not age appropriate.
Registration:
Credit/Debit Card Registration Option: Just call us at 425-248-0253 ex. 3 between 9 AM – 5 PM any day of the week so Puyallup Day Camp & Office Director Colleen Valadez can take your registration securely over the phone. Leave a message if Colleen can't answer since she works on-call before the busy summer season starts.

Check/Mail/Email Registration Option: Send a check deposit payable to Wolf Camp, 1026 14th St. SW, Puyallup WA 98371 along with a registration form for any child for whom we do not yet have one on file: download the Microsoft Word or PDF Registration Form to your computer, fill out one per participant, and send it or email it back to us. We also have a Bilingual Chinese-English Registration Form PDF or Word Doc.
Or Use PayPal to register online securely with a credit/debit card or via direct withdrawal from your bank account. Use the link below (might not be visible if you are using "reader view" on your phone or other device) or sign into paypal.com and "send money" to our email address: (we'll get back to you with any additional information we may need.
Or email us to be put on our our list for this program in the future. We always keep your information absolutely private, and will never share it. You can also like our facebook page to keep in better touch, and once you've attended a program, please review us on our Better Business Bureau, Yelp & Google pages.
Refund Policy: Standard deposits ($100 for day programs, $200 for overnight programs) are not refundable unless we don't accept your application. If you cancel in advance of the program start time for any reason, you may receive a full credit good through the following calendar year on appropriate and available programs listed on our schedule, although an additional deposit may be required to secure your spot in the future program. If a program you sign up for is canceled and not rescheduled at a time you can attend, you may receive a full refund except in case of natural (weather, geologic, etc) disasters, government shutdowns, conflicts or curfews, or other unforeseen emergencies making it impossible for staff and/or attendees to reach or use program locations, in which case all payments made will be held by us without expiration date for your future use in appropriate/available programs of your choice. No refund, nor credit, is given if a participant is asked to leave a program for inappropriateness as determined by our kids, youth and adult agreements for participation including homesickness protocol and prevention.
Course Preparation: Agreements, Packing List and FAQ's

Click here for our Adult Camp Agreements
Click here for our Adult Camp Packing List