August 3-8, 2014 Overnight Youth Camp north of Portland

This is a celebratory week of making the most artistic and useful tools necessary for traditional living.  For example, we'll make arrowheads by flintknapping, the world's oldest exotic craft, and make a bow from all natural materials.  It's a real trick to get proficient at these two crafts, since "tillering" and "flaking" allow for no mistakes, but you'll have plenty of materials to keep working with in order to finish with a great archery bow and arrow.
Other projects include harvesting a tree to make fish spears, and gathering feathers to fletch a dart for your at-latl, which was the world's most widely-spread technological invention for efficient hunting, allowing for humans to thrive over six continents.  Obviously, knife work is paramount this week, and it will be a priority that you attain a high level of safety and proficiency with us, practicing your skills by making an aerodynamic rabbit stick.
This camp week has grown to rival even the most popular camps in our 12 year history, probably due to the expertise of our instructors.  Stone Age Artisans also prepares participants for hunting in the future, since those who choose to hunt carry with them a great sense of honoring all life: that it is sacred, from the mightiest stag to smallest mouse.  Of course, hunting can only be done legally, and few animals are in-season during the summer. Yet when it happens, you must honor any animal you harvest by utilizing all of its body, learning to skin, gut, butcher, and tan hides for making leather.  Honoring the animals is exactly what this camp is all about.
Camp Availability:
Ages 9-13: Space is available; no prerequisite.
Ages 13-17: Space is available; no prerequisite.
Ages 18 & Up: You may also participate in the Traditional Technologies expedition running simultaneously.
Camp Goals & Skills Covered:
The goal of this camp session is to help you make the items you will need during a stone age living situation, and this camp is a good way to see how to take it from the "emergency survival" level you can experience in Survivors Side of the Mountain to the "traditional outdoor living" and eventual "stone age living" levels.
Skills covered during this camp session may include, but are not limited to:
• Archery with modern and traditional bows and arrows.
• Use of Survival Knives, training in skills and safety for everyone.
• Making bows, arrows, and arrowheads.
• Transforming hides into parfleche and leather through traditional tanning.
• Natural selection forestry, using Hatchets & Axes for chopping and wood splitting, for those who demonstrate the most ability and consistent awareness of hazards. We'll use what we harvest for fish spears and more.
• Making and accurately throwing long darts from at-latl.
• Wilderness Camping, and Swimming in Natural Waters, depending on camper desire and swim testing.
• Fire Strategies & Safety
Camp Schedule and Activities:
Activities covered during this camp session include, but are not limited to the following list, and are somewhat dependent on weather, instructor descretion, camper desire, and serendipity:
Sunday: Orientation, Agreements, Intro Games, Cordage, Campfire Music & Stories.
Monday: Knife Safety, Spears, At-latls, Plant Harvesting, Campfire Music & Stories.
Tuesday: Spearing, At-latl Dart Fletching, Bow Intro, Hunting Games.
Wednesday: Bowmaking, Intro to Flintknapping, Intro to Hide Tanning, Hunting Games.
Thursday: Archery with Bows, Parfletching Hides, Fish Hook Making, Hunting Games.
Friday: Finish Projects, Fishing, Closing Circle and Family Presentations.
Camp Instructors: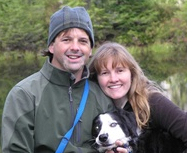 Kim & Chris Chisholm are on site for the entirety of this camp week, supervising and assisting staff artisan instructors.
Pick-up, Drop-off and Airport/Bus/Train Transportation:
Arrival Options on Sunday:
Complimentary Arrival Option: Check in with us at the Battle Ground Lake State Park group campsite (16820 NE 259th St, Battle Ground WA 98604) near Portland on Sunday between 5:00-6:00 p.m. We will start at 6:00 sharp with an introduction to the week for campers and families, followed by final tent set-up and camp orientation lasting until 7:00, at which point we recommend family/friends depart. You may wish to eat dinner before arriving, or you can bring a pot-luck item to set out with our hors d'oeuvres which will be available from 5:00-7:00. Upon registration, we will email you directions to our reserved campsite. If you get lost, call or text our cell phone at 425-248-0253.
$20 Portland Int'l Airport & Vancouver Bus/Train Arrival Option: Book your Airport/Bus/Train Arrival into Portland/Vancouver on Sunday in time to meet our pick-up vehicle at 3:30 p.m., but be sure to call or email us with arrival times before confirming your plans. Pick-up at baggage claim unless unaccompanied minor, then at gate or unaccompanied minor waiting area.
$45 Olympia WA Arrival Option: Meet us at Fred Meyer, 555 Trosper Rd in Tumwater on Sunday at 2:00 p.m. and drive south with us to our camp location.
$65 Puyallup WA Arrival Option: Meet us at the Wolf Campus, 1026 14th St SW in Puyallup on Sunday between 1:00-1:30 and drive south with us to our camp location.
Weekend Departure Options:
Complimentary Friday Park Departure Option: Family & Friends are invited to arrive at Columbia Springs, 12208 SE Evergreen Hwy Vancouver, WA 98683 from 3:30-4:00 and join us for our closing ceremonies from 4:00-5:00. Final departure will be from 5:00-5:30.
$20 Friday Evening Portland Airport Departure Option: Participants can get dropped off at Portland Int'l Airport at 6:00 in time for evening flights.
$45 Friday Evening Olympia WA Departure Option: Participants can get dropped off at Fred Meyer in Tumwater at 7:00 p.m.
$60 Friday Evening Puyallup WA Departure Option: Participants get picked up at the Wolf Campus in Puyallup anytime between 8:00-9:00 p.m. on Friday.
$95 Saturday Morning Puyallup Departure Option: Participants can stay overnight with us on Friday and depart before 12:00 noon on Saturday in Puyallup.
$125 Saturday Afternoon SeaTac Airport Departure Option: Participants can stay overnight with us on Friday, and then get dropped off at the Airport/Bus/Train Station in Seattle-Tacoma on Saturday at 1:00 p.m. in time for afternoon flights. Drop-off at security unless unaccompanied minor, then at gate.
$140 Saturday Evening Puyallup Departure Option: Participants can stay overnight with us on Friday night and depart Saturday evening after dinner in Puyallup.
$165 Sunday Morning Puyallup Departure Option: Participants can stay overnight with us on Friday & Saturday nights and then depart on Sunday before 12:00 noon in Puyallup.
$180 Sunday Afternoon SeaTac Airport Departure Option: Participants can stay Friday & Saturday nights with us, and then get dropped off at the SeaTac Airport on Sunday at 12:00 noon in time for afternoon departures. Drop-off at security unless unaccompanied minor, then at gate.
$195 Full Weekend Stayover Option Between Camp Weeks: Participants can stay the entire weekend and join us for our next camp week!
To add transportation and weekend stayover options, just increase your registration deposit amount below by the amount listed above with a note of explanation. Thanks!
Tuition:
2014 Summer Overnight Camp weeks are $570 if you register by December 20th by taking advantage of our holiday gift certificate, $575 if you register by February 10th, $580 if you register by March 20th, $585 if you register by April 30th, $590 if you register by June 5th, and $595 thereafter if space remains available. To reserve your spot and lock in the earliest registration discount, make a $175 minimum deposit and your balance will be due upon arrival.
You can also receive cumulative discounts of $10 per additional family member attending together, $10 per additional expedition you attend, and $10 for successfully referring other families who register campers this summer. The only additional expenses you may incur for this course are that you will need specific camping gear, although we have plenty of extra just in case. You will also need health insurance, but check with us for recommendations on inexpensive temporary insurance if necessary. Also, please see above for optional pickup/dropoff and weekend stayover choices.
Registration Options:
Check/Mail/Email Registration Option: Print out and complete our Microsoft Word Registration Form for each participant and send with a check deposit payable to the Wolf College, 1026 14th St. SW, Puyallup WA 98371. You can also email us a completed registration form and pay using your preferred method.
Credit/Debit Card Registration Option: Just call us at 253-604-4681 or 425-248-0253 and we will take your registration securely over the phone.
Our refund policy is that deposits are not refundable unless your registration is not accepted. If you cancel after making additional payment, you may receive a credit for a future program, minus a 25% administration fee of total payments made, in case of emergency. You will receive a full refund if your program is canceled and not rescheduled at a time that you can attend. No refund (and not necessarily any credit) is given if a participant is inappropriate at the program and asked to leave.
Camp Preparation: Agreements & Packing List

Agreements for Participation in Camp
Not ready to register yet?
Email us to be put on our our list for this program in the future. We always keep your information absolutely private, and will never share it. You can also like our facebook page to keep in better touch.