August 24-29, 2014 on the Salish Sea south of Seattle

Including fly fishing, rod and reel, spearing, weiring, and boat fishing on the ocean, plus an introduction to honorable hunting.
Ages 8-12: Open/Available with no prerequisite.
Ages 13-17: Open/Available with no prerequisite.
Parents may enroll by special acceptance at discounted rate to help as camp counselors and kitchen hosts.
Join us on the most exciting week of the year for fishermen and women!  Trout start to bite as the weather cools, crabs are still legal to catch and are growing to size, salmon season opens in the rivers, and hunting season opens for small critters, and bow hunting season opens for deer!
Whether you're an experienced angler or new to fishing, come join us for an exciting week of fishing at the very best spots in Western Washington! Learn the basics of rod/reel and fly fishing with our seasoned instructors and try your luck at various sites such as the Puyallup River watershed, North Cascades mountain lakes, and the Salish Sea.  Target fish include trout, salmon, steelhead, bass, surf perch, flounder, sole, dogfish shark, dungeness crab, and many more.
In the heat of the day when the fishing slows we'll be learning what it means to be an honorable harvester. You will also learn to clean and cook your fish in various ways and enjoy eating the fruits of your labor. This camp promises to be an exciting and educational experience!
Camp Goals & Skills Covered:
The goal of this camp session is to help you feel comfortable living as your ancestors did and have fun doing it. Skills covered during this camp session include, but are not limited to the following list, and are somewhat dependent on instructor preference and camper readiness:
•Become adept at rod and reel fishing (casting, tackle/set up, troubleshooting, hooking/landing fish, bait/lures)
• Begin to learn fly fishing
• Get comfortable fishing from river banks, lake shores, ocean piers, and boats
• Know how to efficiently find and fish the best locations
• Understand the ethics of harvesting animals
• Goal that every camper catch fish
• Utilize fish spears made in prior camps if available.
• Honor any animal harvested by utilizing all of its gifts.
• Natural Water Purification (seeps, filters, rock boiling, and locating natural springs)
• Wilderness Camping, and Swimming in Natural Waters, depending on camper desire and swim testing.
• Fishing with Traditional Technologies.
• Use of Fishing Knives, training in skills and safety for everyone, but only those who reach Level II Certification may carry knives in safe sheaths.
Camp Schedule & Activities:
• Hands-on practice with the following activities while on fishing excursions in the early mornings and evenings:
- Rod and reel fishing
- Fishing various freshly stocked local lakes for trout
- Trout fishing in alpine lakes wilderness
- Hunting for rockfish, greenlings, surfperch, sanddabs, sole, and even the occasional shark from coastal piers
- Primitive fishing demo/instruction
- Fly fishing the rivers
- Tips and tricks of a seasoned fisherman
- Pulling in salmon from the regional rivers
- Tackle strategies, bait vs. lures
- Location strategies, water and weather conditions
- Finer points of casting and casting practice
• Late morning and afternoon training on:
- Ability to honor any animal you harvest by putting to good use all their parts .
- Ability to store harvested goods throughout a turning of the sun.
- Ability to cook primitively, smoke, jerky, etc. foods.
- Ability to stay clean and safe from injury in every activity.
- Intoduction to fishing with purely traditional gear (wiering, netting, spearing, bow fishing, hand fishing, hook and line, gorges, bullfrogging).
- Ability to make and set fish traps, fish spears, and other traditional harvesting technologies.
- Cook together on open fires, and learn to make stone soup.
Camp Instructors: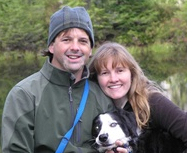 Staff fishing specialist and wild chef Charlie Borrowman is leading this camp for the 4th year in a row along with Kim & Chris Chisholm.
Pick-up, Drop-off and Airport/Bus/Train Transportation:
Arrival Options on Sunday:
Complimentary Park Arrival Option: Meet us at Millersylvania State Park Group Camp (adjacent to the Park Entrance Kiosk) at 12245 Tilley Road S., Olympia, WA 98512 on Sunday between 5:00-5:30 p.m. and help us set up camp from 5:30-6:00. We will start at 6:00 sharp with an introduction to the week, followed by final camp set-up and orientation from 6:30-7:00, at which point we recommend family/friends depart. Participants should eat a full, healthy dinner before arriving, unless traveling by airplane or train, in which case dinner is included in your pick-up fee. Participants arriving directly at our campground location are also encouraged to bring hors d'oeuvres or a pot-luck dish to share with others during camp set-up time.
$25 Olympia/Lacey Arrival Option: You can also book your Airport/Bus/Train Arrival into Olympia/Lacey on Sunday in time to meet our pick-up vehicle at 4:00 p.m., but be sure to call or email us with arrival times before confirming your plans.
$45 Puyallup Arrival Option: You can also meet us at the Wolf Campus, 1026 14th St SW in Puyallup on Sunday between 2:00-2:30 p.m. so that participants can travel with us to our camp location.
$65 SeaTac Arrival Option: Book your Airport/Bus/Train Arrival into Seattle-Tacoma on Sunday morning in time to meet our pick-up vehicle at 2:00 p.m., but be sure to call or email us with arrival times before confirming your plans. Pick-up at baggage claim unless unaccompanied minor, then at unaccompanied minor waiting area.
Weekend Departure Options:
Complimentary Friday Departure Option: Family & Friends are invited to join us at Wolf Haven, International,3111 Offut Lake Road S., Tenino WA 98589 on Friday between 2:30-3:00 and join us for our closing ceremonies from 3:00-4:00. Final departure will be from 4:00-4:30.
$25 Friday Evening Puyallup Departure Option: Participants can stay later into the evening and depart anytime between 6:00-9:00 from the Wolf Campus, 1026 14th St SW in Puyallup.
$95 Saturday Morning Puyallup Departure Option: Participants can stay overnight with us on Friday and depart before 12:00 noon on Saturday in Puyallup.
$125 Saturday Afternoon SeaTac Airport Departure Option: Participants can stay overnight with us on Friday, and then get dropped off at the Airport/Bus/Train Station in Seattle-Tacoma on Saturday at 1:00 p.m. in time for afternoon flights. Drop-off at security unless unaccompanied minor, then at gate.
$140 Full Stayover Option Between Camps: Participants can stay the entire weekend and join us for our Honorable Hunting week if prerequisites are met.
To add transportation and weekend stayover options, just increase your registration deposit amount below by the amount listed above with a note of explanation. Thanks!
Tuition:
Summer Overnight Camp weeks are $595  if you complete registration at least one week prior to the start date, or $600 thereafter if space remains available. To reserve your spot and lock in the earliest registration discount, make a $175 minimum deposit and your balance will be due upon arrival.
You can also receive cumulative discounts of $10 per additional family member attending together, $10 per additional expedition you attend, and $10 for successfully referring other families who register campers this summer. The only additional expenses you may incur for this course are that you will need specific gear, although we have plenty of extra just in case. You will also need health insurance, but check with us for recommendations on inexpensive temporary insurance if necessary. Also, please see above for optional pickup/dropoff and weekend stayover choices.
Registration Options:
Check/Mail/Email Registration Option: Print out and complete our Microsoft Word Registration Form for each participant and send with a check deposit payable to the Wolf College, 1026 14th St. SW, Puyallup WA 98371. You can also email us a completed registration form and pay using your preferred method.
Credit/Debit Card Registration Option: Just call us at 253-604-4681 or 425-248-0253 and we will take your registration securely over the phone.
Our refund policy is that deposits are not refundable unless your registration is not accepted. If you cancel after making additional payment, you may receive a credit for a future program, minus a 25% administration fee of total payments made, in case of emergency. You will receive a full refund if your program is canceled and not rescheduled at a time that you can attend. No refund (and not necessarily any credit) is given if a participant is inappropriate at the program and asked to leave.
Camp Preparation: Agreements & Packing List

Agreements for Participation in Camp
Not ready to register yet?
Email us to be put on our our list for this program in the future. We always keep your information absolutely private, and will never share it. You can also like our facebook page to keep in better touch.