July 19-24, 2020 Overnight Camp
with prerequisites near Mt. Rainier
The Advanced Primal Apocalypse Survival Challenge is designed as a collision between traditional living skills and response to emergency crises.
Click here for an itinerary for a prior version of this advanced camp called the Zombie Apocalypse Survival Challenge.
Click here for an itinerary for a prior version of this advance camp called Primal Fusion & Traditional Bushcraft.
Camp Goals & Skills Covered:
This camp expands on the skills covered in the prerequisite courses, and tests your skills further through a variety of fun, timed survival challenges.
Arrive with ALL the 10 Essentials including Metal Water Bottle, Waterproof Boots, etc.
Camp Availability & Notes:
Ages 9-17: Open/Available with prerequisite of two prior camp weeks, one of which must be either Wilderness Survivors Side of the Mountain in a previous year; or special circumstances such as attending a survival overnight camp elsewhere and at least one of our day camps or weekend workshops in the past; or one of our other overnight camps plus other survival/scout training.
Ages 18 and up may participate in the Wilderness Survival Training & Trek.
Notes: This is an advanced experience and rigorous on many levels. If you don't know whether you are ready for the Primal Apocalypse camp even though you did well at our Wilderness Survival Side of the Mountain camp in the past, then we recommend taking repeating intro survival or taking another overnight camp first. Instructors might determine from your prior week(s) with us that you are better suited for intro survival rather than jumping into the Zombie group, so don't get attached to doing advanced primal apocalypse sooner rather than in a later year. Thanks!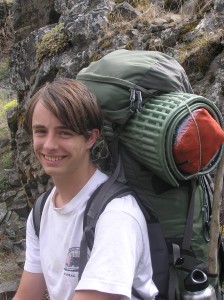 Camp Instructors:
Senior Instructor Charlie Borrowman leads this course with instructor Heather Carmichael.
Location, Pick-up, Drop-off and Airport/Bus/Train Transportation Options:
Sunday 4:30 Starting Point: Sahara Creek DNR Horse Camp, 262nd Ave E., Ashford WA 98304 with additional transportation options from the Puyallup Wolf Campus 2:00 and SeaTac Airport 1:00.
Friday Afternoon Ending Times: If you have Friday available to join us for our end-of-survival Lunch Feast, meet your camper at noon behind Faith Baptist Church, 28514 SR 706 East, in Ashford, one mile down the highway from Sahara Creek, at the turn-off to our primitive camp area. Van shuttles will be available between 1-4 p.m. so your camper can give you a tour of their survival trek area, or you can also join us for enrichment workshops taking place from 1:00-2:30 and 2:30-4:00. If you can't make it for lunch, primitive camp tours, or enrichment workshops, be sure to (leave the Seattle area by 1 p.m. and) arrive at Faith Baptist Church by 4:00-4:30 before staff departs the area at 5 p.m. Or for an additional fee, pick-up your camper in Puyallup at 8 p.m., or we'll drop them off at SeaTac Airport on Saturday, or consider our full weekend stayover option and join us for for the Wildlife Safari camp taking place next week.
Click here for full arrival and departure details and directions.
Tuition:
Overnight Youth Camps are $795. To reserve your spot, make a $200 deposit per camper/week and your balance will be due upon arrival. The cost includes everything from Sunday-Friday including organic camp t-shirt at your first camp, or survival knife, firesteel or field guide at subsequent camp weeks, depending on topic. The only additional expenses you may incur for our courses are for travel and specific gear, although we have extras in case you can't acquire something. You will also need to show you have health insurance, or check with us for recommendations on inexpensive temporary insurance if necessary. Also, please see above for optional transportation and weekend stayover choices.
Discounts: Cumulative discounts include $5 per additional week you attend this summer, $5 off per additional family member attending this summer, and $5 off for successfully referring other families who register campers this summer.
Scholarships: Scholarships for overnight camps are only available for returning campers in 2020 as we transition into a non-profit organization over the next year. Click on Max Davis Scholarships and add answers to its 8 financial aid scholarship questions, or complete a merit scholarship project as described on that page.
Registration:
Check/Mail/Email Registration Option: Download our Microsoft Word or PDF Registration Form to your computer, fill out one per participant for whom we do not yet have a registration form on file (so not needed for returning campers) and send or email back to us. We also have a Bilingual Chinese-English Registration Form PDF or Word Doc. You can also send a check deposit payable to Wolf Camp, 1026 14th St. SW, Puyallup WA 98371 or fill out the registration form and pay deposits by calling with a credit card, or using paypal as described below.
Credit/Debit Card Registration Option: Just call us at 425-248-0253 and we will take your registration securely over the phone.
Or Use PayPal to register online securely with a credit/debit card or via direct withdrawal from your bank account. Use the link below (might not be visible if you are using "reader view" on your phone or other device) or sign into paypal.com and "send money" to our email address: (we'll get back to you with any additional information we may need)
Or email us to be put on our our list for this program in the future. We always keep your information absolutely private, and will never share it. You can also like our facebook page to keep in better touch, and once you've attended a program, please review us on our Better Business Bureau, Yelp & Google pages.
Refund Policy: Standard deposits ($100 for day programs, $200 for overnight programs) are not refundable unless we don't accept your application. If you cancel in advance of the program start time for any reason, you may receive a full credit good through the following calendar year on appropriate and available programs listed on our schedule, although an additional deposit may be required to secure your spot in the future program. If a program you sign up for is canceled and not rescheduled at a time you can attend, you may receive a full refund except in case of natural (weather, geologic, etc) disasters, government shutdowns, conflicts or curfews, or other unforeseen emergencies making it impossible for staff and/or attendees to reach or use program locations, in which case all payments made will be held by us without expiration date for your future use in appropriate/available programs of your choice. No refund, nor credit, is given if a participant is asked to leave a program for inappropriateness as determined by our kids, youth and adult agreements for participation.
Camp Preparation: Agreements, Packing List and FAQ's
Agreements for Participation in Camp
Homesickness Protocol & Prevention