July 12-17, 2015 Overnight Youth Camp with prerequisite

Gain proficiency with the arts of foraging, shelter building, water purifying, food preserving and fire carrying as we travel into the wilderness to live off the land. We will use the gifts which nature supplies us, including natural bug spray, soap and soft bough beds. You will have the option of building a group survival camp or constructing your own camp, alone or with a partner. We will construct a waterproof lean-to, warm debris huts, safe fire pits, reflective walls, and buried hot beds. This is your own wilderness survival trek, and no matter how you choose to do it, it will be the most incredible outdoor experience of your life.
Camp Availability:
Open/Available for Ages 9-13 & 13-17 with Wilderness Survivors Side of the Mountain (prior years) or Wilderness Chefs & Herbal Medics (prior week) as prerequisite, or with parent/guardian enrolled in the Wilderness Survival Training & Trek running simultaneously.
To succeed in this camp week, you will need to show up with:
• a good bow-drill kit with back-up pieces (especially spindle etc.) and lots of extra tinder;
• a burn bowl that can hold more than 2 cups of water;
• jerky that you've made yourself; seaweed or other electrolyte-filled plants that you harvested and dried yourself; and pemmican that you made;
• correct clothing (very warm wool hat/pants/sweater/socks; synthetic long underwear; plus truly waterproof boots in the $100+ price range;
You will also need to complete a full body-length woven mat of grass, cattail, or other fibers on day one of camp, and then in order to embark on the advanced survival challenge, a participant would need to demonstrate proficient bow-drill firemaking, burn-bowl hot-rock water boiling, nettle and cattail harvesting and cooking on site, and debris hut building by 9 p.m. the night before embarking on his/her trek the next morning, which could be on Tuesday, Wednesday or Thursday morning during the camp week.
Call/email with questions on how to prepare.
Camp Goals & Skills Covered:
The goal of this camp session is to prove to yourself that you can survive any wilderness emergency, and this camp is a good test to see how to take it from the "emergency survival" level to the "traditional outdoor living" and eventual "stone age living" levels. Skills covered during this camp session may include, but are not limited to the following list, and are somewhat dependent on instructor preference and camper readiness:
• Natural selection forestry, using Hatchets & Axes for chopping and wood splitting, for those who demonstrate the most ability and consistent awareness of hazards.
• Wild Edible Foraging & Preparation (Herbs, Nuts, Roots, Flowers, Fruits, Insects)
• Emergency Shelter & Traditional Home Shelter (debris hut, lean-to, wickiup, thatch hut, earth lodge, split cedar cabins, including fire drafting strategies)
• Natural Water Purification (seeps, filters, rock boiling, and locating natural springs)
• Wilderness Camping, and Swimming in Natural Waters, depending on camper desire and swim testing.
• Navigating without modern aids.
• Fishing.
The zombie apocalypse survival challenge consists of 4 possible levels:
Wannabe Level in Maximum 30 Minutes: Enjoy the fire; Enjoy watching others do the challenge; Enjoy water from the faucet; Enjoy food cooked for you; Hit the target in a rabbitstick challenge.
Am Level in Maximum 90 Minutes: Make fire with a firesteel with tinder you find in nature, using the bed and pillow method; Make a bivouac bed in the best 5 W's location and 10 essentials; Drink iodine-purified, or water-filtered, or otherwise 10 essentials-purified lake/stream water; Find 2 wild foods that will give you energy; Identify the cardinal directions.
Prime Level in Maximum 90 Minutes: Make bowdrill fire with kit you previously made; Make biviouac bed enhanced by eagle's nest walls and waterproof roofing, garbage bag okay to use; Boil water in a metal cup; Find 4 wild foods that will give you energy; Find 2 medicinal plants important in a survival situation.
Zombie Level in Maximum 2 Hours: Make fire with no knife or any other modern or prepared gear; Make a water-proof eagle's nest; Boil water with a wooden bowl you previously made; Find 6 wild foods that will give you energy; Find 4 medicinal plants important in a survival situation.
Camp Instructors: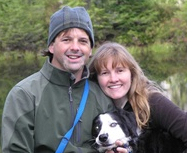 Kim & Chris Chisholm will be on site this week, supervising staff survival specialists.
Pick-up, Drop-off and Airport/Bus/Train Transportation:
For logistical information, click on the intro Wilderness Survivors Side of the Mountain or the adult Wilderness Survival Training & Trek running simultaneously.
Tuition:
Costs are the same as the intro Wilderness Survivors Side of the Mountain and adult Wilderness Survival Training & Trek running simultaneously.
Registration Options:
Check/Mail/Email Registration Option: Print out and complete our Microsoft Word Registration Form for each participant and send with a check deposit payable to the Wolf College, 1026 14th St. SW, Puyallup WA 98371. You can also email us a completed registration form and pay using your preferred method.
Credit/Debit Card Registration Option: Just call us at 253-604-4681 or 425-248-0253 and we will take your registration securely over the phone.
Or Use PayPal to register online securely with a credit/debit card or via direct withdrawal from your bank account:
Participant Name(s) & Age(s):
Phone Number(s) & Airport/Bus/Train Transportation Needs(s):
Our refund policy is that deposits are not refundable unless your registration is not accepted. If you cancel after making additional payment, you may receive a credit for a future program, minus a 25% administration fee of total payments made, in case of emergency. You will receive a full refund if your program is canceled and not rescheduled at a time that you can attend. No refund (and not necessarily any credit) is given if a participant is inappropriate at the program and asked to leave.
Camp Preparation: Agreements & Packing List

Agreements for Participation in Camp