July 20-25, 2014 Overnight Youth Camp
What we teach for Advanced Arts of the Scout is never written, but it requires a pledge of morals and service to the world before learning. Click here to see pictures from last year's Scout Camp on our facebook page.
Camp Goals & Skills Covered:
The goal of Advanced Arts of the Scout is to integrate the scout code of morals which lead to the ultimate action we must take, and in order to do so, you may take a proficiency challenge to demonstrate that you have become accomplished in the following morals:
• Appreciation.
• Unity.
• Intelligences.
• Joyful Interest.
• Sensitive Honesty.
• Love & Peace.
• Will to Serve.
• Humble Respect.
Skills include but are not limited to:
• Scout Raids.
• Boobie Traps.
• Smokeless Fires.
• Meditative exercises for body control, like overcoming cold, fear, etc.
• Navigate without modern devices.
• Log Balancing & Jousting.
• Build invisible scout pits.
• Sew custom moccasins
• Make primitive eye glasses to use for safety during scout games involving primitive paintball equipment.
Availability
Open/Available for Ages 9-13 & 13-17 with Secrets of the Ancient Scout (prior years) or Survivors Side of the Mountain (prior week) as prerequisite.
Camp Instructors: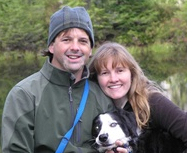 Kim & Chris Chisholm are on site for the entirety of this camp week, supervising scout specialists including Patrick Wiley and others.
Pick-up, Drop-off and Airport/Bus/Train Transportation:
For logistical information, click on the intro Secrets of the Ancient Scout running simultaneously.
Tuition:
Costs are the same as the intro Secrets of the Ancient Scout running simultaneously.
Registration Options:
Check/Mail/Email Registration Option: Print out and complete our Microsoft Word Registration Form for each participant and send with a check deposit payable to the Wolf College, 1026 14th St. SW, Puyallup WA 98371. You can also email us a completed registration form and pay using your preferred method.
Credit/Debit Card Registration Option: Just call us at 253-604-4681 or 425-248-0253 and we will take your registration securely over the phone.
Our refund policy is that deposits are not refundable unless your registration is not accepted. If you cancel after making additional payment, you may receive a credit for a future program, minus a 25% administration fee of total payments made, in case of emergency. You will receive a full refund if your program is canceled and not rescheduled at a time that you can attend. No refund (and not necessarily any credit) is given if a participant is inappropriate at the program and asked to leave.
Camp Preparation: Agreements & Packing List

Agreements for Participation in Camp