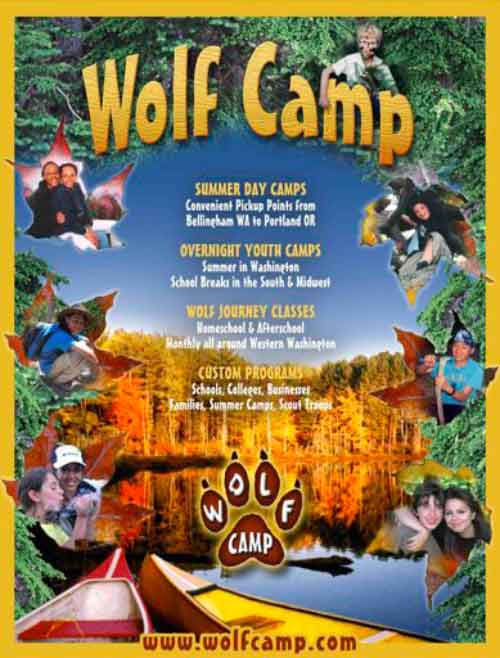 Join our fun, skill-building programs guided by highly-skilled instructors who are specially trained to teach young people ages 9-17 and 18-28 at overnight camps. The Conservation College ran its first overnight summer camps in the spring and summer of 1998, and we now offer a host of camps for kids, adults and family. Our hallmark 6-1 average student-teacher ratio also ensures profound outdoor experiences that will become some of the best memories in life. Register for as many of the following camps as you like, or try our weekend workshops and family classes in preparation for full camp weeks:
July 8-13, 2018 Wilderness Survival Side of the Mountain WITH WAITLIST AVAILABLE or Advanced Primal Bushcraft & Zombie Apocalypse Survival Challenge with space available for youth with prerequisite near Mt Rainier south of Seattle WA.
July 15-20, 2018: The Wildlife Safari – Tracking the Oregon Coastal Dunes for ages 9-15 with ONE SPOT AVAILABLE and for ages 16-36 with space available with transportation available from Seattle, Puyallup, Olympia, Vancouver WA, Portland, Salem, Eugene.
July 22-27, 2018: Wilderness Skills Family Camp for all ages at Lake Sammamish east of Seattle WA.
Jul 29 – Aug 3, 2018: Archers, Artists & Artisans with four spaces available as of 6/30 on Lake Sammamish with near-by harvesting field trips.
August 12-17, 2018: Wild Chefs & Herbal Medics with four spaces available as of 6/30 starting at Deception Pass and ending on Lake Sammamish.
August 26-31, 2018: Secrets of the Ancient Scout with six spaces available as of 6/30 at Lake Sammamish near Seattle WA.
June 24-29, 2019: Backcountry Leadership, Navigation & Conservation for ages 14 and up near Yakima WA.
June 30 – July 5, 2019: Wild Discovery Film Camp: Nature & Survival at Lake Sammamish near Seattle WA, running simultaneously with Teaching Nature: Training for Environmental Educators & Nature Guides for ages 14-28.
August 25-30, 2019: Epic Fishing Camp on the shores of the Puyallup River, Salish Sea & Pacific Coast runs on the odd years only and fills early, so email us to get on the wait list for 2019.
Camp Leaders: 
Kim & Chris Chisholm are on site all week directing our professionally-trained staff instructors who make up our hallmark 6-1 student-instructor ratio critical for  high-level outdoor educational programs. Read our FAQ's for more details and check out our overnight camp testimonials and dating all the way back to 1997!
Cost & Registration:
2018 Overnight Youth Camps are $795/week. To reserve your spot, make a $200 deposit per camper/week and your balance will be due upon arrival. The cost includes everything from Sunday-Friday including organic camp t-shirt at your first camp, or survival knife, firesteel or field guide at subsequent camp weeks, depending on topic. The only additional expenses you may incur for our courses are for travel and specific gear, although we have extras in case you can't acquire something. You will also need health insurance, so check with us for recommendations on inexpensive temporary insurance if necessary.
DISCOUNTS: Standard cumulative discounts are $5 per additional week you attend this summer, $5 off per additional family member attending this summer, $5 off for successfully referring other families who register campers this summer.
Scholarships: Scholarships for overnight camps are available for Survival Side of the Mountain and Secrets of the Ancient Scout, so click those links to check availability and apply early in case spaces fill up. Please also note that our focus for scholarships is for residents of the Pacific Northwest states, and especially foster children, enrolled tribal members, and the underprivileged. If you need financial assistance or want to apply for a merit scholarship, click on Max Davis Scholarships and add answers to its 8 financial aid scholarship questions, or complete a merit scholarship project as described on that page.
REGISTRATION FORM: If you have not yet completed a registration form in the past, download our Microsoft Word or PDF Registration Form to your computer, fill out one per participant, and email back to us. We also have a Bilingual Chinese-English Registration Form PDF or Word Doc.
Email us to be put on our our list for this program in the future. We always keep your information absolutely private, and will never share it. You can also like our facebook page to keep in better touch, and once you've attended a program, please review us on our Better Business Bureau, Yelp & Google pages.