Registration for Summer Camps 2021 will open after the pandemic era ends, locations are reserved, and permits are secured. Scroll down for the tentative schedule, and in the meantime, check out our virtual academic year classes!
Tuesday Classes focus on Herbal Medicine & Plant Crafts in the Autumn Season from Sept 15 – Nov 17, 2020, followed by Gardening & Cooking Wild Edible Food Plants in the spring of 2021.

Thursday Classes focus on Wilderness Survival & Bushcraft Skills in the Autumn Season from Sept 17 – Nov 19, 2020, followed by Wildlife Tracking & Birding in the spring of 2021.
Saturday Classes 

for all ages guide you through the Wolf Journey Earth Conservation Course – Book One:

The Neighborhood Naturalist.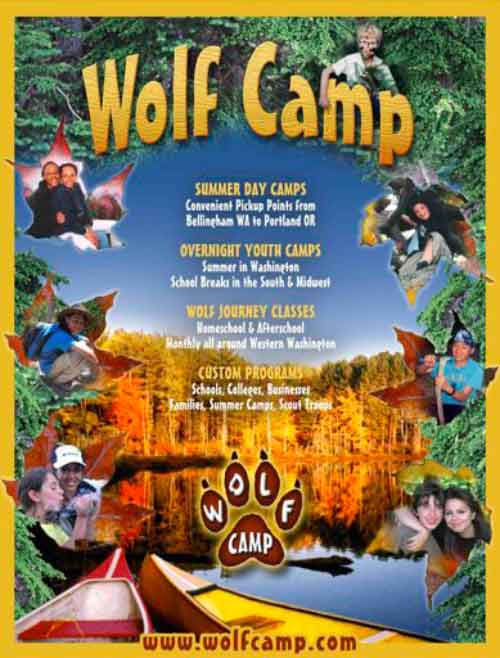 Join our fun, skill-building programs guided by highly-skilled instructors who are specially trained to teach pre-teens, teens and young adult groups during overnight camps. The Wolf School of Natural Science ran its first overnight summer camps in the spring and summer of 1998, and we now offer a host of camps for kids, adults and family. Our hallmark 6-1 average student-teacher ratio ensures profound outdoor experiences that will become some of the best memories in life.
July 11-16, 2021 Sun-Fri: Wild Chefs & Herbal Medics and Secrets of the Ancient Scout – Animal Tracking near Mt Rainier. No prerequisite for teen groups (ages 13+), while pre-teen group (ages 9-13) requires previous attendance at one of our family workshops, kids day camps, or overnight youth camps in the past. Transportation available from SeaTac & Puyallup.
July 18-23, 2021 Sun-Fri : Wilderness Survival Side of the Mountain near Mt Rainier with prerequisite of any prior overnight camp with us (last week or past years), simultaneous to the Advanced Apocalypse Survival Challenge for those who attended at least one of our overnight survival camps in prior years. Transportation available from SeaTac & Puyallup.

August 29 – Sept 3, 2021 Sun-Fri: Archers, Artists & Artisans at Camp Curran near Tacoma WA. No prerequisite for teen group ages 13+, while pre-teen group ages 9-13 requires previous attendance at one of our family workshops, kids day camps, or overnight youth camps in the past. Transportation available from SeaTac.

Camp Leaders: 
Kim & Chris Chisholm are on site all week directing our professionally-trained staff instructors who make up our hallmark 6-1 student-instructor ratio that's critical for  high-level outdoor educational programs. Read our FAQ's for more details and check out our overnight camp testimonials and dating all the way back to 1997.
Tuition:
Overnight Youth Camps are $895. To reserve your spot, make a $200 deposit per camper/week and your balance will be due upon arrival. The cost includes everything including meals. The only additional expenses you may incur for our courses are for travel and specific gear, although we have extras in case you can't acquire something. You will also need health insurance, so check with us for recommendations on inexpensive temporary insurance if necessary.
DISCOUNTS: Standard cumulative discounts are $10 per additional week you attend this summer, $10 off per additional family member attending this summer.
Scholarships: Click on Max Davis Scholarships and add answers to its 8 financial aid scholarship questions, or complete a merit scholarship project as described on that page.
Registration
Credit/Debit Card Registration Option: Just call us at 425-248-0253 between 8 AM – 8 PM any day of the week and we will take your registration securely over the phone, or leave a message and we will call you back asap.

Check/Mail/Email Registration Option: Open our Registration Form (Word or PDF or Google Doc) on your computer, fill out one per new participant (not needed for returning campers) and send or email it back to us. We also have a Bilingual Chinese-English Registration Form PDF or Word Doc. You can also send a check deposit payable to Wolf Camp, 1026 14th St. SW, Puyallup WA 98371 or fill out the registration form and pay deposits by calling with a credit card, or using paypal as described below.
Or Use PayPal to register online securely with a credit/debit card or via direct withdrawal from your bank account. Use the link below (might not be visible if you are using "reader view" on your phone or other device) or sign into paypal.com and "send money" to our email address: (we'll get back to you with any additional information we may need)
Email us to be put on our our list for this program in the future. We always keep your information absolutely private, and will never share it.
Refund Policy: Deposits ($100 for day programs, $200 for overnight programs) are not refundable unless we don't accept your application. If you cancel for any reason, you may receive a full credit good through the following calendar year on appropriate and available programs listed on our schedule, although an additional deposit is needed to secure your spot in the future program. If a program you sign up for is canceled and not rescheduled at a time you can attend, you may receive a full refund except in cases of natural (weather, geologic, wildfire, etc) disasters, grid failures, epidemics, government shutdowns, conflicts or curfews, or other unforeseen emergencies making it unsafe for staff and/or attendees to reach or use program locations, in which case all payments made will be held by us without expiration date for your future use in appropriate/available programs of your choice. Reasons include the expenditure of funds (property rentals, advertising, materials, admin staff time, etc.) long before programs take place, i.e. deposits make it feasible for Wolf Camp to schedule programs in the first place, but our mutually understood agreement is that Wolf Camp will run the program at the safest available time in the future. Finally, no refund, nor credit, is given if a participant is asked to leave a program for inappropriateness as determined by our kids, youth and adult agreements for participation.
Home Office & Summer Camp Addresses, Appointments & Mail-In Registration Option:
Most of our summer programs take place at Lake Sammamish and Mt Rainier, but if registering by mail, please send a check deposit to our home office of Wolf Camp, 1026 14th St. SW, Puyallup WA 98371 with participant name(s), phone number, email address, age of any minors, and any allergies or health restrictions we should know about. Balances will be due upon arrival. If attending a camp or workshop involving some risk, we also require completion of our Microsoft Word or PDF Registration Form if you haven't completed one in the past. We also have a Bilingual Chinese-English Registration Form PDF or Word Doc.
Camp Preparation: Agreements, Packing List and FAQ's
Agreements for Participation in Camp
Homesickness Protocol & Prevention
Other FAQ's – Frequently Asked Questions
Have you ever attended one of our programs before? Please review us on our Better Business Bureau, Facebook, Yelp & Google pages.