Wildlife, Herbology & Advanced Artisan

Choose from our day camps located at the Hans Jensen Group Camp, our privately-rented wilderness park across from the East Lake Sammamish boat launch in Issaquah. Day Camps run Mon-Fri 9:30-3:30.
Camp is designed for ages 7-13 this summer, with campers grouped with others closest to their age within our hallmark 6-1 student-teacher ratio that's so critical for safe and profound outdoor experiences this year.
Camp includes optional wading/swimming and games/archery during lunchtime, depending on park rules, camper safety tests, weather and other conditions.
Camp Themes for August 23-27, 2021

Wildlife Search & Rescue: In its 25th year, this theme is excellent for exploratory learners ages 7-13, but not recommended for asperger spectrum students, as the itinerary diverges daily based on wildlife "finds" and other learning opportunities.
Wild Cooking & Herbology: In its 23rd year, this theme is excellent for focused learners ages 6-11, as it is like a mini college course on herbalism (although very hands-on) and therefore not recommended for adhd students.
Advanced Artisans Camp: In its 4th year, this theme is open to ages 9-13 who have graduated at least three previous camps with us. Experience skills similar to our overnight camp entitled Archers, Artists & Artisans.
Camp Leaders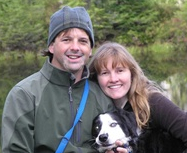 Camp Directors Kim & Chris Chisholm are on site all week directing professionally-trained staff instructors at our hallmark 6-1 student-teacher ratio for safe and profound outdoor experiences this year. Read our FAQ's for more details and check out camp testimonials dating all the way back to 1997!
Pickup/Drop-off Times & Directions
Instruction runs Mon-Fri 9:30-3:30 with drop-off no earlier than 8:30 a.m. and pick-up no later than 4:30 p.m.  We are located at the Lake Sammamish Hans Jensen Group Camp, 4460 East Lake Sammamish Pkwy SE, Issaquah WA 98029. The reserved Hans Jensen Group Camp with hidden entrance across the street from the boat launch, not the main state park entrance, is a privately-rented, eighty-acre property managed by the state park but not open to the public. It is located ACROSS FROM, NOT AT the East Lake Sammamish Boat Launch. Look for a gravel driveway on the opposite (east) side of East Lake Sammamish Parkway. There is no aftercare on Friday. Instead, parents are invited to join us for closing ceremonies from 2:00-3:30 on Fridays. The schedule includes classic songs and stories from 2:00-2:15, special workshops for parents from 2:15-3:00, and camp graduation awards from 3:00-3:30. Please join us for closing ceremonies to help campers integrate the skills they learned back into their life!

Tuition
Please choose your contribution level for Summer Day Camp weeks at Lake Sammamish. It's fine to mix and match prices if registering multiple children/weeks, with discounts of $5 per additional week you attend this summer, $5 off per additional family member attending this summer, and $5 off for successfully referring other families who register campers this summer.

$695 to sponsor a camper receiving financial aid.
$595 to sponsor a camper applying for a merit scholarship.
$495 for 2021 prices which are set to cover expenses leftover from last year's pandemic-related cancelations.
$395 for 2020 prices if you were not able to attend last year due to the pandemic.
$295 if your camper completes a merit scholarship

.

$195 if you successfully apply for financial aid

to attend camp.
Tuition includes complimentary extended care from 8:30-4:30 except Friday afternoon. The only additional expenses you may incur for camp are that you will need to pack a lunch and snacks every day, and of course all campers need health insurance. Tuition also includes organic t-shirt at your first camp with us, then either an orienteering compass, recommended field guide, firesteel or other essential depending on number of camps attended, age and availability.

Registration
Registrations for Summer 2021 will be taken in the following order:
Winter 2021 now accepting reservations from all alumni (children who have been to camp in past years) as well as anyone who has a deposit on file with us from 2020 pandemic cancelations. Simply send us an email

with the dates you wish to reserve. Your balance may be paid using options listed below once your child has received a first round of COVID-19 vaccination.

Spring & Summer 2021 if space remains available, we will accept new campers who have completed their first vaccination protocol, as well as unvaccinated camp alumni able to follow

our 2020 communicable disease protocols:

maintaining 12 foot distancing and wearing masks whenever moving. All campers will continue to receive health screenings every morning before being allowed to exit vehicles. Bathroom hygiene protocols (hand sanitizer before and supervised hand washing after) will also remain the same as during the pandemic era, as well as hand sanitizing whenever sharing tools and materials.
Credit/Debit Card Registration Option: Just call us at 425-248-0253 and we will take your registration securely over the phone.
Check/Mail/Email Registration Option: Open our Registration Form (Word or PDF or Google Doc) on your computer, fill out one per new participant (not needed for returning campers) and send or email it back to us. We also have a Bilingual Chinese-English Registration Form PDF or Word Doc. You can also send a check deposit payable to Wolf Camp, 1026 14th St. SW, Puyallup WA 98371 or fill out the registration form and pay deposits by calling with a credit card, or using paypal as described below.
Or Use PayPal to register online securely with a credit/debit card or via direct withdrawal from your bank account. Use the link below (might not be visible if you are using "reader view" on your phone or other device) or sign into paypal.com and "send money" to our email address.
Email us to be put on our our list for this program in the future. We always keep your information absolutely private, and will never share it.
Refund Policy: Deposits ($100 for day programs, $200 for overnight programs) are not refundable unless we don't accept your application. If you cancel for any reason, you may receive a full credit good through the following calendar year on appropriate and available programs listed on our schedule, although an additional deposit is needed to secure your spot in the future program. If a program you sign up for is canceled and not rescheduled at a time you can attend, you may receive a full refund except in cases of natural (weather, geologic, wildfire, etc) disasters, epidemics, grid failures, government shutdowns, conflicts or curfews, or other unforeseen emergencies making it unsafe for staff and/or attendees to reach or use program locations, in which case all payments made will be held by us without expiration date for your future use in appropriate/available programs of your choice. Reasons include the expenditure of funds (property rentals, advertising, materials, admin staff time, etc.) long before programs take place, i.e. deposits make it feasible for Wolf Camp to schedule programs in the first place, but our mutually understood agreement is that Wolf Camp will run the program at the safest available time in the future. Finally, no refund, nor credit, is given if a participant is asked to leave a program for inappropriateness as determined by our kids, youth and adult agreements for participation.
Day Camp Preparation: Agreements, Packing List and FAQ's

Day Camp Agreements for Participation
Health & Safety in the Pandemic Era
Other FAQ's – Frequently Asked Questions
Most Asked Question: Lunchtime Activities – Bring your own lunch from home, and then enjoy our After Lunch Activities (ALA) include choices of Archery, Creek Wading, Berry Picking, Reading & Naps, Shelter & Sprinkler Games.

Have you ever attended one of our programs before? Please review us on our Better Business Bureau, Facebook, Yelp & Google pages.