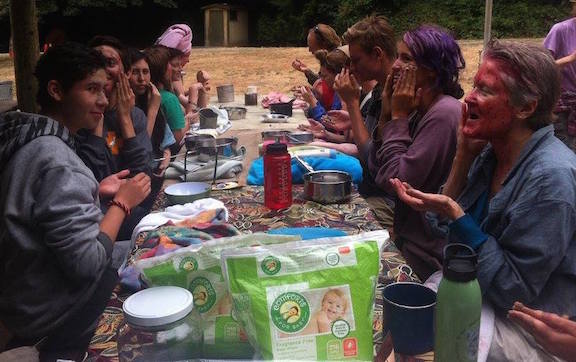 Options for a wonderful last week of summer!
• Advanced Wilderness Survival Day Camp for ages 8-12 who have graduated two previous camps with us – at least one being Wilderness Survival Craft or an Advanced Day Camp. Click here for the advanced survival camp itinerary or register below!

• Wilderness Family Camp for all ages with theme choices of 1) Survival, 2) Wildlife, or 3) Ethnobotany. Click those links for day camp sample itineraries, but return here to register below. Cost for all activities from 8:45-3:45 Mon-Fri is $325 for adults and youth, with discounts for children ages 6 and under ($50 less per year of age), plus optional primitive camping at $25/night/family, and optional meals at $15/adult and $10/child. You can also choose nearby lodging, restaurants and grocery options.
Instructors & Location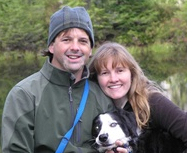 Patrick Wiley, M.S. will be your guide at our along with professionally-trained staff at an 8-1 instructor-participant family camp ratio that's critical for safe, profound and fun outdoor experiences. Read our FAQ's for more details and check out camp testimonials dating all the way back to 1997.
Camp is located at a beautiful, privately-reserved 80 acre camp property where you can swim, fish, hike and play for hours, near metro areas where you can attend urban activities, shop and get around easily. You can even bring your boat if you have one. We will provide you with fishing poles and tackle, after-hours access to archery gear and range, suggested on-site and near-by hiking maps, always-open resource library and outdoor gear (binoculars, frisbee, balls, board games, etc), as well as some firewood and craft supplies.
Arrival Directions & Transportation Options: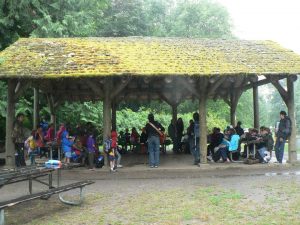 Sunday Arrival Option: If camping with us at $25/family/night or $100/wk, please arrive in time for 6-8 PM Sunday tours with your camp instructor.
Monday-Friday: If staying off-site and simply attending daytime activities, then arrive between 8:00-8:30 AM at the Lake Sammamish Hans Jensen GROUP CAMP, 4460 East Lake Sammamish Pkwy SE, Issaquah WA 98029 located ACROSS the parkway from the EAST Lake Sammamish Boat Landing. Camp ends daily at 3:30 p.m., with extended care available for day campers until 5:00 p.m.

Friday Departure: After our closing circle which ends at 3:30 Friday, you can pack up and depart as soon as you like. FAQ for the Advanced Survival Day Camp: In comparison with other day camp weeks earlier in the summer, there are no end-of-camp workshops. Instead, parents of can spend the afternoon with campers "leaving no trace" out at their remote survival camp.

FAQ: Can advanced survival day campers stay overnight and join meals with staff this week? Yes, but see below for additional costs, and camping (or presence outside of the 8 AM – 5 PM extended care time) is only allowed with a parent.
FAQ: Can family camp participants choose different themes (survival, wildlife, ethnobotany) or does the whole family have to choose the same theme. Also, can we switch themes at any time, or do we have to choose just one theme for the whole week? Camp is designed for families to do one theme all week, but yes, you can switch your theme at any time if space remains available (max 9-1 ratio) in another theme. As for whether different family members can choose different themes, yes as long as there is at least one parent with a child at all times; in effect, children cannot choose a theme without a parent accompanying them in that theme. Exceptions can be made for very mature teens. In essence, families with two adults or with mature teens can have one choose a different theme than the rest of the family.

Tuition & Optional Meals/Camping Fees
This week's advanced survival day camp is $395 per child. Standard cumulative discounts are $5 per additional week you attend this summer, $5 off per additional family member attending this summer, $5 off for successfully referring other families who register campers this summer, and $5 off every camp for all alumni returning from prior years.

Family Camp costs $325 per person, with discounts for children ages 6 and under: $275 for 6 year olds, $225 for 5 year olds, $175 for 4 year olds, $125 for 3 year olds, $75 for 2 year olds, $25 for 0-1 year olds, as the park does charge us us a per-person rental fee. Children of all ages may attend all activities, with the understanding that an enrolled parent may have to go in and out of classes as needed when lecture or other activities are not age appropriate.
Optional Tent Camping with our staff costs an additional $25/night per family, or $100/week including Sunday-Thursday nights. RV's are not allowed at this site, with no exceptions granted by park rangers. If you have an RV or trailer, you will need to stay somewhere else, but normal cars/trucks can park with a Discover Pass. Toilets are primitive. Or find your own accommodations such as the nearby Holiday Inn at Issaquah or get a vacation rental house on Lake Sammamish.
Optional Meals are available for those who let us know at least a week in advance so we can bring adequate food. Costs are an additional $15/adult and $10/child per breakfast, lunch or dinner.
In addition, there are airport and other arrival and departure options and directions described here.
Registration:
Credit/Debit Card Registration Option: Just call us at 425-248-0253 and we will take your registration securely over the phone.
Check/Mail/Email Registration Option: Send a check deposit payable to Wolf Camp, 1026 14th St. SW, Puyallup WA 98371 along with a registration form for any child for whom we do not yet have one on file: download the Microsoft Word or PDF Registration Form to your computer, fill out one per participant, and send it or email it back to us. We also have a Bilingual Chinese-English Registration Form PDF or Word Doc.
Or Use PayPal to register online securely with a credit/debit card or via direct withdrawal from your bank account. Use the link below (might not be visible if you are using "reader view" on your phone or other device) or sign into paypal.com and "send money" to our email address: (we'll get back to you with any additional information we may need.
Or email us to be put on our our list for this program in the future. We always keep your information absolutely private, and will never share it. You can also like our facebook page to keep in better touch, and once you've attended a program, please review us on our Better Business Bureau, Yelp & Google pages.
Refund Policy: Standard deposits ($100 for day programs, $200 for overnight programs) are not refundable unless we don't accept your application. If you cancel in advance of the program start time for any reason, you may receive a full credit good through the following calendar year on appropriate and available programs listed on our schedule, although an additional deposit may be required to secure your spot in the future program. If a program you sign up for is canceled and not rescheduled at a time you can attend, you may receive a full refund except in case of natural (weather, geologic, etc) disasters, government shutdowns, conflicts or curfews, or other unforeseen emergencies making it impossible for staff and/or attendees to reach or use program locations, in which case all payments made will be held by us without expiration date for your future use in appropriate/available programs of your choice. No refund, nor credit, is given if a participant is asked to leave a program for inappropriateness as determined by our kids, youth and adult agreements for participation including homesickness protocol and prevention.
Course Preparation: Agreements, Packing List and FAQ's

Click here for our Adult Camp Agreements
Click here for our Adult Camp Packing List