July 2-6, 2018 for All Ages
Experience our fun, skill-building family camps and classes guided by highly trained staff this week, or check out our July 22-27, 2018 Family Camp at Lake Sammamish.
Pick and choose morning/afternoon classes which interest you at $25/class. You can also tent camp with us at $25/family/night including access to the camp bathrooms, kitchen and refrigerator. Otherwise, outside of our 9:30-3:30 day camp and class hours of operation, your family will be on your own for all activities.
Daytime programs are located at beautiful Clark's Creek Park with old growth trees where you can swim, fish, hike and play for hours. You can even bring your non-motorized boat if you have one. We will provide on-site hiking maps, always-open resource library and outdoor gear (binoculars, frisbee, balls, board games, etc), as well as limited firewood (for Camp Curran) and craft supplies.
Options! All-Week Camp vs. Daily Classes
Camp Option: Register for 8 classes at $25/each or $200 for the week, plus optional tent camping at $25/family/night including access to the camp bathrooms, kitchen and refrigerator. Meals are on your own since there is excellent near-by access to grocery stores and restaurants.  The schedule includes:
Sunday: Optional early arrival if you would like to camp with us at Camp Curran at $25/family/night. Your instructor will be available from 6-8 PM for site tours. 8-9 PM Campfire Songs & Stories.
Monday:
9:30 All-Camp Story & Song at Clark's Creek Park
9:45 Adult & Family Class (see below for class itinerary)
12:00 Lunchtime
12:30 Wading & Games
1:15 Family Class (see below)
3:30 Class Evaluations
Tuesday: (same as monday at Clark's Creek except see class topic schedule below)

Wednesday: Complimentary day at Camp Curran, 13220 50th Ave E, Tacoma WA 98446 for families of campers who attended at least one class this week, otherwise by donation to the Conservation College. The loose schedule for the day includes:
8-9 AM Breakfast ($10/adult, $5/child by advance email reservation)
9-12 Enjoy the morning with Wolf Camp instructors doing archery, carving/practicing bow drill fire kits, birding and plant walks.
12-1 Lunch ($10/adult, $5/child with at least one hour advance notice)
1-2 PM Campfire Concert – Opening Act
2-4 PM Dana Lyons – Celebration of the American Environment Fundraising Concert for the Conservation College. RSVP Here or donate upon arrival.
4-5 PM Discussion with Dana Lyons at his merch table.
5-6 PM Dinner ($10/adult, $5/child with advanced notice by the end of lunchtime)

Thursday: (same as tuesday at Clark's Creek except see class topic schedule below)

Friday: (at Camp Curran – see class topic schedule below)

Class Options: Pick and choose classes listed below for $25 each which can also be found on our South Sound Meetup Site (opens new tab) –
Monday 9:45-11:45 Wildlife Safety & Nature Awareness Skills – Take a deep breath and join us for a very special class where you'll learn to exponentially increase your senses of sight, smell, touch, taste, and hearing. We'll practice what to do in case of encounters with bears, wolves and mountain lions. We might even search out, identify, and safely collect some amazing critters normally overlooked.  After learning what we can, we'll release them, unharmed, back to their homes to continue their essential active lives.
Monday 1:15-3:15 Natural Navigation plus Map & Compass – This class will be a fun and informative way to learn how to get your bearings in the wilderness, and accurately understand your surroundings. In addition to introducing the 30 ways to navigate in the wilderness, we will be using fun and entertaining games and activities to practice and learn these new skills, which you will be able to use for the rest of your life. Of course, we will also train you on the special Wolf College 4 Step Method of using a compass. We look forward to a fun class of navigation training with you!
Tuesday 9:45-11:45 Backyard Bird Language – Most people don't give birds much of a second thought.  They hear the songs, and maybe appreciate the beauty, but don't realize that there is so much more than that! In this class you will learn about how birds communicate, both with other birds as well as animals and humans.  We will also cover the way birds live, what they eat and where their nests are, including how to arrange your yard to attract the maximum numbers of beautiful birds!
Tuesday 1:15-3:15 Tracking & Trailing Animals – We will start class with an overview of wildlife tracking to help you recognize tracks and other signs of animals, including track characteristics of mammal families present in our bioregion. Your instructors will arrange a "tracking scenario" consisting of track "cut-outs" to solidify your understanding of track identification, plus educated interpretation of what animals are doing based on their tracks. We will also choose some volunteers to demonstrate "animal forms" which are the way animals move, as this is critical to really understand how tracks get laid on the ground. Finally, we'll embark on a real-life tracking expedition into the depths of the park, trailing what we find.
Thursday 9:45-11:45 Wild Edible Food Plants & Critters – We'll start this class by practicing honorable harvesting methods and plant stewardship as we select the plant parts we need and carefully collect and store them for later use. You'll learn when and where to look for the Top 10 Edible Plants of our region, and how to identify and prepare them.  We'll also spend some time examining poisonous look-a-likes and we'll discuss safety in the forest. Finally, we'll go on a foray for wild edible insects!
Thursday 1:15-3:15 Wild Plants for Medicine & Craft – In this class you will be introduced to the myriad wild medicinal plants in Clark's Creek Park, plus go deeper into neighboring state land to harvest a variety of materials that can be used for basketry and rope making. You will learn techniques for creating strong natural cordage, learn about gardening herbs and turning them into medicine. Join us in an herbalist's paradise where we hope this will be just about the best intensive learning experience you can find on utilitarian plants anywhere.
Friday 9:45-11:45 Wilderness Survival including Best Emergency Shelter – The world can be a dangerous place sometimes; one never knows when they may end up in a survival situation.  This class seeks to give you a run down on all the skills needed for any short term survival event, whether that is a day hike gone wrong, a disaster emergency or a fun two hour class for the whole family.
Friday 1:15-3:15 Old School Fire Making including the Bow Drill & Fire Steel – We will walk you through the best way to make a fire and view a variety of materials to see how they burn as tinder. We will start the bow drill portion of the workshop by reflecting the symbolism of the parts of the bow drill kit, and you will realize why this method of fire-by-friction was preferred (and superior even to matches) for lighting fires in cold and wet climates. It should only take 10 seconds to create a coal if your kit is well constructed.
Instructors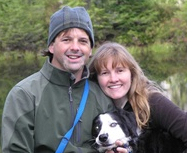 Kim & Chris Chisholm are on site all week directing professionally-trained staff instructors at our hallmark 6-1 average, 8-1 maximum student-teacher ratio that's critical for safe, profound and fun outdoor experiences. Read our FAQ's for more details and check out camp testimonials dating all the way back to 1997!
Registration is now open:
Credit/Debit Card Registration Option: Just call us at 425-248-0253 and we will take your registration securely over the phone.
Check/Mail Registration Option: Send a check deposit payable to Wolf Camp, 1026 14th St. SW, Puyallup WA 98371 along with a registration form for any child for whom we do not yet have one on file: download the Microsoft Word or PDF Registration Form to your computer, fill out one per participant, and send it or email it back to us. We also have a Bilingual Chinese-English Registration Form PDF or Word Doc.
Or Use PayPal to register via secure online donation with a credit/debit card or via direct withdrawal from your bank account. Use the link below (might not be visible if you are using "reader view" on your phone or other device) or sign into paypal.com and "send money" to our email address: (we'll get back to you with any additional information we may need)

Or email us to be put on our our list for this program in the future. We always keep your information absolutely private, and will never share it. You can also like our facebook page to keep in better touch, and once you've attended a program, please review us on our Better Business Bureau, Yelp & Google pages.
Refund Policy: Standard deposits ($100 for day programs, $200 for overnight programs) are not refundable unless we don't accept your application. If you cancel in advance of the program start time for any reason, you may receive a full credit good through the following calendar year on appropriate and available programs listed on our schedule, although an additional deposit may be required to secure your spot in the future program. If a program you sign up for is canceled and not rescheduled at a time you can attend, you may receive a full refund except in case of natural (weather, geologic, etc) disasters, government shutdowns, conflicts or curfews, or other unforeseen emergencies making it impossible for staff and/or attendees to reach or use program locations, in which case all payments made will be held by us without expiration date for your future use in appropriate/available programs of your choice. No refund, nor credit, is given if a participant is asked to leave a program for inappropriateness as determined by our kids, youth and adult agreements for participation.
Course Preparation: Agreements, Packing List and FAQ's

Click here for our Expedition Agreements
Click here for our Summer Expeditions Packing List
Other FAQ's – Frequently Asked Questions
2019 Location Info (NOT 2018)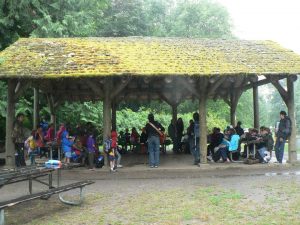 4:30-5:00 PM Sunday meet at Millersylvania State Park – Group Camp, 12245 Tilley Rd SW, Olympia, WA 98512 located right next to the park entry kiosk! Or use our transportation – 2:00 SeaTac Airport $85; or 3:30 Olympia Amtrak/Bus Station $25.
Arrive 3:30-4:00 PM Friday at the the Millersylvania Group Camp and enjoy our closing circle and film presentation from 4:00-5:00 with final departure from 5:00-5:30. Or stay over and depart Saturday Morning $95; Saturday SeaTac Airport $135. To add transportation and stayover options, increase your registration deposit amount below by the amount listed above with a note of explanation.
2019 Tuition & Optional Meals/Camping Fees (NOT 2018)
Add Tent Camping with our staff at our Group Camp adjacent to the park's entry kiosk for an additional $100 per couple or family no matter the number of nights you spend with us. If you have an RV or trailer, you will need to reserve a different camp site since ours is a walk-in site, but normal cars/trucks can park with a Discover Pass. The park has many RV Sites, tent sites, and a vacation house for rent, or book or a Hotel near Olympia (15 mins)
Add Meals with our staff need to be reserved at least a week in advance and cost an additional $10/adult per meal, or $5/child per meal available Monday Breakfast through Friday Lunch and must be reserved at least a week in advance so we can shop appropriately.