August 27 – September 1, 2017 along Salish Sound Rivers, Mountain Lakes and Pacific Coast Beaches with Honorable Hunting Option

Join us at our favorite Western Washington harvesting locations this week. It's an exciting week as trout start to bite as the night lengthens and cools, salmon season opens in the rivers, hunting season opens for small critters, and bow hunting season opens for deer.
This course is only offered on the odd-numbered years to take advantage of the big every-other-year pink salmon runs, so register now or wait until 2019!
Availability:
Open/Available for ages 18-26 (flexible) with their own vehicle or sharing rides with another participant, while others who have attended our weekend workshops or other camps and expeditions in the past may also be welcome, and ages 9-13 & 13-17 may attend the Epic Fishing Camp taking place simultaneously without prerequisite. Please note that this course is only offered on the odd-numbered years to take advantage of the big every-other-year pink salmon runs, so register now or wait until 2019.
Second Year youth and adults may attend the advanced Honorable Hunting track with prerequisites: Anyone who attends to advanced Honorable Hunting track needs to first complete our 1) survival or navigation weeks, 2) wildlife tracking week, 3) ancient archers and artisans week, and 4) fishing week in previous year as prerequisites. Everyone will also need Washington State Hunting & Fishing Licenses as required by age. The amount of hunting will depend on your previous experience and whether you need to first go through Hunter Education Certification the first day which is optional for those who already hold a valid Hunter Ed certificate.
Goals & Skills Covered:
Honorable Harvesting Skills will include:
• Understand the ethics of harvesting animals
• Fishing for river salmon, saltwater pier fish, and backcountry trout.
• Utilize gear made in prior programs if available.
• Honor any animal harvested by utilizing all of its gifts.
•Ability to bring salmon in quickly on rivers; perch, dogfish shark, and bottom fish quickly on piers; and fly fish trout in the backcountry
•Ability to store harvested goods throughout a turning of the sun.
•Ability to cook primitively, smoke, jerky, etc. foods.
•Ability to stay clean and safe from injury in every activity.
•Ability to fish with modern and primitive gear (wiering, netting, spearing, bow fishing, hand fishing, hook and line, gorges, bullfrogging).
• Advanced Track with Prerequisites: hunter education certificate if not yet acquired
• Advanced Track with Prerequisites: practice hunting for rabbits, grouse, and other small critters.
• Advanced Track with Prerequisites: Ability to track down animals, trap and/or hunt them successfully (bow and arrow, rabbit stick, at-latl, ethics, strategies, butchering).
• Advanced Track with Prerequisites: Ability to make and use hunting blinds effectively.
• Advanced Track with Prerequisites: Ability to honor any animal you harvest by putting to good use all their parts (wet and dry scraping, brain and other high-tannin methods, hair on and off).
• Advanced Track with Prerequisites: Ability to make and set fish traps, fish spears, and other traditional harvesting technologies.
Subsistence Fishing Course Itinerary:
2017 Schedule:
Sunday – Dry-Land Training at Camp Curran.
Monday – Tour of the Puyallup Fish Hatchery. Fly Fishing & Trout/Bass Casting at Deep Lake in Nolte State Park. Intro to Salmon Fishing on the Puyallup River.
Tuesday – Salmon Fishing on the Puyallup River.
Wednesday – Crab, Salmon, Flounder & Sea Perch Fishing the Fox Island Piers. Clamming on Kitsap Peninsula Beaches. Return to Puyallup River if time.
Thursday – Crab, Rock Fish, Ling Cod & Surf Perch Fishing the Westport Beach & Jetty. Nighttime Shark & Squid Jigging at the Westport Pier.
Friday – Daytime fishing and gourmet fish fry at the Westport Pier.
Our schedule during the week includes morning wake-up, stretches, washing, and breakfast vary slightly depending on previous evening activities, but if all was quiet by 10:00 p.m. we would awake at 7:00 or dawn if hunting/fishing early, do warm-ups from 7:30-8:00, and have breakfast from 8:00-9:00 … 9:00-12:00 is the morning session. 12:00-1:00 is lunch, and 1:00-2:00 is usually swimming or other recreational time. 2:00-5:00 is the afternoon session. 5:00-6:00 is dinner, and 6:00-7:00 is usually personal time. Evening sessions begin at 7:00, and bedtime varies according to the activity and the time of sunset.
Course Instructors: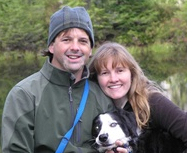 Kim & Chris Chisholm are on hand all week directing our professionally-trained instructors who make up our hallmark 6-1 average, 8-1 maximum or better student-instructor ratio critical for  high-level outdoor educational programs. Read our FAQ's for more details and check out our testimonials and dating back to 1997!
Pick-up, Drop-off and Airport/Bus/Train Transportation:
5:00-5:30 PM Sunday meet at Camp Curran, 13220 50th Ave E, 98446 in the south Puyallup. Or use our transportation – 2:30 SeaTac Airport $65; or 3:30 Tacoma Amtrak/Bus Station $25.
Pick up anytime between 12:30-4:30 pm on Friday at the Harbor Resort – Westport Fishing Pier, 871 Neddie Rose Dr, Westport, WA 98595 and enjoy the afternoon fishing with us, hearing epic stories from the week, and cooking up our catch into a gourmet soup. It's fine to leave anytime between 12:30-4:30, or use our transportation to the Olympia Downtown Bus Terminal at 6:30 pm for $50; or the Puyallup Wolf Campus at 7:30 for $75; or stayover and we'll bring you to SeaTac Airport in time for late morning or early afternoon flights for $150.
Tuition:
$725 if you register by June 5th, or $735 thereafter if space remains available. To reserve your spot, make a $175 deposit and your balance will be due upon arrival. Cost includes everything from Sunday-Friday including survival knife, firesteel or field guide depending on topic. The only additional expenses you may incur for our courses are for travel and specific gear, although we have extras in case you can't acquire something. You will also need health insurance, so check with us for recommendations on inexpensive temporary insurance if necessary. Also, please see above for optional transportation and  stayover choices.
DISCOUNTS: Take advantage of our 20th Anniversary Alumni Discount special price of $695 also available to new participants adding a second camp or second family member this summer. Otherwise our standard cumulative discounts are $5 per additional week you attend this summer, $5 off per additional family member attending this summer, and $5 off for successfully referring other families who register campers this summer, and once you've attended a program.
Scholarships: Please also note that our focus for scholarships is for residents of the Pacific Northwest states, and especially foster children, enrolled tribal members, and underprivileged young people. If you need financial assistance or want to apply for a merit scholarship, click on Max Davis Scholarships which are granted by the Western Outdoor Learning Fund (WOLF Foundation) – a Washington State non-profit organization, independent from Wolf Camp and the Conservation College, whose mission it is to support those wishing to attend programs of earth skills education. To apply, add answers to the 8 financial aid scholarship questions to your registration form, or complete a merit scholarship project as described on that page.
Register Now for Summer 2017. This course is only offered on the odd-numbered years to take advantage of the big every-other-year pink salmon runs, so register now or wait until 2019!

Check/Mail/Email Registration Option: Print out and complete our Microsoft Word or PDF Registration Form for each participant and send with a check deposit payable to the Wolf College, 1026 14th St. SW, Puyallup WA 98371. You can also email us a completed registration form and pay using your preferred method.
Credit/Debit Card Registration Option: Just call us at 425-248-0253 and we will take your registration securely over the phone.
Or Use PayPal to register online securely with a credit/debit card or via direct withdrawal from your bank account. Use the link below (might not be visible if you are using "reader view" on your phone or other device) or sign into paypal.com and "send money" to our email address: (we'll get back to you with any additional information we may need)
Or email us to be put on our our list for this program in the future. We always keep your information absolutely private, and will never share it. You can also like our facebook page to keep in better touch, and once you've attended a program, please review us on our Better Business Bureau, Yelp & Google pages.
Refund Policy: Standard deposits ($75 for day programs, $175 for overnight programs) are not refundable unless we don't accept your application. If you cancel for any reason, you may receive a full credit good through the following calendar year on appropriate and available programs listed on our schedule, although an additional deposit may be required to secure your spot in the future program. If a program you sign up for is canceled and not rescheduled at a time you can attend, you may receive a full refund except in case of natural (weather, geologic, etc) disasters, government shutdowns, conflicts or curfews, or other unforeseen emergencies making it impossible for staff and/or attendees to reach or use program locations, in which case all payments made will be held by us without expiration date for your future use in appropriate/available programs of your choice. No refund, nor credit, is given if a participant is asked to leave a program for inappropriateness as determined by our kids, youth and adult agreements for participation.
Course Preparation: Agreements & Packing List

Click here for our Expedition Agreements
Click here for our Summer Expeditions Packing List