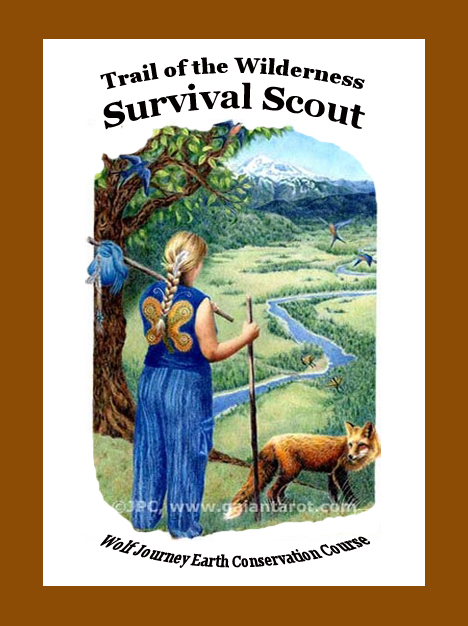 Class Itinerary for 6 Northwest Locations in January:

• Portland & Vancouver Tuesday afternoon classes at the Columbia Springs Environmental Center in Vancouver, followed by evening classes at the Sierra Club building in Portland.
• Tacoma & Puyallup Wednesday afternoon classes at the Wolf Campus in Puyallup, followed by evening classes at The Mountaineers building in Old Town Tacoma.
• Seattle & Kirkland Thursday afternoon classes in Kirkland, followed by evening classes at the Good Shepherd Center in Seattle's UW-Wallingford district.
Before Class: Please arrive early in order to complete any registration information, view recommended books, and answer questions. Also, if we get started early, we'll teach you how to make rope from all-natural materials which is one of the most important survival skills. Chris & Kim will teach everyone how to "reverse wrap" grasses, cedar bark, stinging nettles, and other materials into strong rope. In a survival situation, it is also important to multi-task, so as you practice your reverse-wrap, everyone will also introduce themselves with their primary interest for the day.
15-30 Minutes: Essential Tools and the Critical Order of Emergency Survival: As you probably know, beginning hikers should never leave home without the 10 Essentials, but as your wilderness skills grow, that list begins to change. For instance, if you become versed in making fire-by-friction using the "bow-drill" method of "rubbing two sticks together," you may find that this "primitive" skill is actually the most dependable fire-starting method in our cold, damp Pacific Northwest weather. So although bringing a fire-starting kit is great, it might not be as important as bringing a metal pot. Why? Chris will lead a discussion on this fascinating perspective.
15 Minutes for the Five Minute Emergency Drill: We will present a survival scenario, and you can "go it alone" or form a small group to figure out how best to survive the situation based on the order of survival, your level of experience, and other factors.
15-30 Minutes on Shelter vs. Navigation: To get a jump-start on this discussion, check out our article on shelter. We will discuss the decisions made during your Five Minute Emergency Drill, and then we'll show you actual materials you might find in the Pacific Northwest wilderness with which you can make shelter in case of emergency. We will demonstrate the lean-to, debris hut, and finding natural shelters, plus discuss the limitations of each structure in the Pacific Northwest. If time and space allows, we will again break into groups, and each group will have 5 minutes to build the best shelter possible for the "model" we provide. This activity is a real eye-opener for understanding actual shelter-building in emergency situations.
15 Minutes on Water: Now that giardia is pervasive in fresh water throughout North America, if your water filter fails, or you run out of purification tabs, what then? We will bring samples of "burn bowls" and show you how to make them in case you are caught without a metal pot to boil water in, and show you how to "rock boil" water in order to purify it.
15 Minutes on Fire: Of course, if you don't have a fire source, then you can't boil water or enjoy comforting external warmth. It is critical to practice making fire with all-natural materials. Unfortunately, few people actually practice this, and it's hard to do, especially in wet Pacific Northwest climates. We will set up "tipi" and "lean-to" and "log cabin" style fire demonstrations, discuss proper use of matches, lighters and magnesium, and then actually light (but of course immediately put out) a fire by "rubbing two sticks together" using the bow-drill fire-by-friction method. You can also get a jump-start on this lesson by reading our article on fire.
15 Minutes on Food: The depth to which we will discuss food will be entirely time dependent. We will start with wild edible plants that grow locally as well as out in the wilderness. We will also discuss the Big 5 foods you would seek out right away in a wilderness survival situation, even before resorting to hunting and fishing. Then join us in March for our full class on wild foods!
After Class - Feedback & Planning: Please join Chris & Kim after class to review experiences, browse resources, discuss feedback, and brainstorm ideas for the future. Email or Call us at any time with any questions and requests.
PLEASE BRING TO CLASS:

- Hats, warm clothes, proper footwear, and rain gear if necessary for the outdoor portion of class.
- Flashlight/Headlamp will make things a lot easier for map reading after sunset.
- Any of the 10 Hiking Essentials to show that you think are necessary for being prepared to survive in the backcountry.
To get a jump-start on the skills we cover in this class click here for our blog post on the subject and to practice these skills in depth, check out our summer kids camps, our overnight youth camps and adult expeditions covering wilderness survival. Available for sale at class will be:
- Bow Drill Fire Kits for $10 (home made)
- Most recommended Fire Steel for $15 (made in Vancouver WA)
- Most recommended books and field guides (so you don't have to waste money on unnecessary ones)
- Used camping/survival knives including Swiss Army and the Mora of Sweden for $15
Tuition:
1:00-3:00 Afternoon Class Tuition: First Family Member $15.00; Additional Family Members $10.00 if paid at least a day prior, otherwise $15.00 per person at the door. $5.00 for toddlers too young to benefit from instruction. Although designed for homeschool families, all are welcome, and ages 7 and above may attend without parent. Tuition rates do apply to all attending family members including parents and children, no matter how young.
6:30-9:00 Evening Class Tuition: $15.00 per person if paid at least the day prior. $20 at the door. Evening classes are designed for adults, but teens are welcome, as well as focused youth with enrolled parent.
Other Class Topics During the Academic Year:
• January: Wilderness Survival Skills including Bow Drill Fire Demo
• February: Natural Navigation, Map & Compass, Lostproofing, & Orienteering
• March: Local Wild Edible Plants & Backcountry Herbal Medicine
• April: Safety, Tracks & Bird Alarms in Cougar, Wolf & Bear Country
• May: Backcountry Gourmet Camp Cooking Class
• June: Special Week of Classes at the Wolf Campus in Puyallup
• October: Climate Change Training – Lifestyle, Debates, Emergencies & Carbon Sequestration
• November: Backcountry Crafts – Making Rope, Berry Collecting Baskets, Sleeping Bag Mats & More
Register:
Call 253-604-4681 with a credit card to register for any of these semi-monthly classes. Start anytime. No prerequisite. If you are unsure as to your final balance, just make a deposit of any amount to guarantee your spot, then contact us with the names/ages of those attending, and you can pay your balance at class. Thanks!