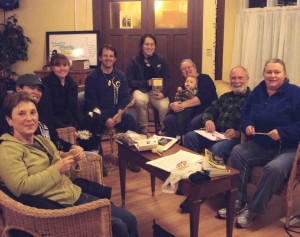 PAGE UPDATE IN PROGRESS
The Conservation College offers classes on a variety of nature and survival subjects for all ages, including homeschool youth and families, adult outdoor interest groups, and more. Join instructors Patrick Wiley & Hannah Hynes-Petty for any of our classes during the academic year, or set up a class near you.
Location, Dates, Times, Topics & Itineraries:
Classes are normally held at the Issaquah Salmon Hatchery conference room, 125 W Sunset Way, Issaquah, WA 98027, or Lake Sammamish State Park fireplace pavilion, 2000 NW Sammamish Rd, Issaquah, WA 98027.

Afternoon Classes: 12:30-2:30 PM are designed for homeschool families but everyone is welcome.
Evening Classes: 6:30-8:30 PM are designed for adults but youth are welcome with enrolled parent/guardian.
• Monday, January 28, 2019: Backcountry Crafts – Making Rope, Berry Collecting Baskets, Sleeping Bag Mats & More
• Monday, February 25, 2019: Wilderness Survival Skills including Bow Drill Fire Demo
• Monday, March 25, 2019: Local Wild Edible Plants & Backcountry Herbal Medicine
• Monday, April 22, 2019: Safety, Tracks & Bird Alarms in Cougar, Wolf & Bear Country
• Monday, May 20, 2019: Natural Navigation, Map & Compass, Lostproofing, & Orienteering
Tuition & Registration:
Classes cost $25/person, and $20/person for additional friends/family members registering in advance.
PayPal Option: Just go to paypal.com and "send money" to "kim@wolfcollege.com" with a note detailing date, time and topic of class.
Credit/Debit Card Option: Just call us at 425-248-0253 and we will run your card securely over the phone. Questions? Email anytime.
Check/Mail Option: Send with a check payable to the Wolf College, 1026 14th St. SW, Puyallup WA 98371 with participant name(s), phone number, email address, age of any minors, and any allergies or health restrictions we should know about.
Our refund policy: Payments not refundable unless your registration is not accepted, but you may receive a credit for a future program, if you cancel at least 12 hours in advance. You will receive a full refund if your program is canceled and not rescheduled at a time that you can attend.