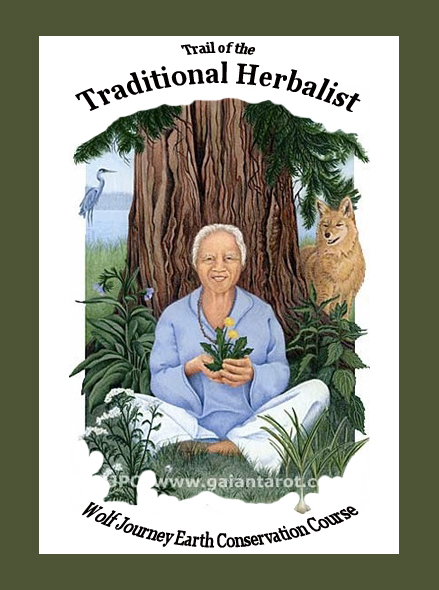 Class Itinerary for 6 Northwest Locations in March:
• Portland & Vancouver Tuesday afternoon classes at the Columbia Springs Environmental Center in Vancouver, followed by evening classes at the Sierra Club building in Portland.
• Tacoma & Puyallup Wednesday afternoon classes at the Wolf Campus in Puyallup, followed by evening classes at The Mountaineers building in Old Town Tacoma.
• Seattle & Kirkland Thursday afternoon classes in Kirkland, followed by evening classes at the Good Shepherd Center in Seattle's UW-Wallingford district.
15 Minutes: Making Herbal Remedies – We will spend the first several minutes of class preparing an herbal salve. While the herbs are infusing in heated organic olive oil, you'll learn about honorable harvesting methods, and we'll discuss how to make decoctions, infusions, tinctures, essences and other kinds of home-made medicine.
30 Minutes: Plant Walk – We will walk the area around our class location and identify wild edible and medicinal plants by family. If harvesting rules permit, we'll bring some back to use later in class. Please remember to dress for the weather!
30-45 Minutes: Top 10 Local Wild Edible Food Plants – It can be challenging to find wild edibles that are available during the winter, or anytime in the backcountry, but spring is at hand, so depending on class location, we hope to find some of these plants near-by, and take one of our Top 10 Wild Edible Food Plants inside to sample as part of a nourishing dish. We'll bring something along in case local rules deter us from harvesting.
15 Minutes: Wolf College Tenets of Herbal Medicine – Evening classes will receive a powerpoint, while youth classes will learn the tenets of herbal medicine through hands-on examples.
15-30 Minutes: Top 15 Wild Medicinal Plants of the Backcountry – This class isn't about theory; we're only going to introduce wild native plants that have been proven to heal.  Check out our blog entry on our Top 15 Proven Medicinal Plants for more information.
15 Minutes: Finishing Our Herbal Remedy – We'll put the finishing touches on our salve by straining it and melting beeswax into the infused oil. We'll finish with a quick note about allergies and how to use and store your salve.
PS: You can take home a salve for an additional $1 donation, and we will also have recommended field guides and other items available for sale.
PLEASE BRING TO CLASS:

- Hats, warm clothes, proper footwear, and rain gear if necessary for the outdoor portion of class.
- Flashlight/Headlamp will make things a lot easier for map reading after sunset.
- Any potted wild plants, plant samples, pressed leaves, flowers, etc. that you want help identifying.
- Any of your favorite plant books. The ones we recommend and will have for sale at class include:
1. Botany in a Day by Thomas J. Elpel for general learning.
2. Lone Pine Plant Guides such as Plants of the Pacific Northwest Coast by Pojar & MacKinnon for itentifying wild plants in the field.
3. Edible Wild Plants by John Kallas for using urban greens.
4. Medicinal Plants books for your area by Michael Moore to focus on wild herbal plants.
5. And critical for any home apothecary is Rosemary Gladstar's Medicinal Herbs: A Beginner's Guide to gain skills on using herbs you grow at home.
To get a jump-start on the skills we cover in this class click here for our blog post on the subject and to practice these skills in depth, check out our summer kids camps, our overnight youth camps and adult expeditions on ethnobotany.
Tuition:
1:00-3:00 Afternoon Class Tuition: First Family Member $15.00; Additional Family Members $10.00 if paid at least a day prior, otherwise $15.00 per person at the door. $5.00 for toddlers too young to benefit from instruction. Although designed for homeschool families, all are welcome, and ages 7 and above may attend without parent. Tuition rates do apply to all attending family members including parents and children, no matter how young.
6:30-9:00 Evening Class Tuition: $15.00 per person if paid at least the day prior. $20 at the door. Evening classes are designed for adults, but teens are welcome, as well as focused youth with enrolled parent.
Other Class Topics During the Academic Year:
• January: Wilderness Survival Skills including Bow Drill Fire Demo
• February: Natural Navigation, Map & Compass, Lostproofing, & Orienteering
• March: Local Wild Edible Plants & Backcountry Herbal Medicine
• April: Safety, Tracks & Bird Alarms in Cougar, Wolf & Bear Country
• May: Backcountry Gourmet & Wilderness Camp Stove Cooking Class
• June: Special Week of Classes at the Wolf Campus in Puyallup
• October: Climate Change Training – Lifestyle, Debates, Emergencies & Carbon Sequestration
• November: Backcountry Crafts – Making Rope, Berry Collecting Baskets, Sleeping Bag Mats & More
Register:
Call 253-604-4681 with a credit card or click locations above to register for any of these semi-monthly classes. Start anytime. No prerequisites for any class. If you are unsure as to your final balance, just make a deposit of any amount to guarantee your spot, then contact us with the names/ages of those attending, and you can pay your balance at class. Thanks!